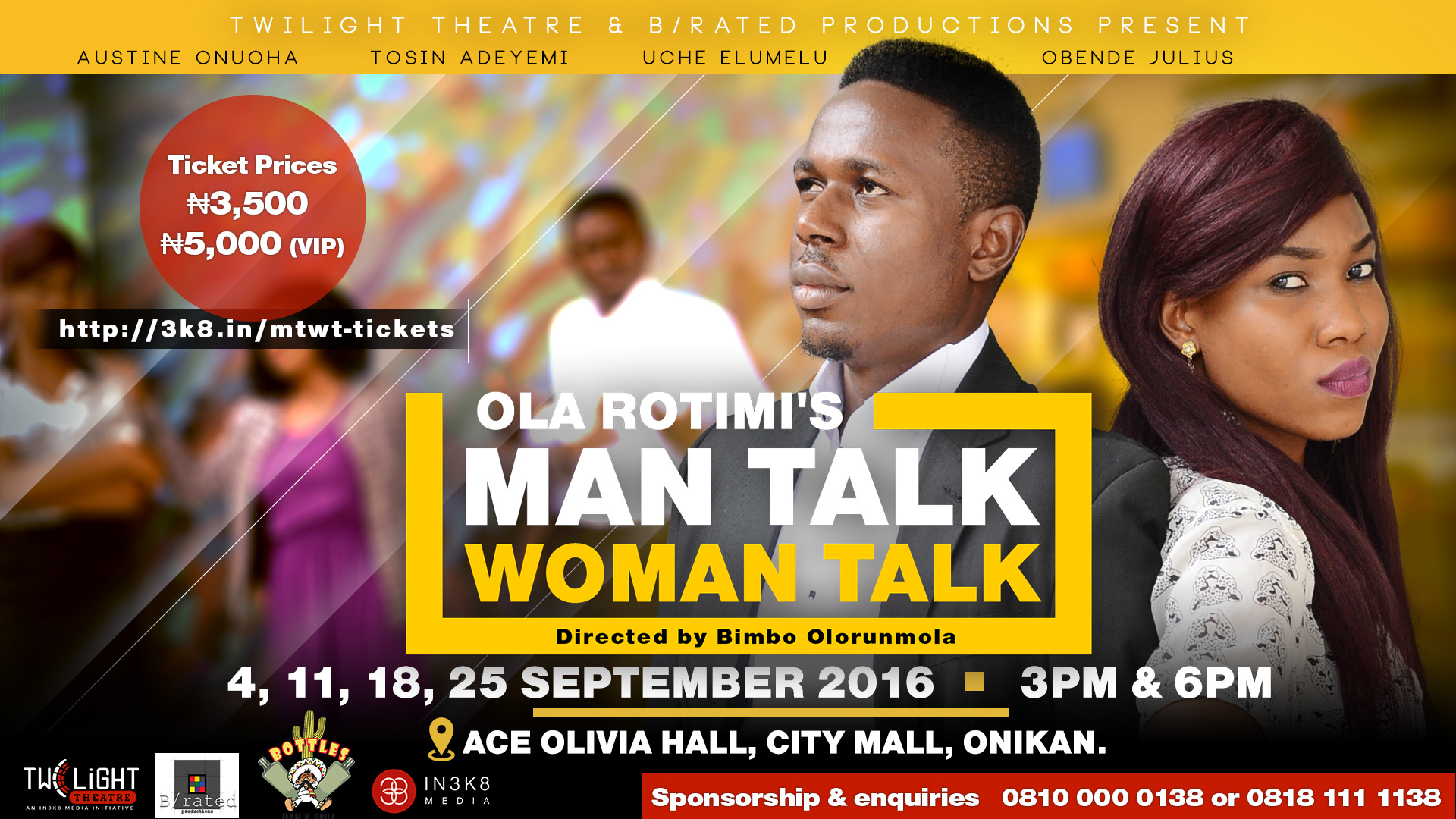 Ola Rotimi's Man Talk, Woman Talk
Product Description
Set in a courtroom/Tribunal, the play puts discourse in perspective with representatives from the male and female genders arguing out points for their respective genders. Boy and Girl engage each other in a heated, bordering-on-the-ill-tempered debate to lay bare the psychology of each gender. They state their individual perspectives, perceptions, complaints and what they desire of each other.
Judge and Councillor are moderator and adviser to the tribunal respectively. Supposedly neutral, they both reveal their individual predilections for their respective genders by cheering and reinforcing either Boy or Girl's arguments.
Featuring Austine Onuoha, Tosin Adeyemi, Uche Elumelu and Obende Julius under the direction of Bimbo Olorunmola, Ola Rotimi's play is as relevant today as it was when he first wrote it and brings into sharp relief questions about gender equality in modern day Nigeria. B/Rated Productions' dramatisation of this very well regarded work is peppered with contemporary Nigerian witticisms and has something new even for seasoned theatre-goers who will have seen previous productions.
Venue: Twilight Theatre @ Ace Olivia Hall, City Mall, Onikan, Lagos.
Dates: 4, 11, 18 & 25 September 2016
Times: 3 & 6PM
Ticket Prices: ₦3,500, ₦5,000 (VIP) & ₦2,000 (Students with ID)
Tickets can also be acquired at the following Tastee Fried Chicken Restaurants:
Oyin Jolayemi Street, Victoria Island.
Awolowo Road,Ikoyi.
Oando Filling Station, Ikate, Lekki.
Marina.
Opebi Road, Ikeja.
Ogba, Ikeja.
Warehouse Road, Apapa.
22 Road Festac Town.
For sponsorship or ticketing enquiries 0810 000 0138 or 0818 111 1138