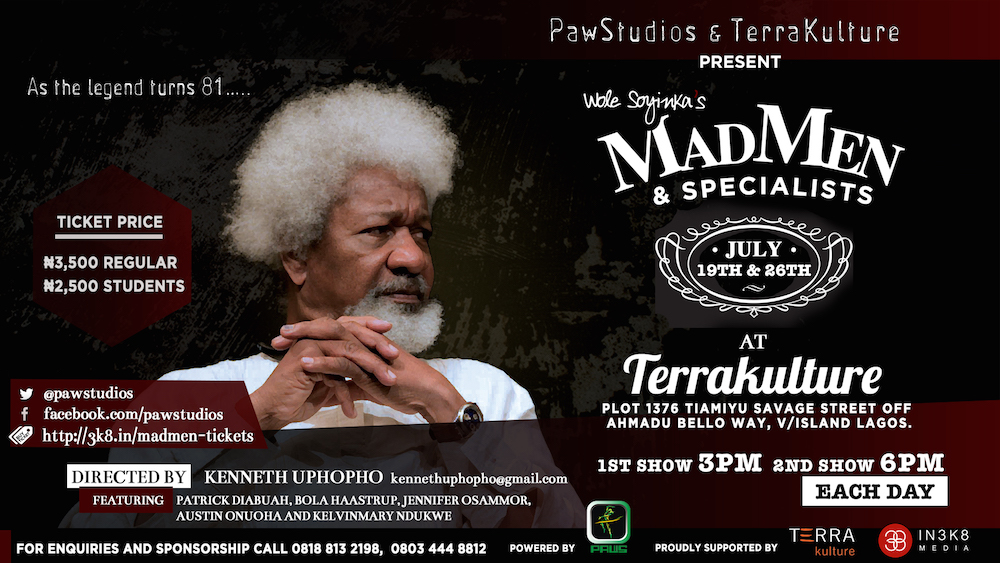 Performing Arts Workshop and Studios (PAWS); a theatre production outfit, with outstanding performances such as Camwood on the Leaves, The Wives, Rubiewe, Shattered, and Death and the King's Horseman, amongst others brings to the stage one of Soyinka's most powerful dramatic statements titled 'Madmen and Specialist' to TerraKulture this July.
Madmen & Specialists is set in the aftermath of the civil war and the resultant debilitating effect on the citizenry. Bero a doctor who has left behind his practice to participate in the war alongside with his father, who has joined the war as an army medic. Contrary to Bero's instructions, his sister; Si Bero, enlists the support of two female traditional healers; Iya Agba and Iya Mate, to help continue her brother's practice. Iya Agba and Iya Mate have come to help on the condition that upon Dr Bero's return, he will continue the practice so that their knowledge will not go to waste.
And then he returns…
"Bero! Bero! He is back! He is back! My brother is back!" Si Bero screams and rushes into the arms of her brother but she can tell that he is a changed man after his encounter with an insinuated truth.
What happens when the only obstacle to your ambition is your father? What happens when a sacred pledge cannot be kept? Madmen and Specialists exposes all of these amongst other intriguing issues. Madmen and Specialists is directed by Kenneth Uphopho (Director of Saro the Musical and Single in Gidi), and features Patrick Diabuah, Samuel Perry, Bolanle Haastrup-Atitebi, Jeniffer Osammor, Austine Onuoha, and Kelvinmary Ndukwe amongst others.
The show will be at TerraKulture, Tiamiyu Savage Street, Victoria Island, Lagos on 19th and 26th July 2015 by 3pm and 6pm. For more enquiries please call 0803 444 8812, 0818 813 2198, and 0803 665 2044 or send an email to kennethuphopho@gmail.com
comments powered by