As we inch closer to December the Christmas spirit creeps in like the chill of winter, but here on the South Western coast of Nigeria it is accompanied by a different kind of thrill. One could say it's almost electrifying, in our city of survivors we spend all year round doing all we can to keep our heads above water despite the consistent floods of disastrous news. But when the season's greetings begin we simply float and relish in the joy that we have yet again survived in our jungle, Lagos city. The dilemma is an easy one to crack, stuck between accepting the reality of mediocre experiences in a third world country or romanticising the details of our Christmas celebration culture to the point where it is just as glamorous as we make it seem. Ignorance is bliss, I choose the latter.
The Christmas lights are hung, something in the air gradually shifts filling it with contagious glee, it's almost suffocating. Many of us fall prey to the disease that invokes our famous "Detty December", no introvert can withstand the vibrations of our celebrations. It piqued my curiosity to know what ignites the fiery spirit we all seem to be bestowed with during December asides from Santa's gifts. Some investigation is warranted
Without further ado our first candidate for the interview is Olaolu Ojo, a musician who recently felt the whelms of the creeping Christmas spirit. The artist had just arrived in the country, flew in with a flu and a tinge of jet lag. But I was not surprised to see him out after only a night's rest, I had to ask "Olaolu tell me a moment that made you realise that you love Lagos in December ?" The body was ready to tap out; we could all see it, but his heart was eager to recreate moments that tickled us with nostalgia.
His response was no different from what I had expected, a simple and concise statement that justified his reason for enduring the bristling heat that accompanied the Tuesday traffic. "I am dedicated to the cause", he slowly began to unravel the enigma behind the jolliness of the season.
"The vibe is unmatched, you really need to have experienced multiple places and compare it. I feel like Lagos people take the Lagos vibe for granted. Even just the temperature of it, it sets the mood for adventure. For better or worse, the vibe remains fluid in Lagos", he says this while attending numerous calls from friends just as eager to catch this vibe. Ceaseless calls which began right from the start of our little adventure. Lagos in December is definitely the leading vibe.  Well you snooze you lose, fortunately we were able to whisk away the artist before other greedy vibe mongers could do so. The Canada based artist says "you just can't afford to miss out on anything, there were days when I wished I had that closet from Chronicles of Narnia, so I could just step into it and be back with my people. Everyday holds something unpredictable and you can't afford to waste your day doing nothing".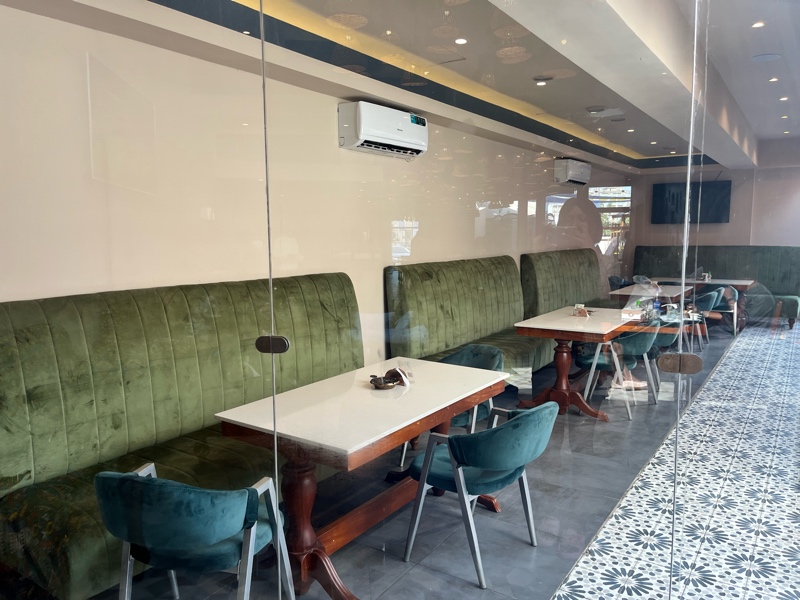 Furnishing at La Chaumiere
To show his commitment to the Detty December cause, Olaolu accompanies us on what is set to be his first of many rendezvous. Today we're making an impromptu stop at a sophisticated restaurant called La Chaumiere. His dedication is admirable, almost patriotic.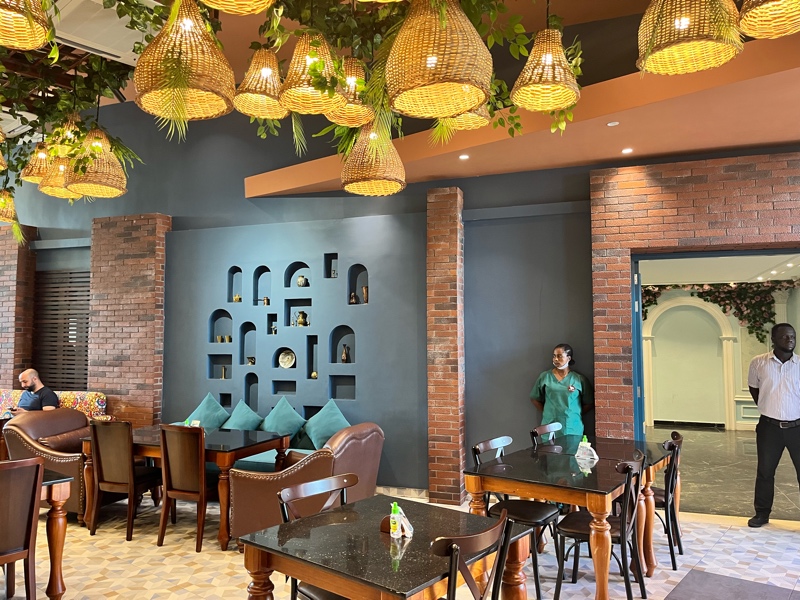 La Chaumiere's Dining Area
We immerse ourselves in the menu with haste, excited to see what delightful flavours La Chaumiere has in store for us. In other words we were starving. The food menu was virtual, seems all restaurants have abandoned the paperback menu style and picked up the more eco friendly menu #globalwarning #savetheplanet.  A waiter took our orders for the American breakfast. It was way past time for birds to tweet but we had only begun our day by noon and jumping straight to lunch would be unnatural, everyone knows you should never skip breakfast. We were served coffee prior to the arrival of our meals, it had milk swirled in the shape of a leaf, a minuscule but wholesome touch, it felt like a hug from the chef. The food arrived in 20 minutes, with that alone they had won my heart.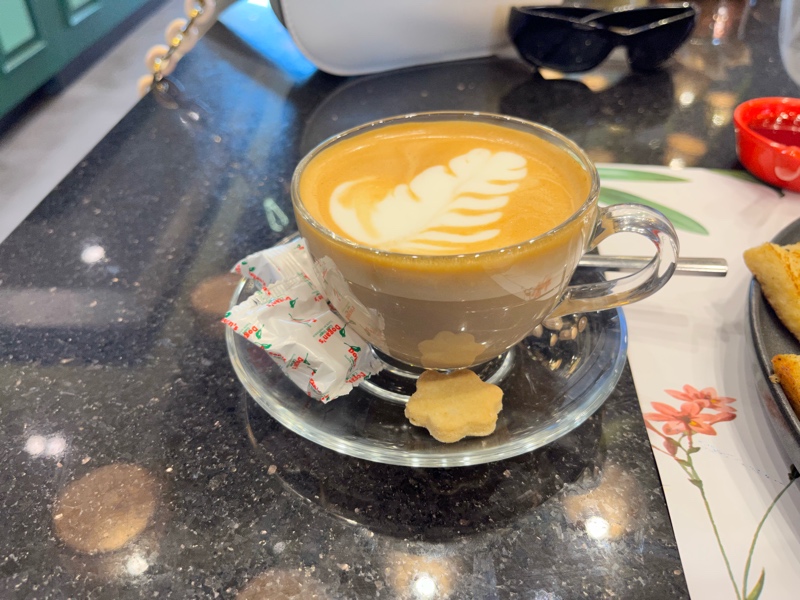 Coffee with leaf shaped milk swirl served at La Chaumiere
The plate was bright with meat and carbs – a killer combo, literally. The American breakfast consisted of french toast, pancakes, sausage, waffles, hash browns, bacon with eggs and brisket on the side. It was a full plate, just like on thanksgiving or owambe dinners. i was now faced with the decision to choose my first bite. I settled on pancakes, a choice clearly ordained by angels. They had guided me to my destiny which was filled with savory sweetness and perfectly fluffed cakes. The food tasted just as good as it looked, and  it looked incredibly scrumptious under those lights.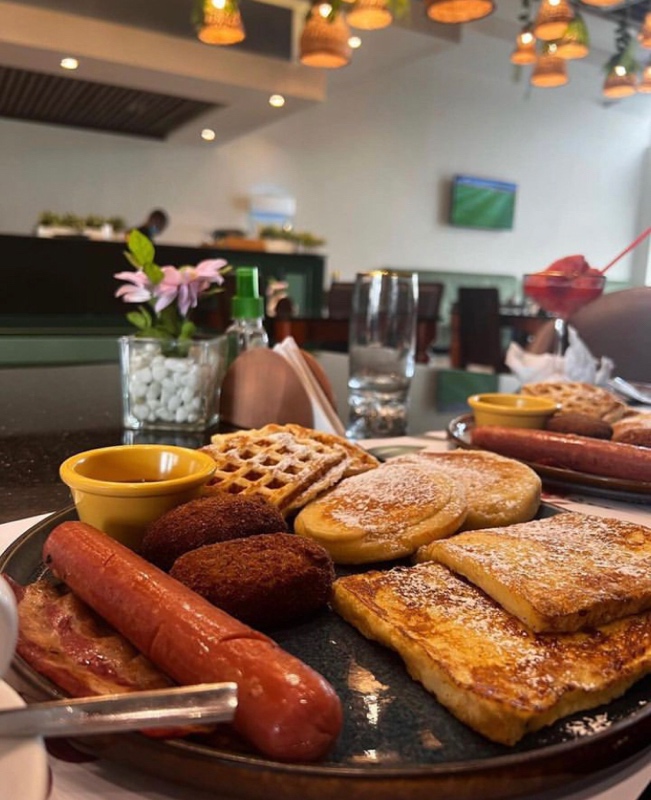 American Breakfast served at La Chaumiere Photo Credit: @tinu.perhaps.eats
The sun was seething that afternoon, we took our time with the meal languidly taking each bite. The atmosphere at La Chaumiere could easily be compared to an air conditioned sanctum with pretty lights. It was the perfect way to ease ourselves back into the week. Families dined a few feet away from us, the outdoor playground was a smart touch to the restaurant, allowing room for the kids to eat without parents nagging over odd eating habits. The playground had a wide open space for kids to run around till their heart's content.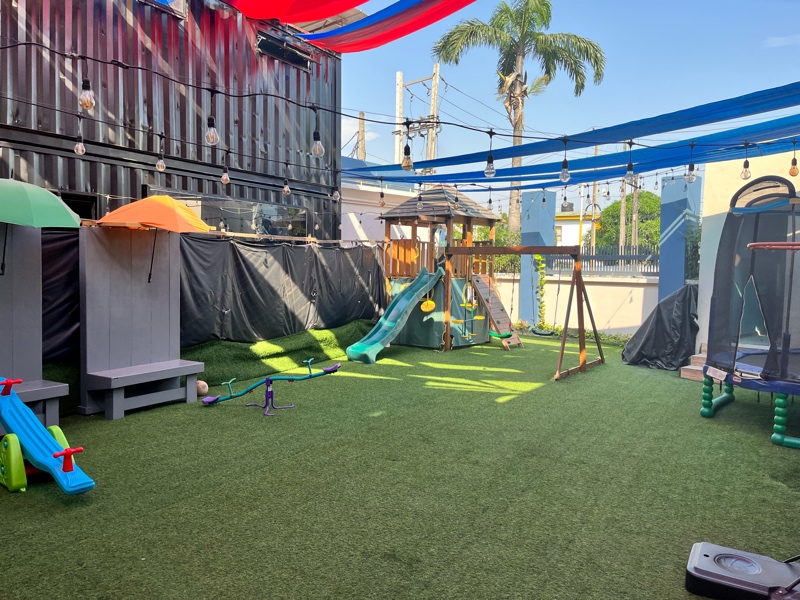 Playground for outdoor lovers at La Chaumiere
Try as we may, we could not finish our meal, unfortunately we are dedicated to the cruise but not the food. The bill came and the American Breakfast cost ₦ 7650 and the coffee cost ₦ 1600, the entire meal came down to a total of ₦ 9250 excluding VAT. Considering the quality and quantity of the meal, I would say it was worth the price. They have a very strategic position for the placement of their pastries, which is conveniently right next to the dining area. After our meal we were taunted with the heavenly smell of baked goods, ranging from cakes, croissants, cookies, bread etc.
You have a delectable meal and all of sudden your swollen belly outweighs all your worries, and for a moment it feels like all is right with life. We sat there comfortably, dissecting all that happened during the day and what was to come – which is impending Lagos traffic. At the end of our day Olaolu Ojo, who is a creative and musical genius, had drawn his conclusion on why he loves Lagos in December. "I mean what's not to love? It's a party in the jungle and that means no rules. Anything goes! A fluid movement. You just can't afford to not be there"  I don't know about you guys but I would listen to a genius and as we dive head first into Christmas I solemnly swear to deliver content to back up his claim. See you next time!
Lulu's Rating for La Chaumiere
Ambience         ✭✭✭✩✩
Taste            ✭✭✭✭✩
Affordability    ✭✭✭✭✩
X Factor        ✭✭✩✩✩
comments powered by