T he maiden edition of Expo Lagos is a unique art experiment curated by the creative consultant Tiwa Adegbuyi. The event was a unique one that fused art, technology, and entertainment. There was much to enjoy with an amazing lineup of performances from iconic artists like Sgawd, Lojay, Kida Kudz, Oxlade, The Kazez, and much more. Showcasing the new angles of 3D art, the event had immersive art illusion and the astonishing works of various creatives. The inclusive art event also had pop-up sales from seven of our favorite online brands like Ixswim, Bfits, Waffles N Cream, David Blackmore, Clones, Shakkar Shades, and JBottoms.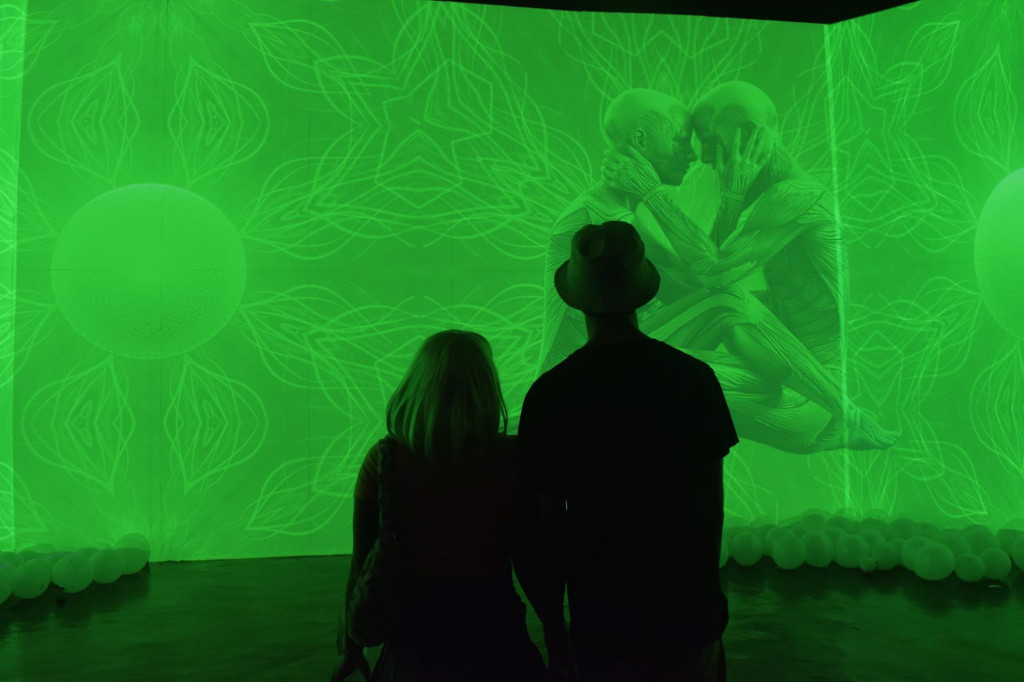 Immersive Art Installation by Niyi Okeowo. Photo Credit: Olaniran Ogunbodede
The two-day experiential show was held on the 7th and 8th of August at the FreeMe Space located at Ikate Lekki – a couple of blocks away from the renowned Nike Art Gallery. Tickets for the event sold online for ₦ 5227 and ₦ 8206, covering single entrance tickets to one or both days of the expo respectively.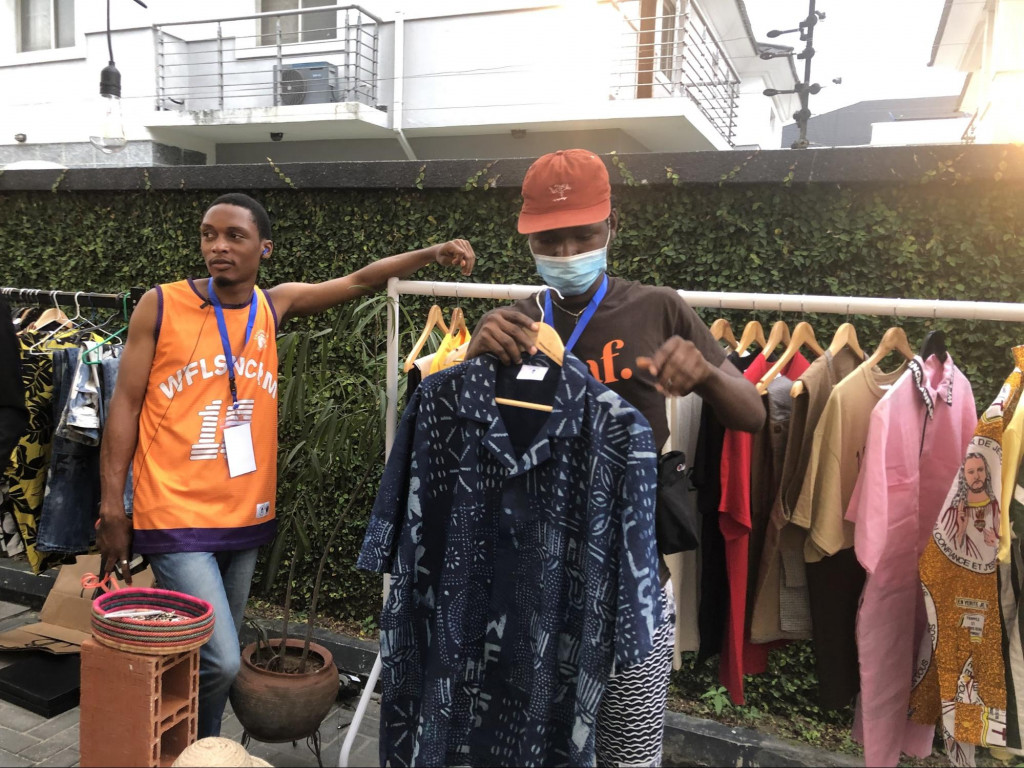 Waffles N Cream sales stand at the Expo Lagos
On arrival, the outdoor pitches were occupied by vendors whose displays of trendy clothes and accessories were enough to convince anyone to further explore. First off the Waffles N Creams clothing and skater group had an array of vintage menswear. The brand's style uses African wax design and Adire textile designs loudly showcasing African heritage.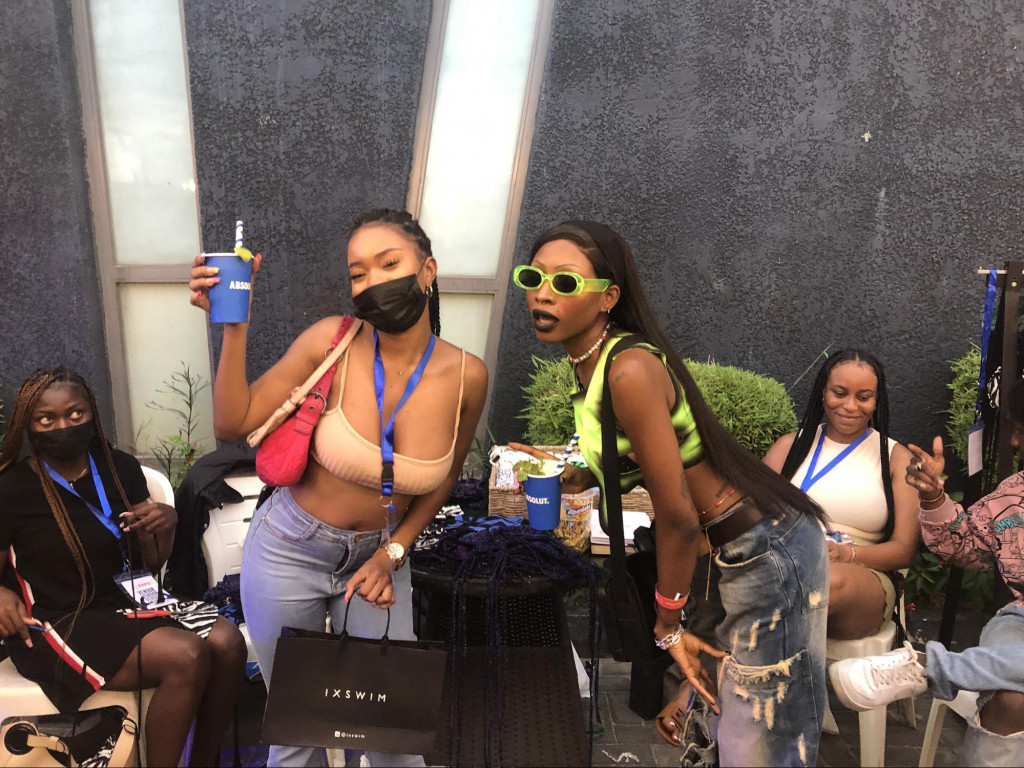 Naomi Offor, Ixswim CEO (left) with Ashley Okoli one of her brand models.
The assortment of clothing brands had every fashion style including  Ixswim swimwear, a brand that makes swimwear that tells "a love story for all body types." – if you believe the marketing folk at lxswim. Ixswim CEO Naomi Offor attended the expo alongside Lotanna Don-Adinuba Creative Director at JBottoms whose stated aim is the creation of customized clothing for baddies. The presence of both clothing brands alongside other online-only brands at the expo was a golden opportunity for the enterprise public to see firsthand the quality of these brands before purchasing – an advantage difficult to build into online shopping.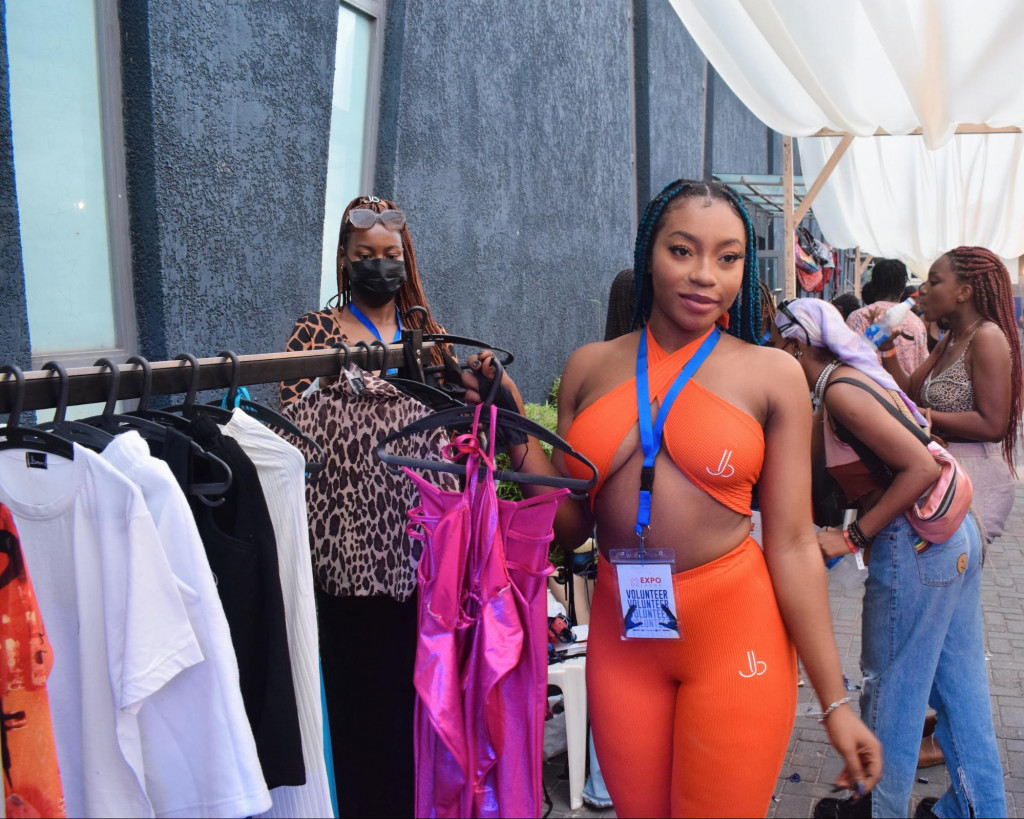 Lotanna Don-Adinuba Creative Director of JBottoms
On the inside, the dimmed lighting accentuated the immersive installations on display. The art wall provided ample room for digital and physical art purveyors to rub shoulders and minds. Works by Ikepo Akingbade, Roanna Tella were hung for the public to engage with while pieces by digital artists like Niyi Okeowo, were digitally beamed onto the wall. Despite the plethora of physical art on display, Vanessa Ofomata's pieces were the most captivating to me. Her self-portrait titled "Memento Mori", a classical Latin expression meaning to "remember you must die," was thoughtfully put together as she improvised using items of sentimental value to convey the inevitability of death through the piece. Vanessa is a bit strident and sees this reminder as both a warning and an inspiration as she says "Live life, do what needs to be done properly but have that undertone that you die." I invite the reader to make up their mind on how to take this reminder of an inescapable fate.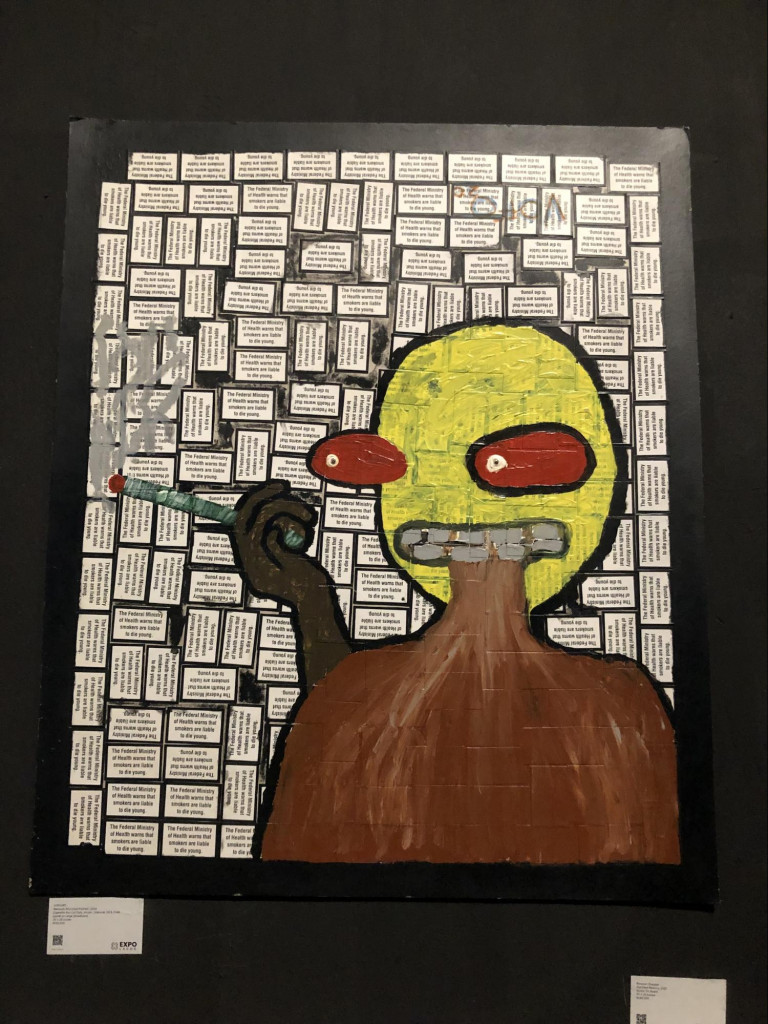 Mementor Mori by Vanessa Ofomata. Medium: Cigarette box cutouts, acrylic, charcoal, oil & chalk pastel on large strawboard.
Niyi Okeowo however is more bullish and sees the inevitability of death as an encouragement to get up and live a fuller life. He goes on to say that he's "inspired by death because you don't know when you're going to die so you might as well put out your best". The multidisciplinary art director brought his A-game in his immersive art installations projected at the expo.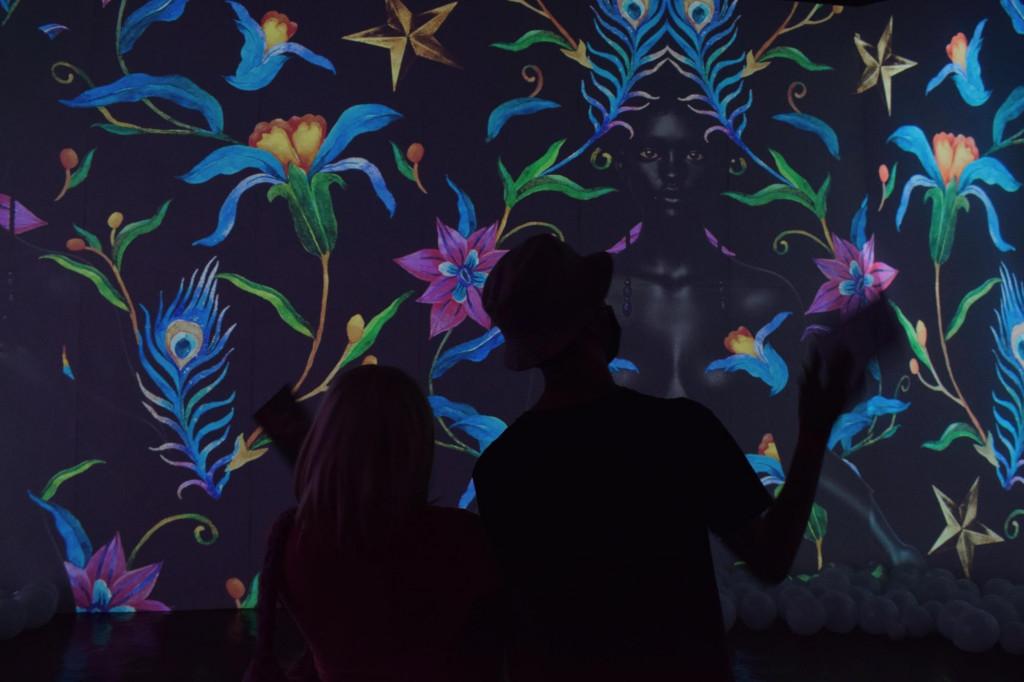 An Immersive art installation by Niyi Okeowo. Photo Credit Olaniran Ogunbodede
It was nightfall after all that schmoozing and shopping, and it was indeed time for the long-awaited musical performances. The lineup for the night started with Ninety who performed his newest single "Somebody", to a gyrating and keen crowd who had become infected with the contagious good vibes of his performance. Amped up on booze and serotonin they swayed to the rhythm of this talented entertainer. A tough act to follow, he was succeeded on stage by none other than rap queen Sgawd, who announced her presence on the stage with her latest hit "Pop Shit". There was scant doubt that a bulk of the attendees were Sgawd stans, as the crowd turned into a mosh pit bopping to the beats. They chorused the lyrics to her songs word for word, moving the young star to tears after her performance.
Saving the best for last, Lojay's much-anticipated show was the closing performance of the expo. The emerging artist had the most engaging performance, dancing and singing side by side with members of the audience. He performed his banging songs  "Monalisa" and "LV N ATTN" which have been on the charts for months, Lojay's surreal show was a lovely way to cap off the expo.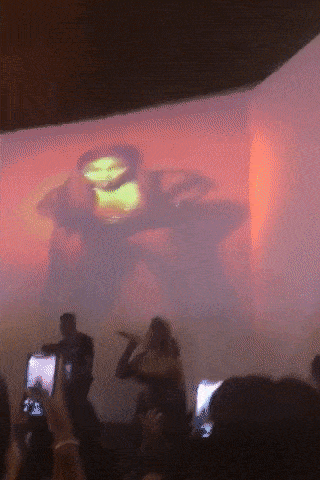 Sgawd's scintillating live performance.
The curator of the event explained that "a lot had gone into the event" and her expectations were met when "people seemed to be enjoying the event and taking pictures." The aim was to give people a good time. Haven had time to hone her art with previous events including Impart Artists Fair in 2019, her latest outing has been by all indications a successful event that provided opportunities for mingling and bonding over the art displays whilst enjoying great music. She's definitely one to watch and in her relaxed combination of live performances, art, and retail therapy she has scored an unbeatable trifecta. Were you at Expo Lagos? Please tell me in the comments section below what stood out for you.
comments powered by