T he Nigerian music industry has had an influx of new sounds in the past few years. An industry formerly dominated by men is now introduced to fierce competition presented by young fiery women of the 21st century. Not to discredit the groundbreaking works of the women in our industry who have had the spotlight for years, but it's time to hand over the mic to the younger generation of women.
2019 to 2021 delivered women of immense musical talent, their cutting-edge gifts in singing and rapping have taken them a leap further into the spotlight allowing them to capture a throng of listeners and all eyes (and ears) are laser-focused on the rise of these young icons. These 21st-century women have become role models to the zoomers as they epitomize vulnerability and raw ambition in their music in a way that young girls can relate to. Here's my list of 5 contenders.
Tems
The 26-year-old singer, songwriter, and producer is also known as Temilade Openiyi is an iconic star from the 21st century. The multi-talented R&B and soul artist has quickly drawn global attention from her short time in the music industry. Her musical journey begins with 'Mr. Rebel' a heartfelt song which she also produced in 2018. The song takes the world by storm exceeding even her own expectations with the recognition it receives. From that point on, Tems has been motivated to show the world the lengths of her voice. The talented artist mastered the making of her beat, making her one of the few truly self-sufficient women on the Nigerian music scene. Her alternative soulful music evokes raw emotions and passion with each line, her songs can easily be described as powerful and targeted at empowering young ladies with a drive to conquer obstacles and make life their playground.  In an interview, Tems mentions that lyrics come from personal life experiences which explain the overflow of emotions in her songs.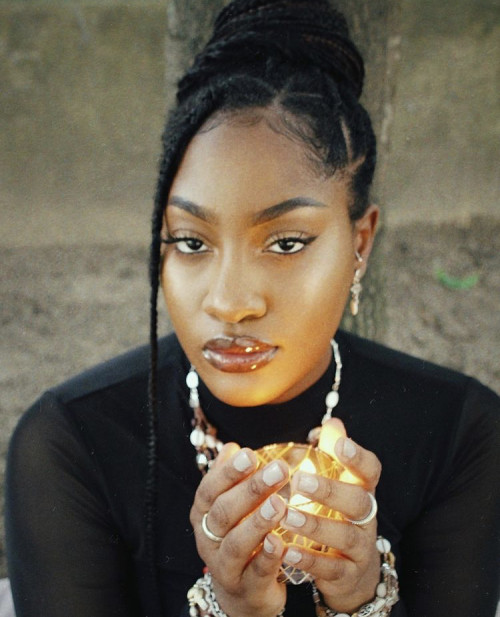 Our First Musical  Queen Temilade Openiyi. Photo credit: Danielle Mbonu( @thelifeofdanmbo)
One song, in particular, is an absolute banger with great replay value and caused her career in to take a huge leap forward. Her recent feature on the song 'Essence' in Wizkid's most recent album effort Made in Lagos has made numerous breakthroughs not just for Tems but for the Nigerian music industry itself. The US' 44th president Barack Obama was so beholden by the song's whimsical tunes that he added it to his "Favorite Songs of 2020" playlist. Essence was also ranked 32 on the billboard for Top 100 global giving Wizkid a grand return to the billboard after 2 years away.
Tems is near the peak of her powers and only gets better as the woman of the standard continues to deliver masterful music that takes her listeners 'Higher'. Her astonishing musical prowess has also led to her feature in prestigious magazines like the Native Mag and Genevieve Magazine alongside other elite women of power and awe-inspiring deeds. As a card-carrying member of the 'Rebel Gang' we await more musical healing from her soul-soothing music.
Ayra Starr
Our next rising female prodigy is Oyinkansola Sarah Aderibigbe but goes by Ayra Starr on stage. Born on June 14th she is an ardent romantic whose songs evoke warm emotions. Ayra's freestyle video was discovered by industry veteran Don Jazzy who helped paved the way for her career – it all seemed to happen overnight for the young star. Arya uses her melodious voice to reach out to fellow zoomers inspired by the heartache and heartfelt moments in a teenager's life. Her first EP 'Ayra Starr' was nothing short of amazing, her EP was reviewed by The Floor Mag who say that the "20 minute musical offering not only solidifies the singer/songwriter as a standout vocalist but also serves as an acute window into her artistic sensibilities" the skilled mix of sensational sounds takes you on an emotional journey with Ayra. Getting to know a bit about the popstar was easy thanks to her short interview with Youtuber Korty E.O, where she describes herself as a free-spirited, celestial being who lives beyond the constraints of our society and this is easily perceived in her music style. Her debut single 'Away' was more than just a song, it was a powerful fight anthem to inspire young women to fight for their space in the world. The lyrics reflect a strong will to conquer and Ayra Starr is here to conquer the industry.
Ayra's soulful songs are more than just words, each song has served a therapeutic purpose for Ayra as she shared via Twitter saying "Some of the songs on my album I wrote in the hospital hallway while my dad was in a coma" – in reference to rough times for the young star whose father was one of her musical role models.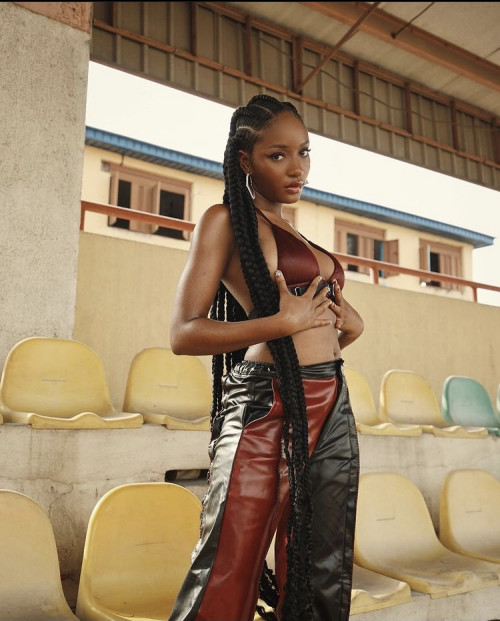 The Gemini Starr Oyinkansola Sarah Aderibigbe. Photo Credit: Danielle Mbonu( @thelifeofdanmbo)
Ayra Starr seems to be destined for greatness, as she has never strayed from her dream of being a singer. Being an artist has always been part of the story for Ayra who carries herself as though every moment of her life has been laid out to lead right up to this moment of her blooming career. The Gemini, Starr, is right where she belongs amongst the stars of Nigeria's vibrant music scene and looks at peace with the life of an artist.
Sgawd
Drum roll for SGAWD the baddest of them all, as we present the artist cryptically known as Seddy with the crown of Naija's Queen of Rap. An independence day baby, our libra queen wields musical talents so versatile her seamless switch from soulful singer to ruthless rapper will leave you breathless. Formerly of Maryland, USA, the gifted singer, songwriter, and rapper piqued interest in music in 2015  and began dabbling in music part-time while managing her school life. After university Sgawd returned to the motherland for her national service, and, as fate would have it, the lockdown happened and she decided to press forward on her musical journey. After encouraging feedback from her SoundCloud listeners, Sgawd knew it was time to hit them with the best of both worlds.
The songwriter began creating her music with bars so hard they set off metal detectors. She embraces lasciviousness with a confidence that can be seen in songs like "That's My MO", igniting the fire in every young woman. A figurine of carnal desire, Sgawd wears her sensuality like a badge of honor as her sultry lyrics showcase a woman who is uncompromising despite societal judgment. She is here to take her rightful place as a versatile queen capable of doing it all, as she effortlessly takes on genres as diverse as R&B, Afro-pop, and Hip pop. In her recent interview with Emman Owoniyi on his 'Soaking Garri with…' series, she is clear that she is open to working in any genre and does not limit her musical sound to one style.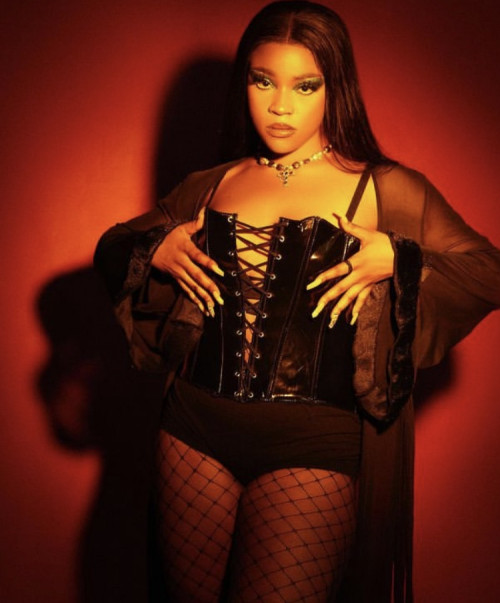 Our Versatile Baddie SGAWD. Photo Credit: Wura Ajigbe( @wurolaphotography)
Sgwad recently teamed up with Aux Africa, a new pan-African radio showcase powered by Coolfm, to create an EP titled 'Phobia'. The collaboration culminated in her announcement as Aux Africa's artist of the month for July 2021. Sgwad was also featured on the pop culture Native MAG where her newest single 'Pop Shit' featuring Somadina was reviewed. Trill Xoe's eccentric beats are a herald to the impending arrival of Sgawd's awakening, building up to a climax as Sgawd issues an ominous warning to the industry that she "can't wait to pop shit" and to claim a crown that is rightfully hers.
Liya
Our next queen 'Liya' also referred to as Abdulsalam Suliyat Modasola is indeed the first woman to be signed to the Davido Music Worldwide label. Liya was signed unexpectedly after a weekend traveling the country with the prolific artist and supremo of her label Davido. The signing came about when her manager played her songs for Peruzzi - also signed to DMW.  David was positively captivated by her sound and went on to sign her to his record label a few days later. According to Liya, she had been making music professionally for 4 years before being signed. Some of her older songs include 'Shadows' and 'Bomb Creator'. She classified her sound as "AFRO" insinuating she could fit into any of its numerous subgenres. Her DMW debut single 'Melo' in which she pays homage to African music queen, Angelique Kidjo, by sampling her hit tune 'Agolo' displays her musical prowess for all to see. In an interview with Channels television, she stated that her musical message inspires peace, love, and living your life to the fullest.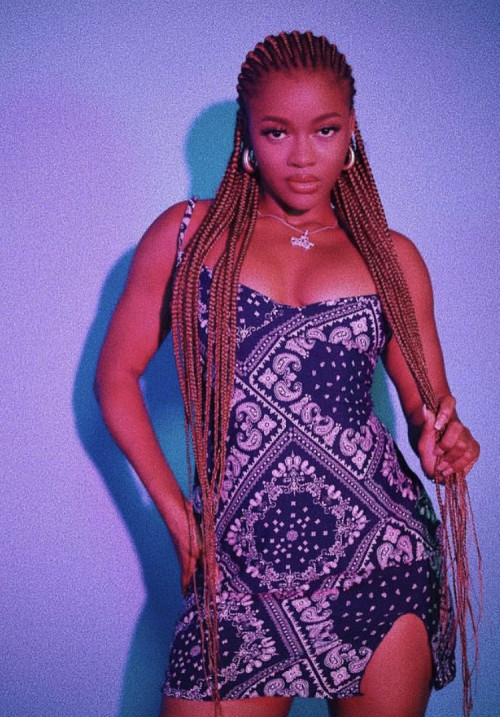 The Queen Of DMW Abdulsalam Suliyat Modasola. Photo Credit: Danielle Mbonu( @thelifeofdanmbo)
After the news of Liya's signing hit the web, a roar of excitement burst through the loyal DMW fan base as the label unleashed its first and only boss lady. DMW FC had been hyped for a drop from the new act and Liya stands as the sole representative of women in the DMW FC, giving women a voice in the label. She recently dropped a teaser for the release of her debut EP 'Alari' which hit the airwaves on August 20th, 2021. The fans are psyched and we cannot wait to see what the promising beamer has in store for us.
EfeOraka
Eferogbene Oraka is a 21-year old singer and songwriter. Born on April 12th, the R n B/Soul vocalist began her music career as a SoundCloud artist, singing mystical theme song covers. Without a music studio, Efe used her skills as a multi-instrumentalist who plays the guitar, violin, piano, and drums. This dexterity with instruments allows her to create largely original tunes and beats that are a hallmark of her songs. An old novice to the world of a musician, she's been performing since she was 8, and, as time went by, this caterpillar grew into a musical butterfly spotted while making covers – one of which was Jon Bellion's single 'All Time Low'. The cover went viral and so did her mashup of 21 Jon Bellion hits which racked up thousands of retweets and likes on Twitter. Jon Bellion himself gave recognition to her covers prompting a wider audience for  Efe's melodious voice. When her mash-up of Olamide's hits topped 5,771 views on YouTube it became clear that Efe's vocal talent was indeed ready for a global audience.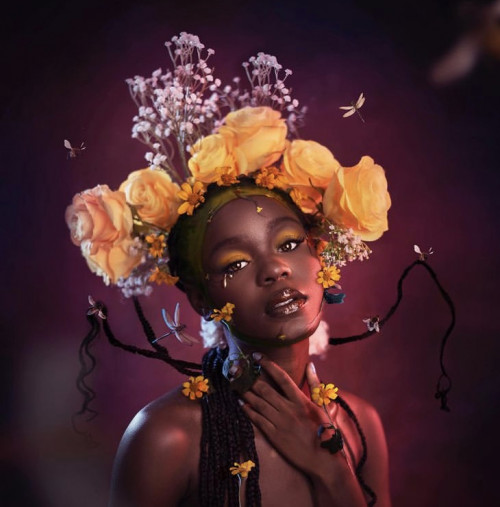 The 'FaeShawty' Eferogbene Oraka. Photo Credit: Nnenna Tochi Itanyi( @tochi_itanyi)
Despite being in pursuit of an academically demanding degree in law, Efe has honed an effortless ability to pen songs like a lyrical genius. She released a single 'Wonderland' in 2017 and it seemed that Efe Oraka's light was beaming brighter than ever. The song tells a tale of lovers wholly invested in one another as they wander into new territories of this fairytale and get lost in the magical scenes of the wonderland. A real 'fae shawty' as she refers to herself, Efe insinuates that she's a fan of fantasy worlds as all her songs edge towards the mystical world of fairies, magic, and supernatural phenomenon. Efe's unique style landed her numerous performances, including a barnstorming performance at the LemonCurd Festival in 2018. More recently, she performed at Professor Osinbanjo's 64th birthday celebration on the 8th of March, 2021.
Efe's growth has been thrilling to watch. She dropped her 'Magic' EP in 2020 and it showcases her ability to fuse other genres with her R n B sound, bringing rap into the mix with M I Abaga's feature on 'Zion'. The song also happens to be an extension of the 'Wonderland' single. With Efe songs are more than just lyrics and nice instrumentals. Her tracks are built with a purifying depth that resonates with her listeners, using relatable content as she did in 'Comfort Food'. Efe's virtuoso expertise has brought her a long way and this adventure is one we would love to see continue.
These five queens have done outstanding work in the music industry and the young women of Nigeria are privileged to have such icons that represent the indomitable boldness and fierceness in every 21st-century woman. Our beautiful leading ladies have proven to be more than capable enough to give the men in the industry a run for their money, bringing more than just hypnotic voices to the table. They are exceptional in songwriting, beat making, and playing instruments. We continue to cheer on our 21st-century queens in the hopes that their works inspire other female artists to join their ranks and rule in a dynasty whose regime is never-ending.

My My Battle Hymns of Nigeria's 21st Century Musical Queens Playlist
comments powered by