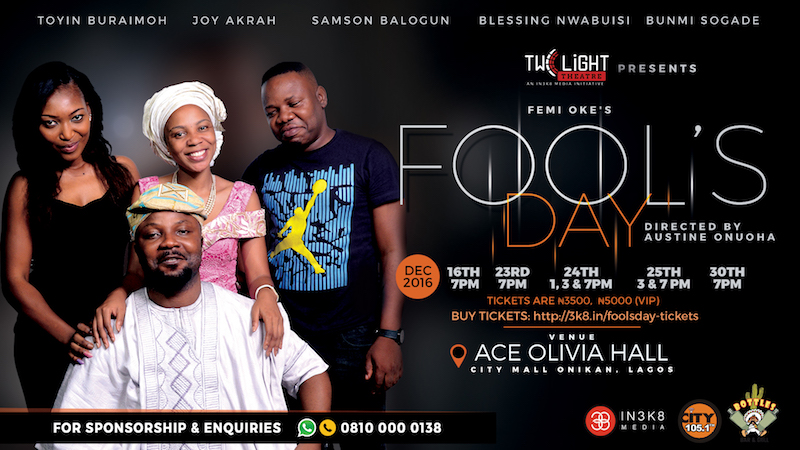 Product Description
Fool's Day highlights the decline in value society has placed on the emotional and psychologic relationship between parent and child in contemporary Nigeria. It is a dramatic survey of the Nigerian family unit – the epicentre of the Nigerian society. Through the prism of comedy, this play touches on the serious issues that parents could face when they see their only priority as providing for their children's financial well-being.
Featuring Toyin Buraimoh, Bunmi Sogade, Joy Akrah, Samson Balogun, Blessing Nwabuisi and many more under the creative direction of Austine Onuoha, Femi Oke's play is increasingly relevant today as labour economics force parents to make stark choices. This a hilarious contemporary piece that holds up a mirror to society's value system. Will society like how it looks?
Venue: Twilight Theatre @ Ace Olivia Hall, City Mall, Onikan, Lagos.
Dates: 16 (7pm), 23 (7pm), 24 (1, 3 & 7pm), 25 (3 & 7 pm) and 30 (7pm) December 2016
Ticket Prices: ₦3,500. VIP (₦5,000) and Student (₦2,000) tickets are also available.
Tickets can also be acquired at the following Tastee Fried Chicken Restaurants:
Oyin Jolayemi Street, Victoria Island.
Awolowo Road,Ikoyi.
Oando Filling Station, Ikate, Lekki.
Marina.
Opebi Road, Ikeja.
Ogba, Ikeja.
Warehouse Road, Apapa.
22 Road Festac Town.
For sponsorship or ticketing enquiries 0810 000 0138 or 0818 111 1138