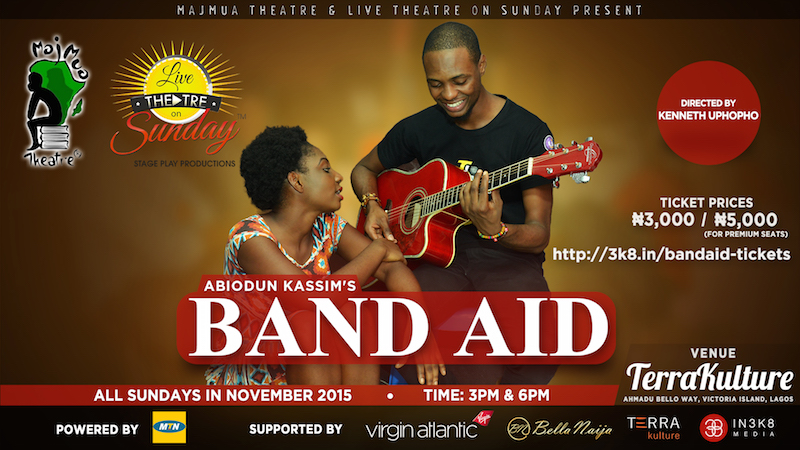 Abiodun Kassim's Band Aid at TerraKulture
Product Description
B
and Aid, the story of three band mates – Femi (
Patrick Diabuah
), Flex (
Tosin Gregory
) and Tony (
Femi Leye
) connected by their love for music who meet and fall in love with Ivie (
Goodness Emmanuel
) who is also a music enthusiast. They think she can help them conquer their fears and become successful, they think she has come to save them from themselves but she takes them on as a project to fill a void in her life. What happens when her demons emerge from the past she is trying to escape from?
This is the conundrum at the heart of this funny, reflective and exhilarating play. The play draws the audience in with good contemporary comedy and music then it hits them with the truth they need to hear about chasing ones dreams and fighting ones fears.
Band Aid premiered in May, 2014 at TerraKulture and recorded an audience of over a 1000 theatre goers. The Second Showing was on the December 12, 2014 at the MUSON. The play has received rave reviews in the media and on social media.
The show takes to the stage at 3PM and 6PM on all Sundays (1, 8, 15, 22 & 29) in November, 2015
Tickets are ₦3,000 and ₦ 5,000 (for Premium Seating)
The production is supported by MTN, Virgin Atlantic, BellaNaija, IN3K8 Media, 96.9 CoolFM, 95.1 WazobiaFM, 99.3 Nigeria Info, 98.1 SmoothFM, iGrooveRadio, EbonylifeTV DSTV Channel 165, GetTV Startimes Channel 165, RoyalrootTV, Rhythm 93.7 FM,
Naij.com
, Olorisupergal,
WanaWana.net
, One Management and Daviva Textiles.
One lucky person gets to win a return ticket to London courtesy of Virgin Atlantic