#NigerianTheatre is experiencing a resurgence now and in no other month is this more evident than in October where there is a strong line-up of original plays celebrating Nigeria's diversity, her history, her diversity and her coming-of-age.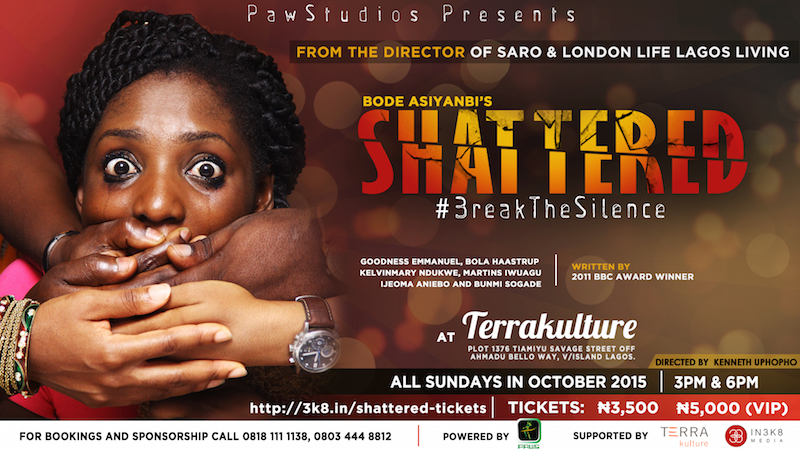 Bode Asiyanbi's Shattered which is one in Nigerian theatre's OctoberFest, as we're dubbing this month's collection of stage plays, is a play about a serious subject. It is about the silence sometimes imposed around rape and other incidents of sexual violence against women and the increased strain this places on an already traumatised victim.
This PAW Studios production of this award-winning stage play follows Loveth (played by Goodness Emmanuel) on a journey as she takes a familiar trip to a familiar destination to receive the much needed financial support that she has now become accustomed to receiving from a close family friend. For Loveth on the anniversary of her dad's death, she's off to undertake one more mundane task – a coping mechanism that helps her get over the fact that her dad is dead.
Her life today, however, is about to be altered. No, turned upside down.  She is about to experience mundane go from chaotic to frantic to tragic – all in one day. The story follows her sexual violation by a man she has come to look up to and an attempt by those close to her to sweep things under the carpet. Will she go quietly? Will she conform to this imposed code of silence or will she #breakthesilence and bring the skies crashing down?
 Bola Haastrup, Ijeoma Aniebo,Bunmi Sogade, KelvinMary Ndukwe, Goodness Emmanuel and Martins Iwuagu  all feature in what promises to be a serious but entertaining affair. Kenneth Uphopho the director of Saro & London Life Lagos Living ( another promising OctoberFest stage play) also directs this production. Shattered is onstage at Terra Kulture on October 4, 11, 18 & 25 at 3 & 6PM daily.
See pictures from Shattered below:

comments powered by