o ne of my recent new hobbies is trying out restaurants that pop up on my radar in Lagos city. Whilst searching for a new place to try out my Instagram algorithm did the lord's work and brought SEE Lagos to my attention. After some research I discovered that SEE Lagos is a unique spot that consists of a restaurant and plant shop.This grew my anticipation to visit the restaurant and I did just that. On arrival at the restaurant which is strategically located at Lekki Lagos on Wole Ariyo Street, making it easily accessible to those on the mainland through the Lekki-Ikoyi link bridge and those on the island. The outside of the restaurant was beautifully lit, with the name of the restaurant illuminated on the building making it easy to spot unlike some restaurants which have no logos or barely visible ones.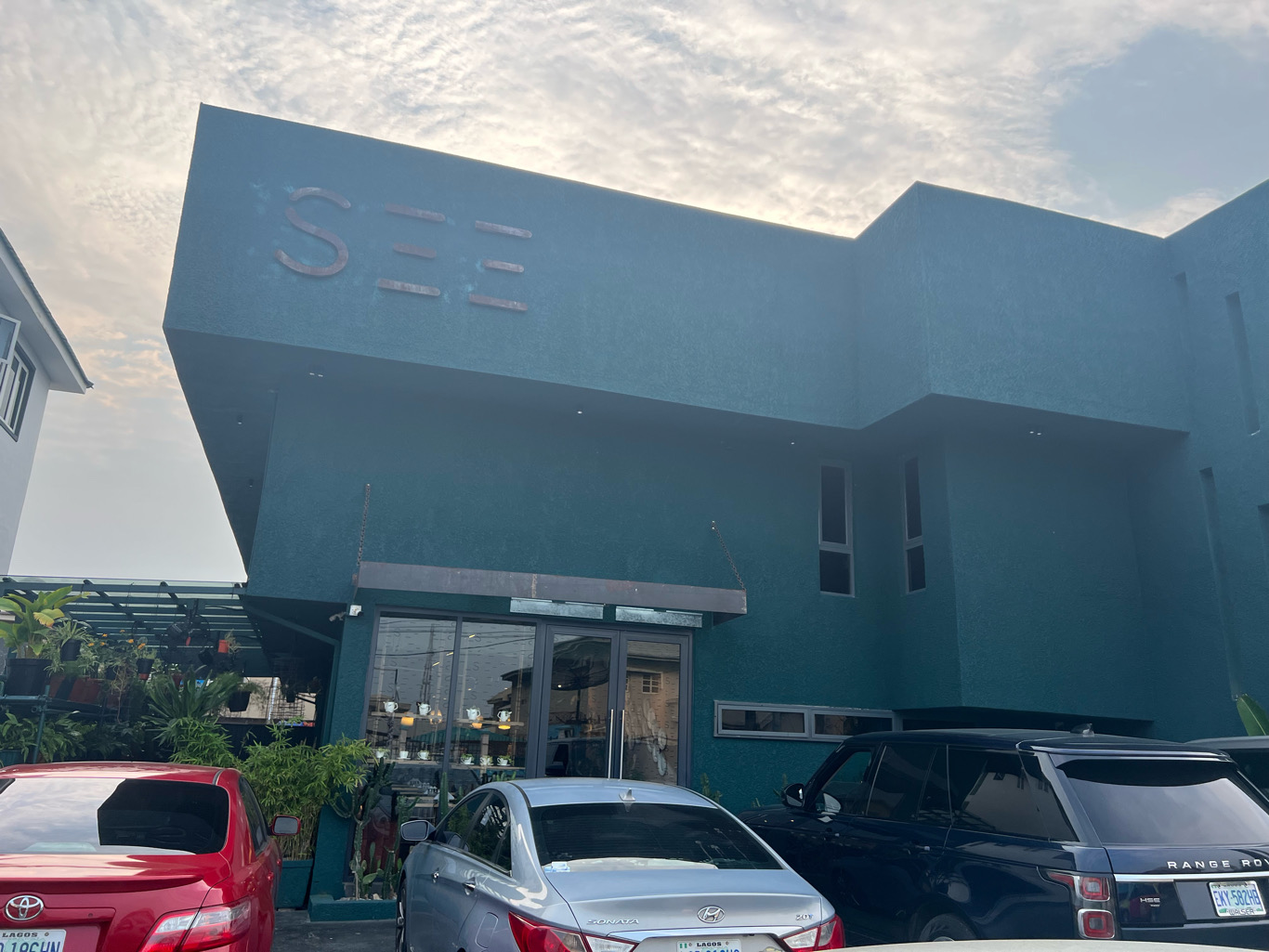 Outside SEE Lagos
The moment I came into the restaurant, a kind waiter greeted me and led me to a cafe section where delicious pastries were on display. I soon realized that the restaurant had three distinct dining areas: a cafe, a lounge, and an outdoor area next to a plant shop.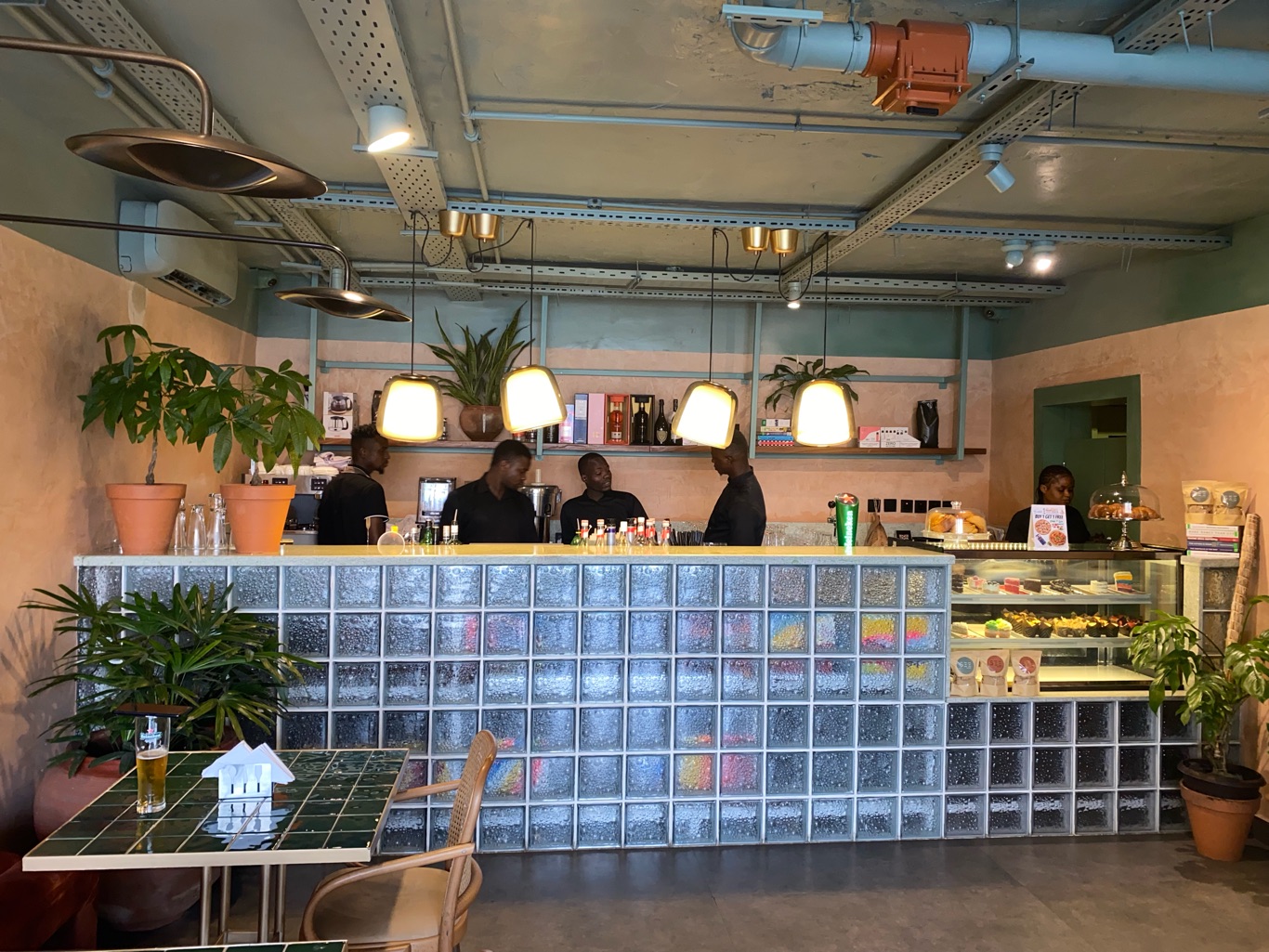 Pastries on display at Cafe area
The ambience was calming, filled with various green plants that made the restaurant airy and cool giving it a very relaxing atmosphere. This piqued my interest to inquire about the greenery space ,and the waiters were more than willing to answer my questions but it seemed that they were not well informed on details of the gardening space. Hence I was redirected to the restaurant coordinator who goes by the name of David Ewa, who gave me a thorough explanation concerning the vision of every space in the restaurant.
The coordinator informed me that SEE Lagos is a French restaurant and the vision was created by a group of friends with different ideas that make up this conglomerate. The aim is to create a space that presents the customers with multiple experiences.
According to David the restaurant also has a membership club and is occasionally used to host meetings, not only for members but also for customers looking for a place to eat and work. The exclusive and expensive club provides its members with benefits such as unrestricted access to the restaurant's private dining rooms, 20% discount on all bills, free business seminars, invites to enjoy the end of year parties with celebrities (e.g Asake was present at one of their private invite parties), enjoys 10% add on to members account anytime a member grants a non member access using his/ her access card etc. To apply you simply request for a form at SEE Lagos, then choose one of the following membership plans;
| | | | |
| --- | --- | --- | --- |
| Membership Plans | Individuals | Family | Business |
| 3 months | ₦500,000 | ₦1,000,000 | ₦5,000,000 |
| 6 months | ₦750,000 | ₦2,000,000 | ₦10,000,000 |
| 1 year | ₦1,000,000 | ₦3,000,000 | ₦15,000,000 |
Club Membership plans at SEE Lagos
As a resident living in this city in its economy's current state I have to say I was shocked, but I've concluded that there might be people who see it as a vision and wish to partake in it. The concept of exclusivity and luxury is something people desire and SEE Lagos offers that but at a hefty price.
Moving on to the cafe section, the section serves as a brunch area, this does justice for early workers who can come and have breakfast to start the day right, and finally the greenery space which is the real star of the show. The greenery space has a plant shop and a fine dining area which adds a nice finishing touch to the restaurant's uniqueness. SEE Lagos presents a multifaceted eating experience that allows its customers to choose their own dining setting.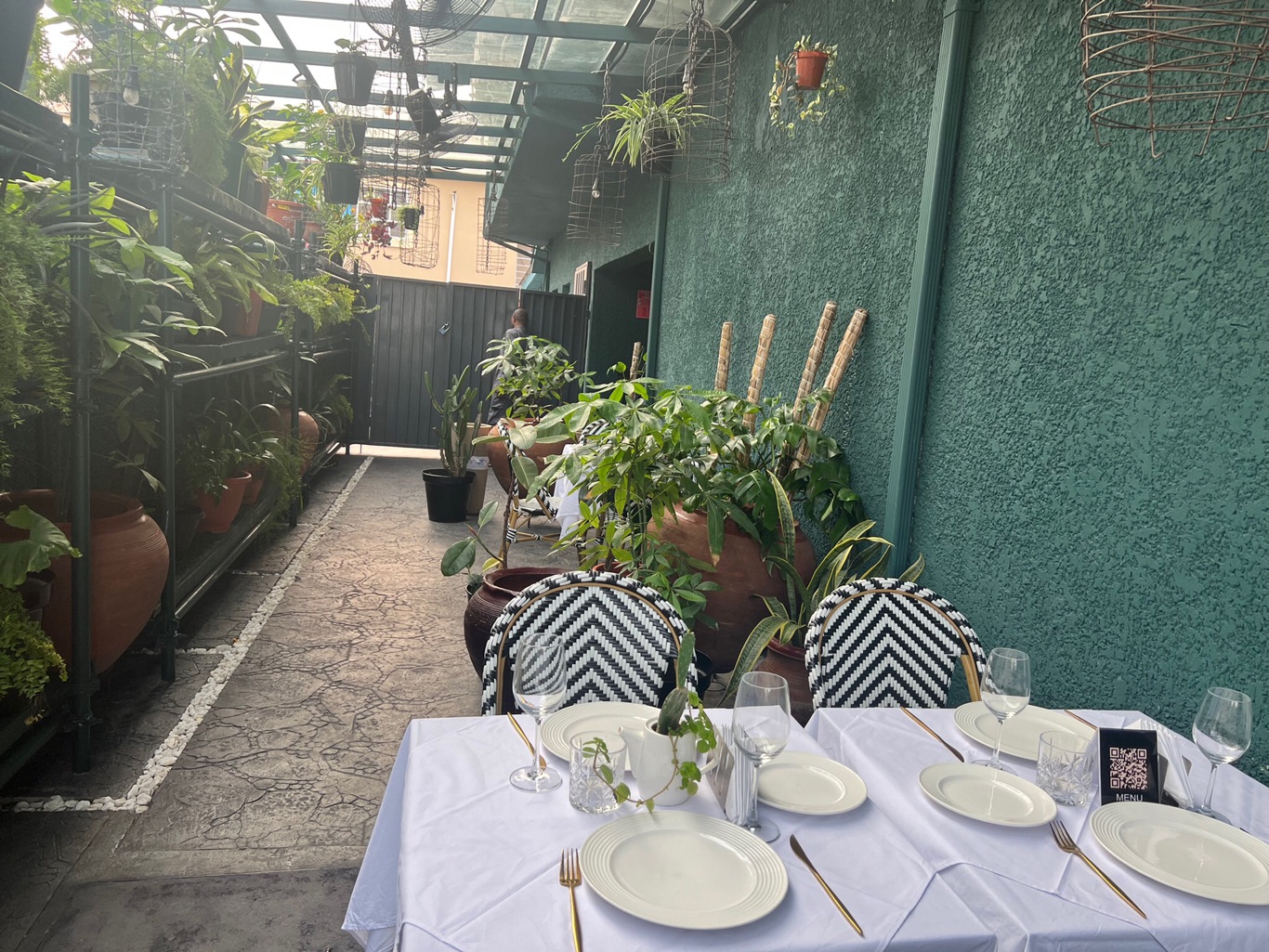 Outdoor dining at the greenery space at SEE Lagos
We started with what they called the green space and David seemed to be most excited about this particular space, he explained that every single plant on display was thoughtfully selected by a gardening expert to ensure that the plants can survive our climate, as well as making sure it serves its aesthetic purpose in the restaurant. These are just a few of things taken into consideration when selecting plants for the restaurant. Moving forward i was curious to know where the plants were cultivated as there seemed to be no field in the garden, David then disclosed to me that the restaurant has its own farm which is located in VI on Akin Ogunlewe road and this farm cultivates tropical plant species such as ZZ plants, asparagus ferns, money tree (guinea chestnut), dracena, fig tree, ponytail palms, lady finger palms (rhapis excelsa) etc.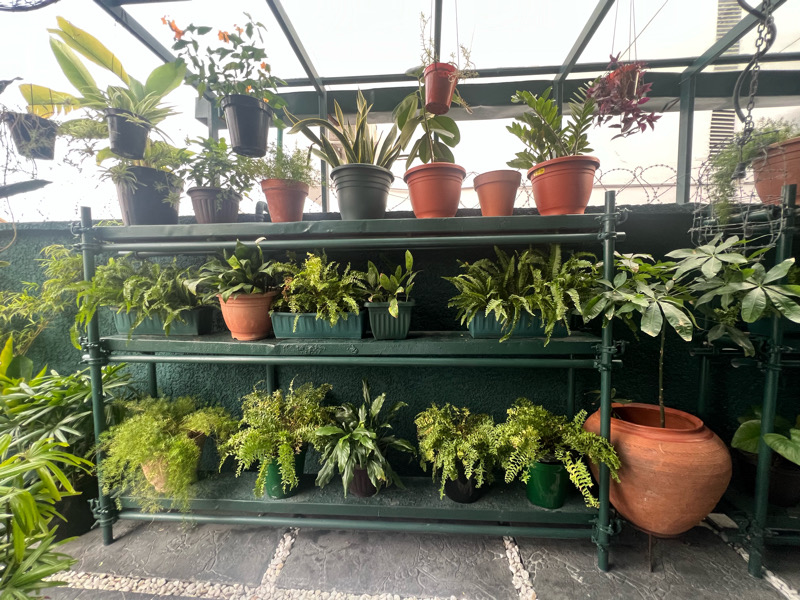 Variety of plants sold at SEE Lagos
I was wowed by the versatility of this location, I began to wonder how managing the horticulture garden and restaurant affects the profitability of the establishment. David was quick to assure me that both establishments are quite self-sufficient, the plants cultivated are also sold to customers, they are sold at prices ranging from ₦15,000 – ₦75,000 depending on the species or size of it. The greenery space is also used for video shoots using customers or paid influencers to create content for their Instagram page etc. It has its own fine dining area where customers can enjoy a balmy outdoor meal, but it was a bit too windy for me so I decided to have my meal indoors at the lounge area.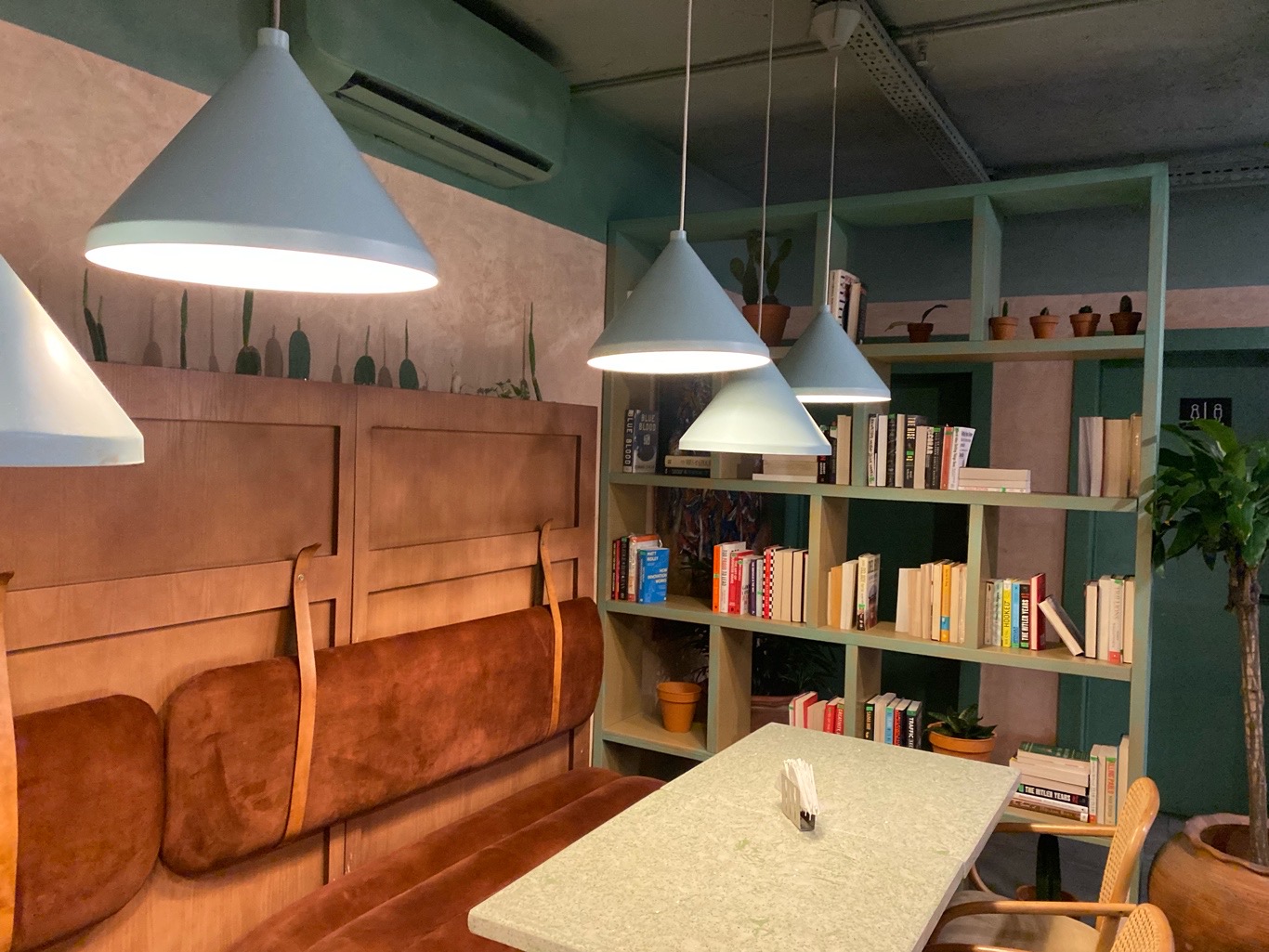 Lounge area at SEE Lagos
The lounge area had the same nature's touch as the green area, they made use of mostly wooden furniture and even painted the air conditioning green to match the aura of the restaurant, the interior design was clearly thought through as not a single item was out of place. From lanterns hanging above the counter which made it look as though they were fireflies, to the plain white dishes pasted on the walls as makeshift tiles.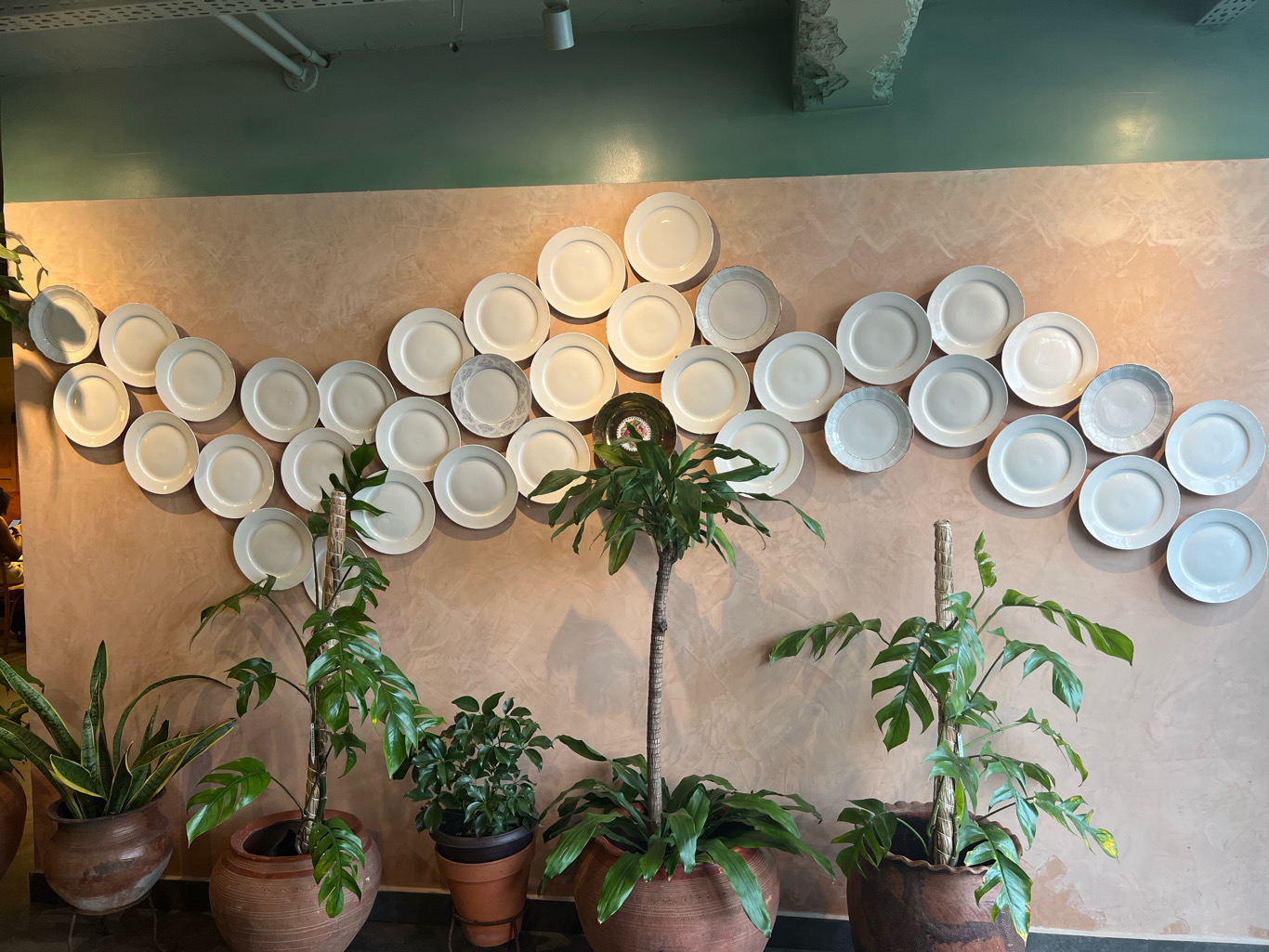 Abstract decor at SEE Lagos
After touring the grounds of the restaurant I was famished and ready to eat, like most modern restaurants these days SEE Lagos had a virtual menu which you had to scan to access. It was quite difficult to select a meal because the food menu had so many sections with various options such as the breakfast selections, sandwiches and burgers, starters (lunch/ dinner), salads (cold plates), hot plates, main courses, SEE sides, meats, comfort food and lastly desserts.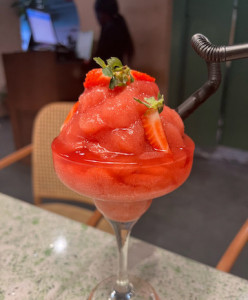 Strawberry daiquiri served at SEE Lagos
The food menu is quite flexible as there are cheap options and expensive options both with amazing food quality. I was served complimentary bread with salted butter while I took my time browsing through the menu. I was inclined towards selecting the Alfredo SeaFood Tagliatelle  which was my waiter's favorite but I opted for Burger De Boeuf (grilled beef burger)  with a side of Cajun Fries. I was very satisfied with my choice of food. The bun was sweet and baked to perfection, the beef was well spiced and properly cooked. Each bite was better than the last, this was my first time eating a burger that did not collapse. It was well balanced and not too big, the fries were spicy and crisp, not too soggy.  The burger cost ₦6900 including the fries. After I finished my meal I had reached a point of satiety and had no room for the drink.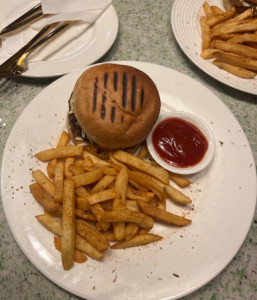 Burger De Boeuf with a side of Cajun Fries
The drinks menu had loads of options but without giving it a thought I requested my usual, the strawberry daiquiri which set me back ₦7000 – yet to find a restaurant that can get this drink wrong. The drink actually isn't on the menu but they were kind enough to make it specially for me. My bill came to a total of ₦13,900, the meal is definitely worth the price. My overall experience at SEE Lagos was impeccable, no one could possibly feel out of place in this restaurant that has something for everyone. I highly recommend that you give this restaurant a try, that 4 star rating is no joke. The waiters were professional and attended to all of my needs and the overall experience was top notch. I for one will be returning to SEE Lagos.
comments powered by