The music industry is one of the most exciting industries in Nigeria. This is an industry where there are various young and old artists who come to make music and share their work with their fans. Today we'll talk about one who has had a struggling start and has found his tone. He goes by the name Asake.
In the course of writing this article I asked some Asake fans for insights because I wanted to know what exactly they love about him, his music including his live performances with very interesting responses and insights. I will share some of these insights but before that we need to reach for the Asake backstory.
The backstory
Ahmed Ololade Asake, is a 32 year old rising star and gifted vocalist who was born and raised in Lagos state with his family. Before Asake made it into the limelight he spent most of his time recording his music at home.
Asake studied Theater & Performing Arts at Obafemi Awolowo University and used to be a drummer in the OAU Music Department Band. He later started showcasing his talent and his freestyles on social media. In 2015 he made the decision to pursue his music professionally but only rose to prominence with an appearance on a Broda Shaggi's song, 'Star' in 2019. This was indeed a stepping stone to announce his vocal prowess to the Nigerian musical scene, as only a few people were aware that he was also a vocalist at the time. Asake seized the opportunity in January 2020 with the release of the song 'Lady'. It went viral, with many, including celebrities, singing along to it. In the same year, Asake had yet another hit song called 'Mr Money' which went on to win Popular Song of the Year that year at the City People Music Awards and in addition become one of his appellations ever since. He received other nominations at the 2020 City People Music Awards for Street Music of the Year and also won Best Collabo of the Year with 'Mon Cheri' where he featured alongside Yhemo Lee on the Ashidapo tune.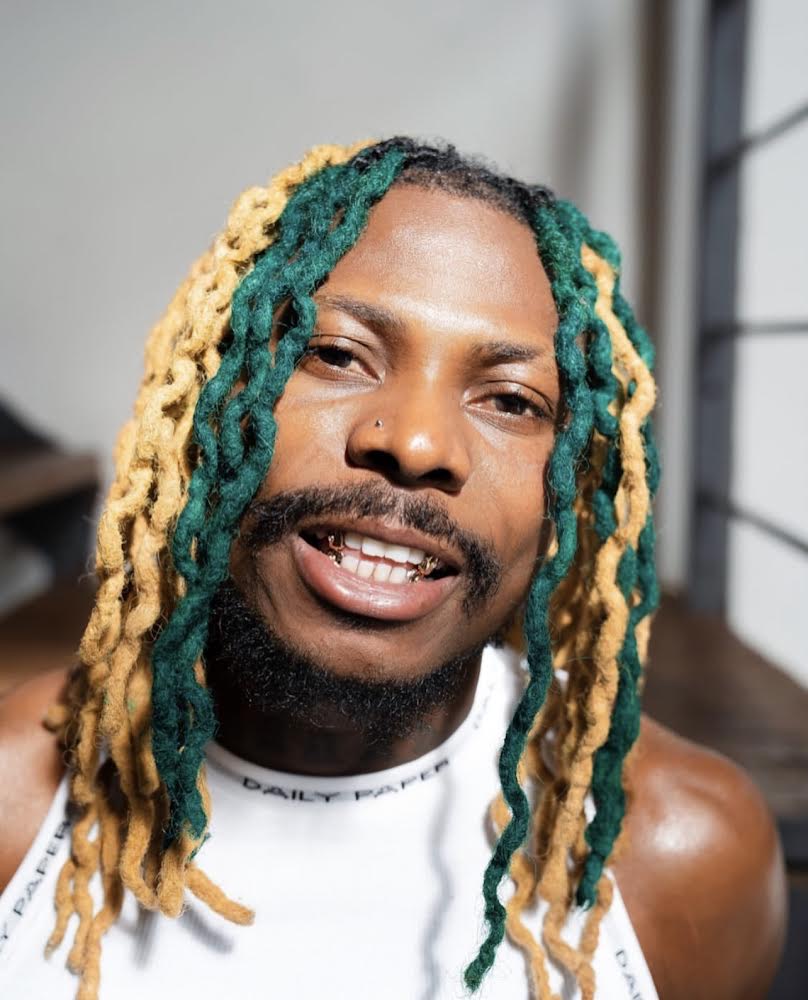 Asake: Up close and personal. Photo credit: Walter Ohiole ( @Walterbanks_)
Challenges and progress
Olamide, the CEO of YBNL Nation, welcomed Asake to his record label on February 8th, 2022. In an interview with Do2dtun, Asake shared how he "wasted four years of his life" at home recording without being able to put out his music. He described how a label made promises but never followed through on any of them, he also mentioned that he had been texting Olamide since 2020 to assist him like he has helped many of his pals in school, Fire boy and Chinko Ekun. His prayers were granted when Olamide reached out to sign him out of the blue – via text no less!
Despite the criticism from the fans and haters, he has remained resolute, staying focused on the mission to become a music star.
Rather than letting the criticism get to him, Asake let it fuel his ambition and musical career. The song 'Sungba' which features Burna Boy  also known as the African giant, topped every playlist.

Some merciless takes on Asake's musical efforts by the twitterati
Finding Asake Stans
In order to get fan perspectives on the man of the hour I put out a public questionnaire to see what music lovers like about the burgeoning artist, gauge their depth of feeling for his live performances and also to ascertain what they would ask him if they happened to be stuck in a keke with him. The results of the anonymised questionnaire were used to determine Asake stans and which qualities of his personality or art they found the most enduring.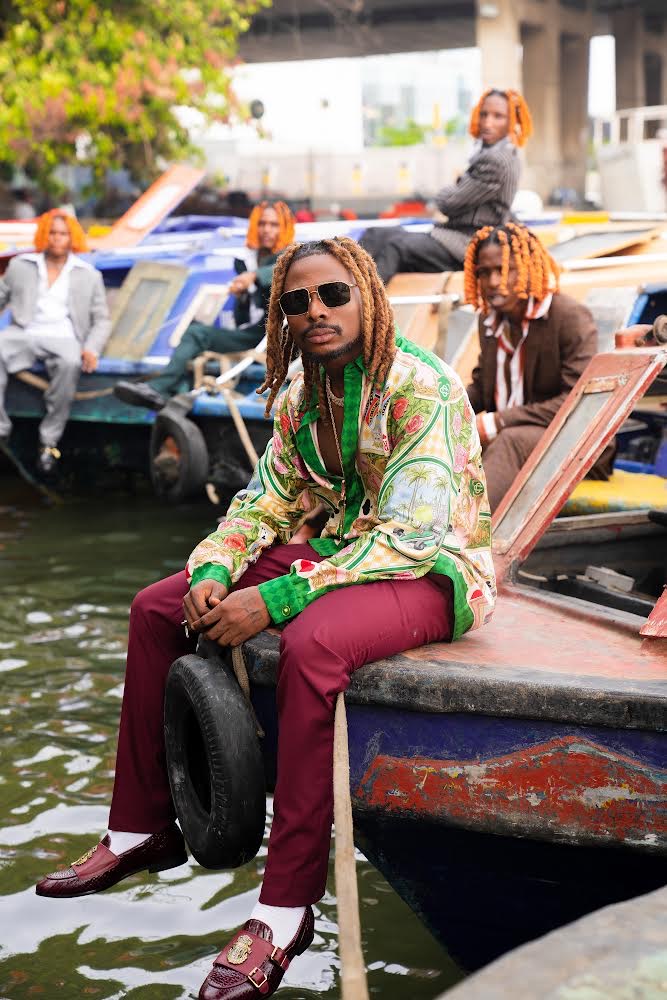 Asake still shot from "Sungba" Music video. Photo credit: Walter Ohiole ( @Walterbanks_)
A random sample of respondents was developed using a list of my Instagram, WhatsApp and SnapChat followers. I constrained respondents to answering the questionnaire only once to avoid abuse but also to keep things interesting.
The typical Asake Stan
The classic Asake stan is around the age of 18-21 – a zoomer. This means that his fans are predominantly students which correlates to 50% of his fans only being willing to pay between ₦5,000 and ₦10,000 for an Asake live performance. Most Nigerian Gen Z-ers still rely on the bank of dad and mum or might not earn enough yet to spend significantly on live shows. Another nugget of information that came through on the survey is that he is popular with the ladies, as the respondents with more affinity for his work and live performances tended to be female.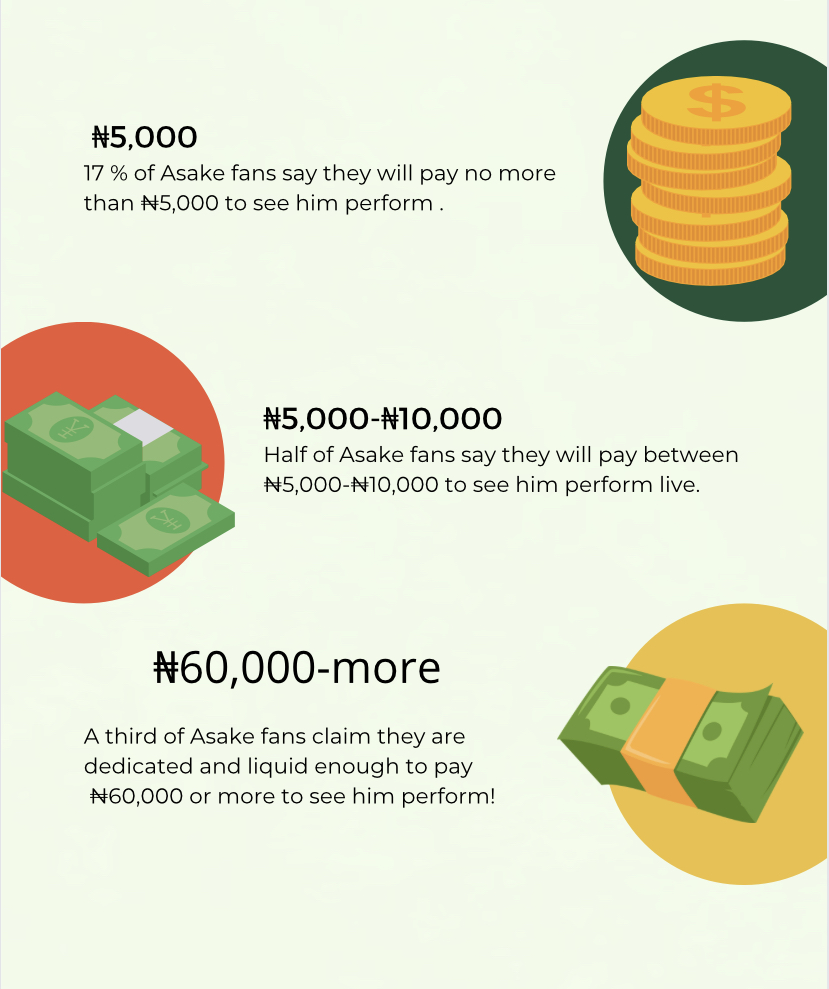 How much will fans pay to attend an Asake live performance?
Stepping to the beat
According to my survey when asked what they love about him, half of his fans said they loved his beats and rhythm, particularly because they make it easy to predict when his song is about to be played and because of the beat, there is a good chance that people will put his songs on repeat.
The musical collaboration most Asake's stans are dying to see are with Davido or Wizkid. His latest effort 'Pbuy' (Peace Be Unto You) has captured imaginations while many are still hooked on the 'Sungba' remix with Burna Boy.
On the survey there was also a question about which Asake live performance was most memorable to fans and about half of the respondents who were his staunchest fans said Homecoming. During Homecoming, he sent the crowd wild with his innovative track, 'Omo ope'  before thrilling everyone present with a sublime performance of his breakout track the eponymous 'Mr Money'.
For those of you who didn't know, Homecoming is an annual cultural festival that has most recently been held at the Harbour Point Center in Victoria Island, Lagos. Through an art, music and fashion-centric programme this event honors creativity and youth.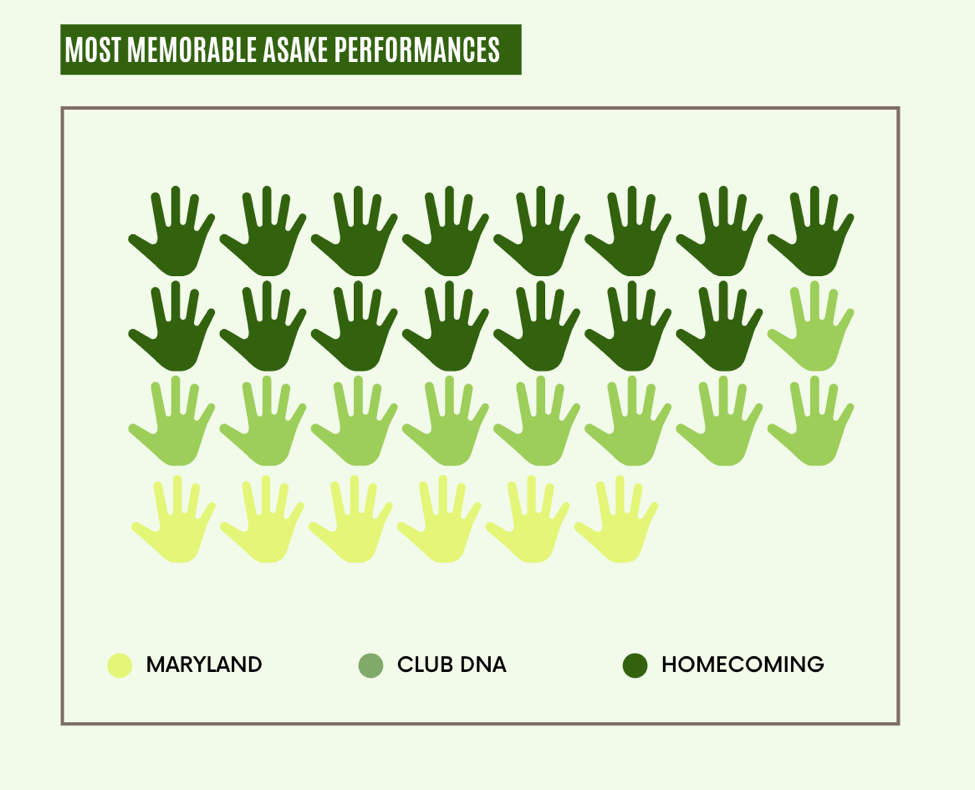 And the winner is…Homecoming!: half of our survey respondents recalled his energy at the Homecoming event. A third of his fans can still not forget his ClubDNA set. Less than 10% of his fans found his set at a Maryland club memorable.
Parting shot
I cannot help but conclude from the industry accolades to the social media jibes that Asake is an artist who music fans cannot be indifferent to. They have a reaction to him and want to know more about the crooner who has had a meteoric rise. Given the chance some would want to know 'what motivates him to make certain songs' while others might have tongue-in-cheek questions such as 'when will he propose to them'. There is no doubt either that he will have an impact on the Nigerian music industry judging from the love he commands from his loyal fanbase and the hits he has made to date.
comments powered by