Continued from Part 1…
Another very inspiring session was the Our Future: This Is The Moment To Invest in Girls with Mo Abudu, Kemi Williams, Country Director, Girl Hub Nigeria and three remarkable young Northern Nigerian female ambassadors from the Girl Effect initiative: Fatima, Aisha and Salamatu. It was moderated by Toyin Saraki.
The session connected with the #BringBackOurGirls campaign currently under-way to put pressure on the government's effort to rescue the girls abducted from Chibok and kicked off with an emotional video of the mission of the Girl Effect. Kemi Williams said that the world needs to stand up for girls and that the Girl Effect is the amazing ripple effect created when girls are invested in. More than 500 adolescent girls living in poverty were asked what they want, feel and think and a composite of their responses resulted in the Girl Declaration.
The ambassadors believed safety is very important because if a girl is afraid of going to school, she would not be able to get adequate knowledge to advance in life. When asked about the most important element of the Girl Declaration for them, Aisha chose education because, "if you educate a girl, you educate a nation and we need our nation to be developed" and for Salamatu, citizenship was most important: "I have a name and it is not anonymous".
Mo Abudu could not hide how impressed she was with the way they confidently expressed themselves and talked about the role of the media in creating a better environment for the girls, saying that her platform (EbonyLife TV) was set up to give this generation a voice. "The time to act is now and we shouldn't wait till we are billionaires to help others.", she said.
After a lovely lunch-break, it was on to the next session, A Question of Identity: Challenging Global Perceptions of Beauty with moderator, artist and Founder, African Heritage Group, Sesu Tilley-Gyado. The speakers on the panel were Oluchi Orlandi, Model, Host and Executive Producer, Africa's Next Top Model and Desiree Rogers, CEO, Johnson Publishing.  Oluchi believes Westerners to be somewhat ignorant about Africa, telling stories they know nothing about – some of them have never even been to any African country and only know what the media tells them Africa is – highlighting the need to start telling our own stories. She urged all present to seize the freedom to be who we want to be as African women.
"No matter your degrees of beauty and power, if your heart is not beautiful, you are ugly" – Oluchi Orlandi
According to her until 10 years ago, when she decided to stop looking through eyes of fear and insecurity, she never really thought herself as beautiful when she looked in the mirror. Desiree said that it was unrealistic to think you can be 20 forever and advised women to take charge of their decades. When asked for their opinions on the current epidemic of skin-bleaching, Desiree couldn't understand why women would want to change their skin colour but for Oluchi, it is all about choice: "If you want to bleach, go ahead and bleach".
On their thoughts about beauty, Desiree said women can be pretty AND smart, it doesn't have to be one or the other while Oluchi passionately expressed that no matter your degrees of beauty and power, if your heart is not beautiful, you are ugly and revealed that she cannot stand women who have the opportunity to lift other women up but don't use it, leaving an impressed audience in her wake.
Positioning Africa Globally was the PR session with actor/model, Gbenro Ajibade; Kandia Johnson, Global Contributor, Black Enterprise; Liz Ngonzi, Global NGO Branding Thought Leader; Lola Odedina, Head, Communications & External Affairs, GT Bank and Adiat Disu, Founder, Adiree as the moderator.
To Gbenro, great PR is one that transforms a person into a brand. Kandia believes that there are a lot of things people don't see because it's not portrayed in the media but the tools have changed now and there are media platforms that allow Africans tell their stories themselves. Liz, who says she speaks about Africa the way people don't see Africa, agrees with that because there is no one who can tell our story like we can.
"Great PR is one that transforms a person into a brand" – Gbenro Ajibade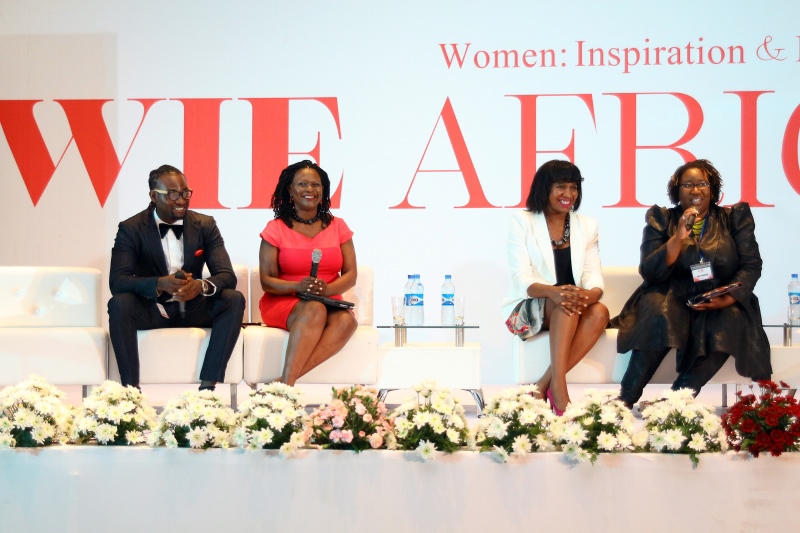 Gbenro Ajibade, Liz Ngonzi, Kandia Johnson
Photo Credit: The Bobby Taylor Company
comments powered by