Day 5, the day before the curtains finally fell on Social Media Week Lagos, 2014 and the last day of the physical events (day 6 events were virtual).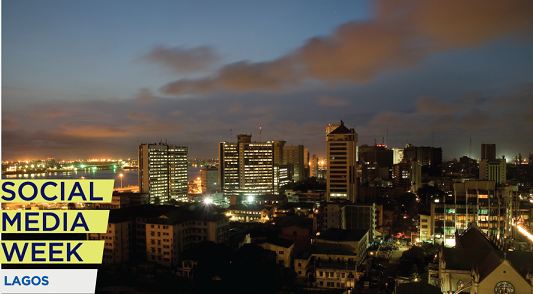 I attended the "The Power of Advocacy using Social Media" event held at the #SMWexperience hub in Four Points by Sheraton and hosted by Friends Africa. The panelists were Dr Joe Okei-Odumakin (CEO, Women Arise for Change), Gbenga Sesan (CEO Paradigm Initiative), Emeka Oparah (representing the CEO of Airtel) and Tolu Ogunlesi (Writer, Activist and Social Media Enthusiast).
 The event was centred on the role social media plays in increasing and improving social consciousness and advocacy. Dr Joe Odumakin (who I thought was the most inspiring #GirlPower;) shared the story of how she was beaten up by soldiers for daring to protest at Dodan Barracks, prior to the advent of social media. She discussed the move from physical meetings and difficult-on-the-ground advocacy, risking lives and pasting posters to using social media platforms to get information out. Gbenga Sesan identified Nigeria as the most lucrative country for advocacy because of her many problems, therefore, the need to be positioned as advocates on social media is strong. You need to be visible and be where your audience is on social media or else you will be "winking in the dark" and will not be effective in advancing your cause. Did you know that the first phone call in Nigeria was made in 1901? Well, that was an interesting fact Emeka Oparah, the Airtel CEO rep shared with us. He said news on social media has a ripple effect and social media will allow you reach your audience wherever they may be to advocate their causes wherever you are. He shared a story of how a woman who was experiencing kidney failure and needed N8.1 million reached out to him asking for help. After confirming her predicament to be true, he carried out a social media campaign to raise money for her and eventually raised exactly N8.1 million. Tolu Ogunlesi said as humans, there's an impulsive need to communicate. The tools for communication may change but the need to communicate will never. Advocacy is beyond formal institutions and social media magnifies peer pressure so more people want to advocate.
"Online Marketing for Smart Entrepreneurs" was hosted by Teleios Consulting and moderated by Adeola Kayode. The event was in 3 sessions. The first session was The Shift: Building your Brand Online officiated by Oyindamola Honey Ogundeyi (Industry Manager, Google Nigeria) and she spoke on how to manage the shift between traditional and digital channels of business branding. She identified major touch points for business branding: Google search, Google Display Network, YouTube, Social Media, Mobile, and Offline Media. They are important to businesses because businesses essentially want to be found, relevant, engaging and accountable. Search engines are the entrance of your digital shop and your "shop" must be open 24 hours every day. Keywords are very important, therefore create keywords that determine right to win. She also divulged a very helpful YouTube ad tip: The first 30 seconds of every YouTube ad is free. All my shapiros, leverage on that :). The second session was led by Lanre Aina  (YouTube's Strategic Partner Manager, Google Nigeria). This session was entertaining, interactive and highly engaging. He said that when Nigeria showed up on YouTube, Africa had to pay attention and that as we get more technologically sophisticated, people will start creating more content in videos that in text. He shared three principles of content marketing: Content is a means to an end, Always be in the right frame of mind to tell a story and always employ the 3Gs and 1T (Give, give, give and take) mechanism. He illustrated the power of content marketing with videos and how major corporations have started utilizing YouTube ads and videos.
The third session was the panel session, "How Online has helped my Business". The panelists were Jide Odukoya (Jide Odukoya Photography), Bisi Sotunde (Busy Bee Events), Barrister Matthew Ottah (Omonile Lawyer) and Philip Ogola (Kenyan Digital Humanitarian) and they basically talked about how the internet proved to be an asset to their businesses. Jide Odukoya said he opened a blog and a Facebook page and started posting pictures on his page and that was how people started appreciating his work and making recommendations. He said 99% of the clients he has had thus far were from social media. Bisi Sotunde built her personal brand on Facebook first and it helped influence the growth of her business. Digital media made her visible and helped her business generate sales and awareness. Through social media platforms, awareness has been created for Matthew Ottah's Omonile Lawyer business. He sells land, helps people vet land properties and educates the public about the dos and don'ts of buying lands so that they don't get duped. Social media has been very instrumental to his business. Philip Ogola was very instrumental in getting the word out during the Westgate Shopping Mall attack in Kenya on the 21st of September, 2013, using social media platforms to circulate the events as they unfolded. He was the Social Media Head at Kenya Red Cross at that time.
The last event of day 5 for me (literally my last SMWL event) was the "Natural Hair: The Social Media Connection" event hosted by Natural Ever After at the #SMWmace hub at Terra Kulture in VI which was very enlightening for women with natural hair and those who are birthing the idea to go natural. The curator was Kathleen Ndongmo and the panelists included Nibi Lawson (The Kinky Apothecary), Ngozi Opara (Founder, HeatFree Hair Movement and N-ZO Hair Studios) and Enuka Umeike ( Natural Nigerian rep) and they discussed the ways in which social media has helped them connect with women finding it difficult to take care of their hair and share tips and hair regimens for healthy African hair. Social media has also inspired them to organise natural hair fairs and exhibitions and assisted them in selling their natural hair products. Because of social media,  there's now such a thing as the Natural Hair Movement as many African women are learning to embrace their African heritage, kinks in the hair and all. And as many women are becoming more exposed to the beauty of African hair, they are beginning to transition from relaxed, permed hair to their natural African hair and are learning to celebrate African hair.
The Social Media Week Lagos inspired and enlightened hundreds of people on the advantages of social media in their businesses and everyday life and as the world is slowly evolving into the digital age, Nigeria will not be left on the back burner. Massive shout out to everyone who was a part of making SMWL 2014 a success. We can't wait for the 2015 edition!
Catch up on day 1, day 2, day 3 and day 4 of Social Media Week Lagos 2014
Follow us on Twitter: @IN3k8 Media  Like us on Facebook: IN3k8 Media
comments powered by