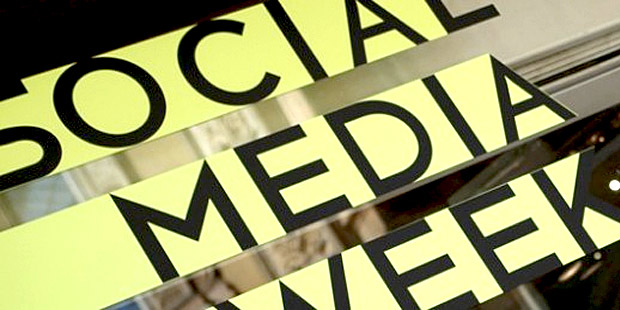 "Red Bull Presents: DIGITIZE ME! How Nigerian Artists & Producers Are Leveraging Digital Media To Win!" was my first Social Media Week Lagos Day 2 event. It was hosted by Red Bull Music Academy with ace music producers Kraftmatics, DJ Klem and DJ Jimmy Jatt as speakers. The venue was the #SMWmace at Terra Kulture and it was a packed hub.
The Red Bull Music Academy is a world-travelling series of music workshops where DJs, instrumentalists, producers, vocalists come together for two weeks worth of recording sessions, lectures and performances. Kraftmatics likened it to a magic school bus going from place to place and gathering people from different cities together and said that RBMA is about finding the next world changers and putting them together. Thanks to social media, music is more accessible to the public and so much easier for artistes to distribute their music and collaborate.
Other speakers talked about how social media has helped the music industry grow and how RBMA is contributing to the growth of digital music. DJ Klem said he was the first Nigerian to ever attend the academy and that social media has helped communication become seamless.
For DJ Jimmy Jatt, the power of social media in music is not contestable because it is able to provide the opportunity for artistes from different continents to work together. He also spoke of how the academy helped him get out of his comfort zone and experiment with music and how it's helped him network, meet other DJs, learn from them and interact with them online. He also said he's in the process of setting up a mini-RMBA so he can give back to local artistes.
How did they find out about RMBA? DJ Klem shared a story of how he got a call from his friend after his university education in 2009, to check out RMBA and apply to it because the people involved were well respected in the industry while Kraftmatics credited Modenine for his discovery of RMBA.
This year, Tokyo is the stop for the RBMA magic school bus.
"Africa 21 Radio Live: A Tweet Up" was hosted by Society Hae and Africa21 Radio and the speakers were Ngozi Odita, Creative Director of Society Hae and N'dada Vaz, the Communications Director. It was also held at the #SMWmace hub.
Afrika21 is a live radio station with the aim of using internet radio to bring together Africans in diaspora by helping them appreciate their cultural roots and getting them to participate in African-related events. Ngozi talked about the perks of owning an online radio saying that it is free and easy to start and it just takes your time and that you decide on everything. It is important to add value to the kind of music you put online because it gives you traction. Africa had been touted as the next big opportunity and that they are glad to be part of the conversation. They get their music directly from the artistes and this has prevented any copyright infringement issues. To grow as a business they advised that you grow your audience first and then leverage on that for sponsorship. Documentation is necessary to build your body of work so that people would want to work with you.
Ngozi said her challenges thus far are funding, creating a balanced target market awareness and acceptance.
My last event for SMW day 2 was the "Ovie Brume Foundation Presents – Life: Through The Lens of Lagos Youth". It was an event hosted by The Ovie Brume Foundation also at the #SMWmace hub. The facilitators were Christal Ogene (Manager, Special Projects, TOBF), Delphine Fawundu and Mrs Iwalola Akin-Jimoh (ED, TOBF).
The foundation was established by Evelyn Oputu and Fred Brume in memory of Late Oviehire Adeyemi Kesiena Brume. It partnered with Nokia Lumia to give the students of Victoria Island High School, Oniru an opportunity to tell stories through pictures.The students were given the phones to take pictures with and express and communicate what they see through the lenses of the Lumia phone's camera.
The student photographers included Mariam Alli (who was represented by her brother, Muhammed because she had exams at school), Naomi Osuji, Edmond Aniete and Atinuke Rotimi.
Delphine said that the phone cameras are easy to use and can compete with DSLR ones in terms of picture quality and over 2000 pictures were taken by youths with the phones.The youths who took part in the project took turns to exhibit their pictures and talk about their experiences. They talked about how they have benefited from the project; Atinuke said she never thought she would learn so much, Edmond said his photography skills have greatly increased, Bose said people appreciated her taking their pictures and that she took pictures of youths hawking on the streets because going to school is a privilege. The students expressed their disbelief in owning Nokia Lumia phones.
Delphine was impressed with the development of the students thus far and said their arts can be used to promote education.
It was a beautiful, successful event and a heart-warming experience.
Shout out to SMWL for the free WiFi!

Follow us on Twitter: @IN3K8Media  Like us on Facebook: IN3K8 Media
comments powered by