Social Media Week Lagos, kicked off on February 17, 2014. The theme of this year's SMWL was: A Connected Africa is the Future and it held from February 17-21, 2014. The schedule was packed with a lot of events for the week and attendees had to register for the events they hoped to attend. Some of us were tempted to register for all the events but you know, one is not omnipotent.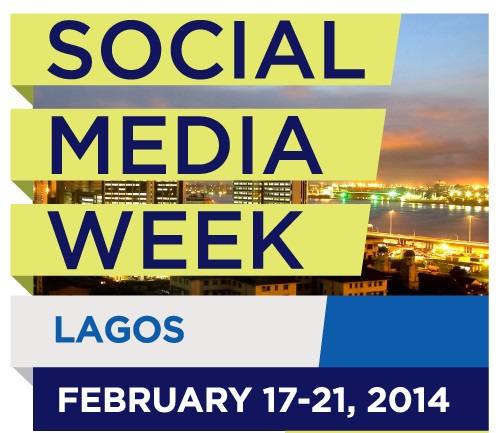 "The Innovators Keynote With Jason Njoku" held at the #SMWexperience hub at Four Points by Sheraton in Lekki and hosted by SMW Lagos and iROKOtv.
The brilliant entrepreneur Jason Njoku (CEO, iROKOtv) was the speaker and he talked about the immense effect social media has had on iROKOtv, Nollywood's largest online tv distributor. He grew his online TV empire from his one-bedroom apartment in London and  as of last year, iROKOtv was YouTube's largest content generator in Africa. More than half of their revenue comes from countries in the West (US, Canada, UK) and about 15-17% come from advertising. Social media engagement and conversations around Nollywood is still developing, he said, and there is high engagement on social media when hot new Nollywood movies are released. He has definitely faced (and still faces) challenges where iROKOtv is concerned, like the fact that many Nigerians are not in the habit of paying to watch movies online but he said people will pay if they have money and they receive value for their money. Broadband issues hinder immediate market penetration in Nigeria which is rather unfortunate because broadband is key to the vision of Nigeria being it's largest market. We hope that changes soon because iROKOtv is a great initiative.
Gbenga Sesan and Ayo Alli (the moderator) were the panelists at the "Ethics, Etiquette and Political Activism on Social Media" event and the session was about political activism on social media. The event was hosted by Illa Sports Media and was also held at the #SMWexperience hub.
Gbenga said social media is a platform through which people can express themselves and has transformed the way people process news on politicians, elections and crisis. He said the the "Occupy Nigeria" era 2 years ago was one of the most popular moments on (Nigerian) twitter and because of the anonymity that can be adopted on social media, people can now talk about the government without fear…this was not the case in the past. He dispelled the "I am not my tweet" misconception, saying that you are responsible for your tweets and that tweets are like eggs, once you drop it, you are left with the stench and stains. Although conversations on social media have led to offline meetings, we are still at the point of anger not analysis, he told the audience.
When Ayo asked how the quality of online debate and engagement in the next elections can be increased in the next elections, Gbenga said that because social media is capable of changing perceptions, it gives politicians the opportunity to speak directly to the people. However, some of them have abandoned social media because you can't sell propaganda on it because when propaganda goes wrong, there are no facts to back you up.
Gbenga also pointed out that the African culture of children being seen not heard is a problem that the country needs to be rid of in political matters because citizens, regardless of the age, need to be able to ask the government pertinent, questions when they feel that the government is stepping out of line.
Ayo advised the audience to keep hitting the government hard on social media. Maybe then, change will come.
"The Impact of Social Media on eCommerce in Nigeria" was hosted by Jumia Nigeria at the #SMWexperience hub at Four Points with Opeyemi Adetomiwa, Jumia Nigeria's Community Manager as the anchorman. Opeyemi talked about the deeply important role social media plays in the success of Jumia Nigeria, arguably Nigeria's largest online retail store. Social media has changed the way we communicate and define perceptions, therefore, Jumia Nigeria leveraged on social media to increase brand awareness without spending a fortune, and now, according to Opeyemi, they are the fastest growing brand on social media in Nigeria. Social media has led to a 15% increase in website traffic and a high increase in sales for the company and he said that the projected estimate of online spending in Nigeria in 2014 is 150 billion Naira.
Jumia Nigeria has been at the receiving end of both accolades and backlash on social media, leading to improvement in services delivered to their customers.
Follow on Twitter: @IN3K8Media  Like on Facebook: IN3K8 Media
comments powered by