After Day 3 of the Social Media Week Lagos, I was pretty pumped up for Day 4. Knowing SMW was about to come to an end left me a bit melancholic. It had been a good week thus far.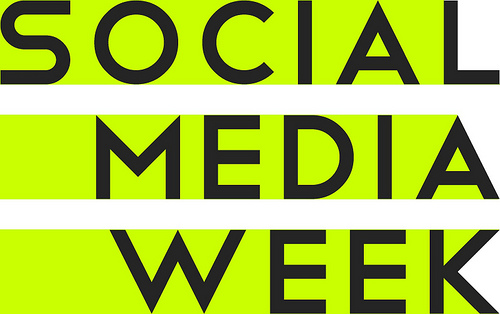 Day 4 saw me at Four Points Hotel by Sheraton in Lekki for the "Make More Money: Connecting with Your Clients Using Social Media Tools" master-class at the #NokiaEdu hub. Hosted by Mindshare Communications, the speakers were Abdulazeez Banjoko, Osayi Emokpae-Lasisi and Bolade Akerele.  The class was centred on using social media to offer good customer/client service and using customer loyalty programmes like E-newsletters and social media to engage with clients, meet their needs and encourage them to keep coming back. Bolade drew a parallel between a romantic relationship and a professional relationship to buttress his presentation on how to use E-Newsletters to woo clients. You should wine and dine your clients, send them flowers, e-cards on special days, the whole 9 yards because the clients are your corporate significant other. E-Newsletters should be short, precise, interactive, engaging and should have the ability to go viral. Abdulazeez told the audience that business developmental goals should be SMART:Specific, Measurable, Attainable, Realistic and Timely while SWOT analysis should be employed in strategic planning; identify your Strengths, Weaknesses, Opportunities and Threats. Osayi said as a business, the quality of what you offer will speak for you because people will want to tell others about you…free of charge. You also need to engage your clients and treat them equally – they all matter and as much as you want and need new clients, never forget/discard the old ones.
The "Forbes Africa Presents: The Business of Entertainment, Now Social" event also held at Four Points but at the #SMWexperience hub. The curator, Nkiru Asika made the introductory speech and then invited Biola Alabi, the Managing Director of MNet Africa on stage (can I take a moment to tell you how stunning and down to earth Ms Alabi is? Okay, I'm done :)) who talked about MNet Africa's not too easy transition to the social media world. As a company, you cannot disengage from your customers. She revealed that social media created a lot of problems for MNet in the beginning because every voice on social media matters, one voice can have a ripple effect and if that effect is negative, it's detrimental to your business. After Ms Alabi's speech, Nkiru Asika invited other panellists on stage: Don Jazzy (CEO, Mavin Records), Sasha P (Musician, Storm 360 and Fashion Designer), Abisola Owolawi (West African Correspondent of Forbes), Kene Mparu (MD, Filmhouse Cinemas) and Obi Asika (chairman of Social Media Week Lagos).
They talked about the effect of social media on their various fields of the entertainment industry with Don Jazzy saying that without social media, he never would have been visible and without visibility, he never would have gotten endorsements. By the way, Don Jazzy's twitter account boasts of over half a million followers. Sasha P said that even though she was a late bloomer, social media has helped her sell both her music and clothes in a way she could never have imagined. She also said a lot of creative people are not business people and that's why they are not optimising social media as they should.
Obi Asika shared a story of the time when he was working with MNet Africa in producing Big Brother Nigeria in 2006 and noticed a blog giving a play-by-play of the event of the production and after about 3 weeks, he called on the Head of Communications at MNet to check out the blog because the owner of the blog seemed to have more information about the show than the people working there and disseminated it accurately and quickly and they tracked her down. 8 years later, the blog has evolved to not only a website, but also a household name: Bella Naija. There was concern that the cinema and print media may be on their way to their deaths because people may prefer to watch movies online where they can exercise authority over the media control buttons and read the news on the internet…for free. Kene Mparu did not share this sentiment, saying that cinema is an experience in itself while Abisola Owolabi, on the other hand, thinks that print media has died a thousand deaths with the advent of the internet.
My next stop was at #SMWhq hub at Volkswagen Centre, VI for the "Social Media, The Future and Your Career" hosted by Career Solutions Africa. The speaker Mr.Kunle Olaifa, an HR professional, started out by taking us on a very brief tour on the evolution of work: from hunters and gatherers to the social media era. He discussed the relevance of social media in recruiting new talents, saying that about 5% of people on social media are recruiters. As a potential employee, there is need to maintain a level of professional online presence and position yourself as a thought leader in your industry. Clean up bios on social media platforms because the kind of content you have online can jeopardize or be an asset to your job search. Post status updates, write articles on recent trends and share advice from the professionals and leaders in your field. Social media now offers the opportunity to connect directly with employers. It's now so easy to build relationships with folks you may never have been able to meet in real life. HR professionals now go online to vet job applicants. Take your online personal branding seriously. As an employer, you can sell your business online and for free too! Sounds great, right? Career websites and social media are the two most important places for talents to meet employers online. Social media can make or break your business…if customers are always complaining about your business, that's bad PR for you. Manage the space where you sell your business properly.
After the Career Solutions event, I found my way back to Four Points for the "Think Outside the Box – Social Innovation Keynote Speaker" event hosted by Social Finch Digital Marketing at the #SMWexperience hub. The curator was Uzo Onumonu of Social Finch. First to take the floor was the keynote speaker, Mrs Simbo Ukiri, the CEO of Avon HMO.  She spoke on her foray into the land of social media to build brand awareness, engagement and a call to action and to expand current market reach. She engages with her online community on a personal level and tries to foster interaction between the brand and the fans by rewarding their participation. Social media, she said, has been very instrumental in marketing Avon HMO to the public.
Next up was Mrs Owen Omogiafo, Director, HR Heirs Holdings. She started out by explaining how hard it was to source for employees before the internet came along to save the day. She relied heavily on hand mail and her fees were extraordinarily high because of the high cost of logistics but now, it is so much easier for her to match employees with employers, to vet employees and narrow her search.
Noble Igwe, the CEO of 360 Nobs discussed how much his company has benefitted from social media. He decided to launch the 360 Nobs website in 2009 because he felt marginalized writing for other media blogs/websites. He said that If you have a great idea but aren't ready and you leave the box (i.e. your comfort zone), you will eventually have to go back into the box. Take advantage of where you are and think differently. Do things that have not been done before.
Abiodun Thorpe, Lead Consultant at Rainy Lemon was the last speaker at the event. He explained the need for data to make informed decisions. Data always beat opinions and is critical to every business. He advised companies to ensure data is integrated in their corporate culture saying that digital analytics is the future.
Think Outside the Box was my last event for day 4 of #SMW and it was a great way to end it!
Follow us on Twitter: @IN3k8 Media  Like us on Facebook: IN3k8 Media
comments powered by