Restaurants in Lagos are now weaving dress codes into their brand identity, aiming to attract a specific clientele. But is this just to enhance their ambiance or to create an invisible barrier? While this approach may enrich the overall experience, it also raises questions about unintentional exclusivity and the potential alienation of customers uncomfortable with stringent dress code policies.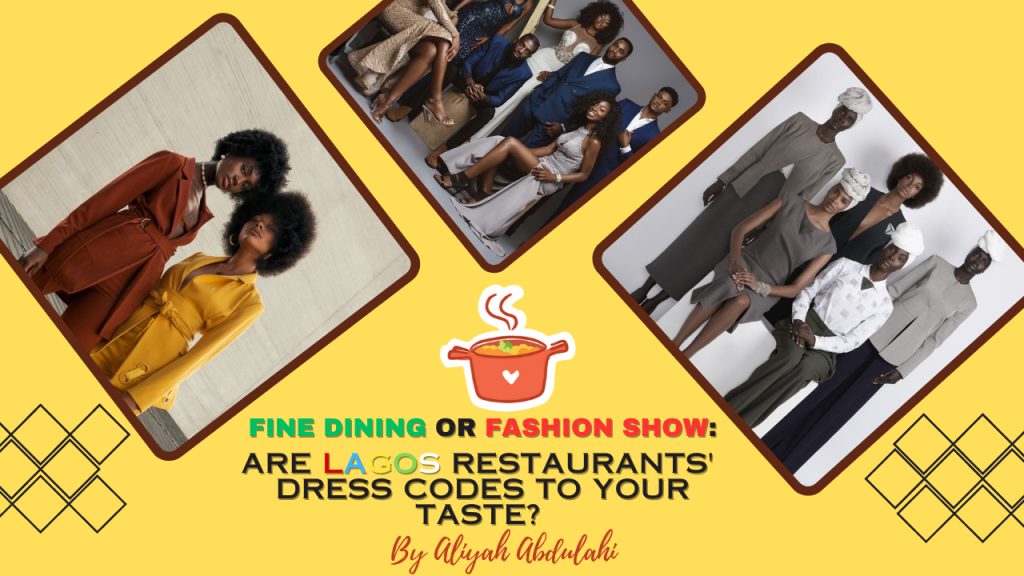 Fine Dining or Fashion Show?
Consider the case of Smalliez Diner, a breakfast and brunch spot that beautifully channels the vibe of an American-diner with its appealing aesthetics. Yet, it's quite ironic to see a dress code policy attached to what is traditionally a 'diner' – a term synonymous with 'small', 'informal', and 'inexpensive'. Diners are the go-to spots for American comfort food, renowned for their cozy, casual atmosphere. The emphasis here is on 'cozy and casual'. So, should a craving for waffles and milkshake turn into pondering wardrobe choices? It's a contrast that piques curiosity, without a doubt.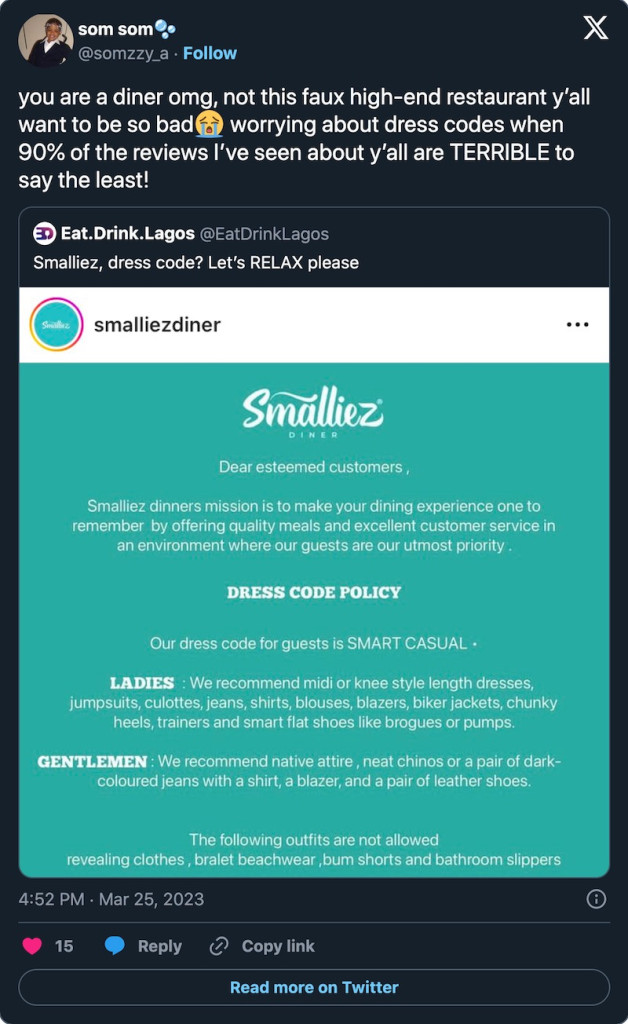 Som Som's response to Smalliez Dress Code policy.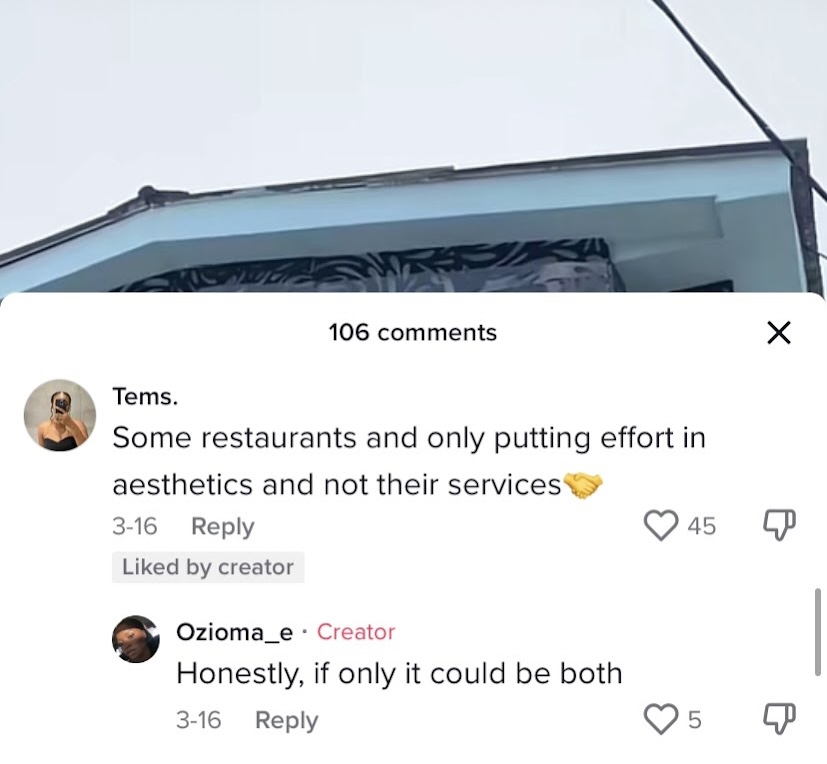 Is she being a 100% or 100%?
Another instance can be found at Taj Restaurant, an upscale open kitchen establishment that has also enforced a strict 'smart casual' policy in order to 'maintain the ambiance of their establishment.'. While a dress code here might be more expected given the ambiance, it still beckons the question of whether it matters what someone wears as long as they're spending their hard -earned money and whether restaurants should be more focused on the quality of their food and service rather than what their customers are wearing.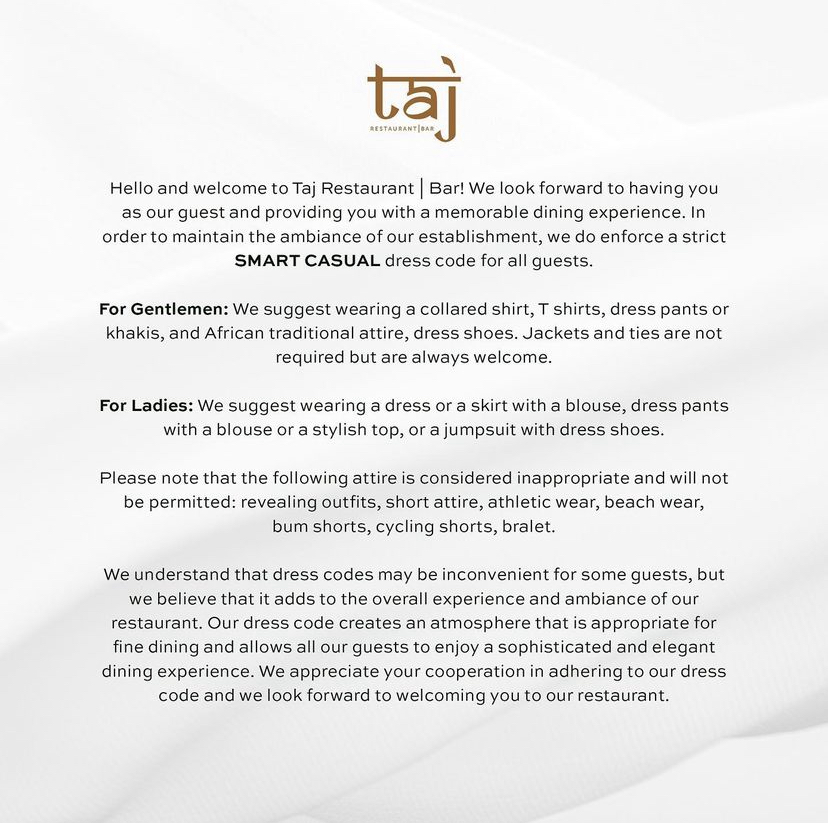 Taj Restaurant's dress code policy. Photo credit: (/@tajrestaurantbar)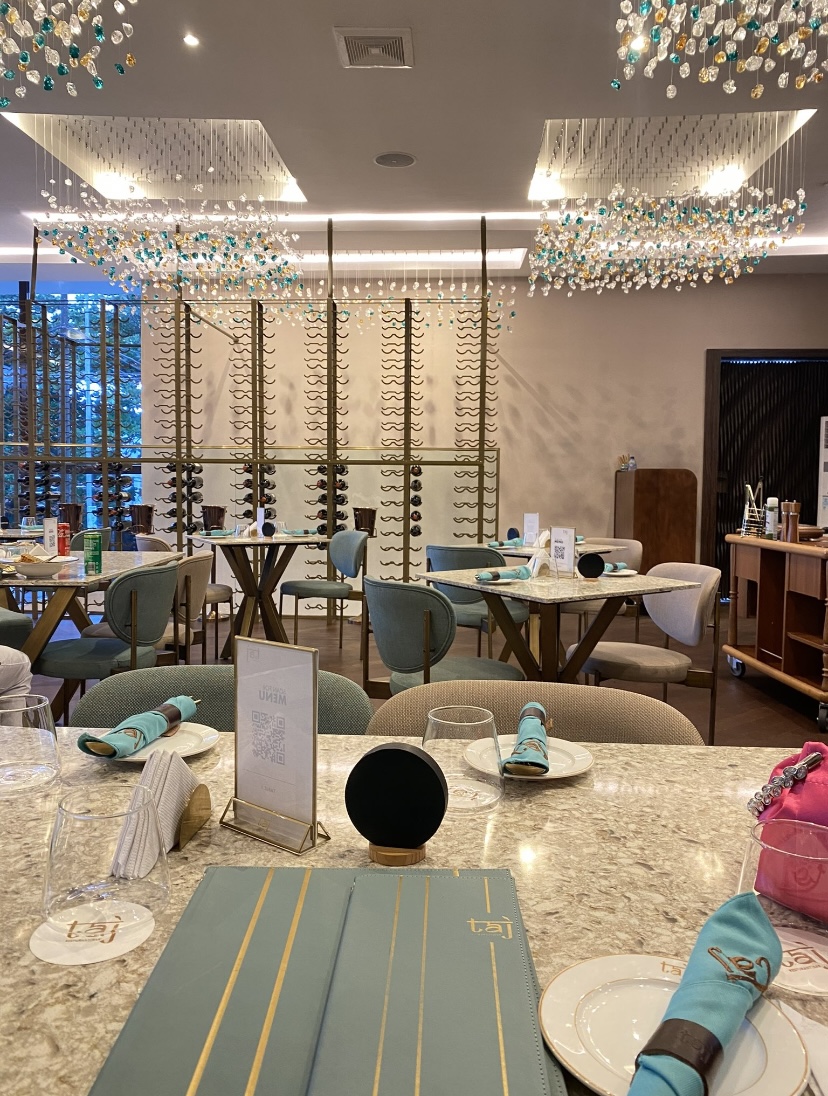 Upmarket fixtures and fittings at Taj Restaurant. Photo credit: (/@AweLagos)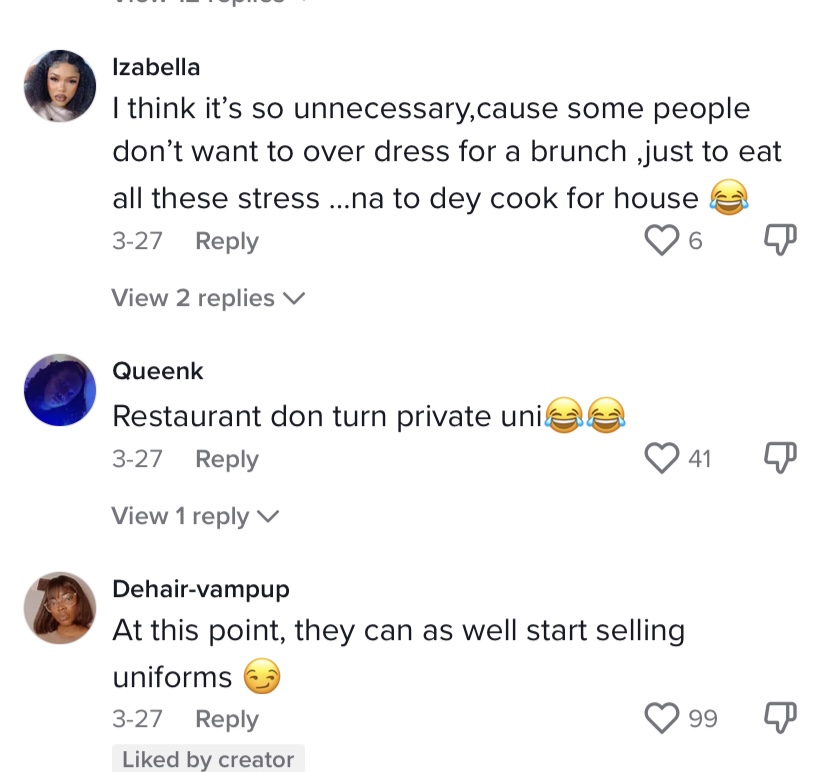 Private Uni jibe at Taj Restaurant's dress code policy.
Similar to the other two instances we've discussed, The View Rooftop at Lekki's Twin Waters enforces a dress code, aiming to enhance guests' dining experience. Unlike stringent dress codes, The View's policy requires a more relaxed yet presentable attire, catering to both lunch and dinner settings. Nonetheless, the rationale behind imposing a dress code in a lounge setting is still off-putting. After all, lounges are supposed to be more informal and a chill environment, offering patrons a place to unwind without the constraints of formal dressing. While the intention might be to elevate the overall atmosphere, it's still important to contemplate whether a dress code aligns with the very essence of a rooftop lounge experience.
I'm personally of the opinion that it's more crucial for Lagos restaurants to prioritize customer service, food quality, and aligning their prices with the available meal options over aesthetics and dress codes. While eye-catching decor can attract patrons and create a pleasing atmosphere, it shouldn't overshadow the core aspects of a remarkable dining experience. Customers primarily visit restaurants for the food and the experience. Regardless of a restaurant's visual appeal, if the food or service doesn't meet expectations, it can lead, as we've seen, to some disappointment. This gap between aesthetics and substance can make the ambiance irrelevant, resulting in a waste of time and resources for the establishment and its patrons. Ultimately, the decision to enforce a dress code lies with the management. As with any establishment, it is essential to consider the target audience and the type of experience they wish to offer. The key lies in finding a balance that maintains the restaurant's desired ambiance without being overly restrictive or elitist. An alternative approach for these restaurants could be to implement dress codes that are focused on maintaining cleanliness, grooming, and attire that respects the desired atmosphere. This approach still allows the restaurant to uphold its standards while being more inclusive and considerate of varying preferences.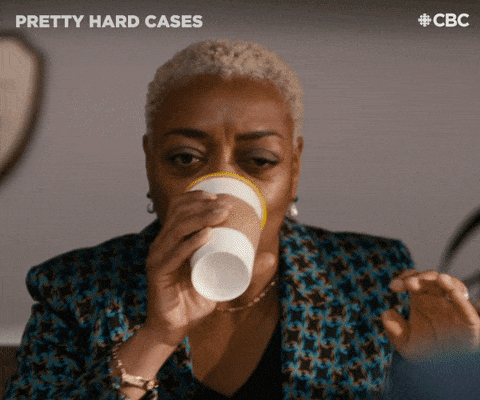 What are your views? Tell me!
What are YOUR personal views on restaurants with dress codes? Do you feel they add to the dining experience and ambiance, or might they unintentionally create exclusivity? How important is it to you that a restaurant places customer service, food quality, and menu diversity above aesthetics? I would like to hear your thoughts and I'm looking forward to your insights on this in the comments below!
Are you a restaurant owner or manager looking to create an inclusive and inviting dining experience while maintaining an upscale ambiance? Partner with IN3K8 Media today! Reach out and let's create captivating and tailored content for your establishment
---
Poster Image Credits
Left photo by Oghalé Alex Photography
Middle photo by Felicia Reed Photography
Right photo by Mille Collins
comments powered by