"It is not where we are from that is the problem when it comes to broken love and a family ripped apart, it is what we think of ourselves and others. But our lives would have true meaning when we see what is good in others as we wish ourselves and live striving to spread such good feelings."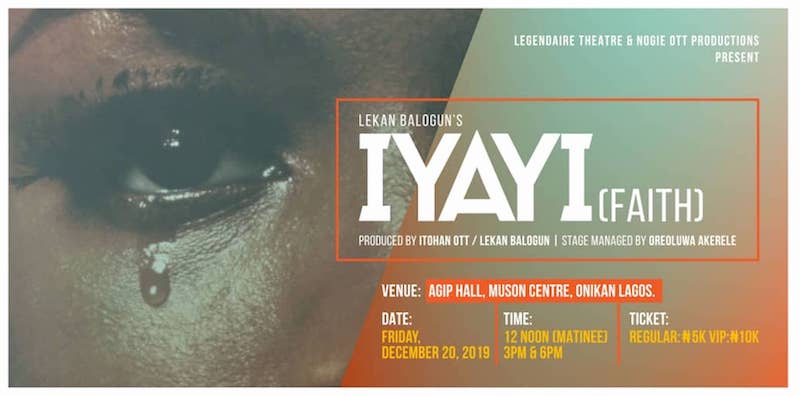 Lekan Balogun's IYAYI a stage play produced by Legendaire Theatre and NogieOtt Productions on stage at MUSON Centre's Agip Hall under the artful direction of Wale Lampejo dramatises the tragedy of misplaced priorities, and says we can be happy still… With true Love.
Iyayi parades some of the most talented artistes including Toyin Buraimoh, Gloria Oghenejakpo, Habeeb Awoko, Temilade Kosoko, Ayonmi Rowaino, Andrew Ogunedo and many more.
See you there!
Venue: MUSON Centre, Lagos
Date: December 20, 2019
Time: 3PM & 6PM
Ticket Price: ₦5,000 (Regular), ₦10,000 (VIP) Get Tickets on Ariiyatickets.com!
comments powered by