Easter 2019 is shaping up to be a fun-laden one with Explorerz Nigeria road trip heading to the scenic Idanre Hills & the Olumirin Waterfalls. What better time to pack in that much need vacation as well as a history and culture expedition?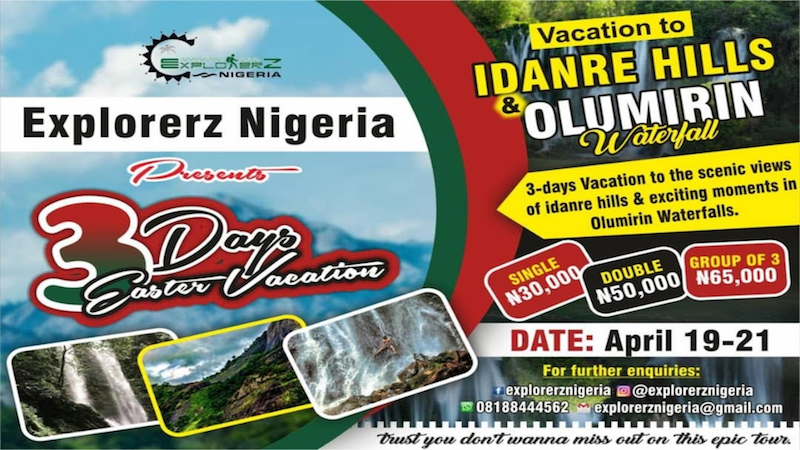 With 660 steps to the zenith of Ondo State's 800-year-old Oke Idanre, this year's adventure is one you do not want to miss. The breathtaking views of the town from the hilltop is the perfect motivation to get to the top.
Next up is the Olumirin Wateralls (popularly known as Erin-Ijesha) in nearby Osun State. Highlights will include a bonfire night to celebrate after a chance to take a dip in the waterfalls so pack your swim gear.
We know you don't want to be told so see you there!
Tickets cover: Breakfast, snacks, drinks, entrance, Explorerz Nigeria branded swag, games and more.
Date: April 19-21, 2019 (Good Friday – Easter Sunday)
Ticket Price: ₦30,000 (Single Ticket) – ₦50,000 (Double Ticket) & ₦65,000 Naira (Group of 3 – room share)
comments powered by