This is not the ordinary, stuffy, can't-wait-until-it-is-over event!
It's an inspiration-fueled, action-packed, fun-filled hangout hosted by the personable Titi Oyemade is packed with a ton of awesome women ready to have fun!
This must-experience hangout is happening at Panda Event Centre and speakers include Zimbabwean actress, model and television personality Vimbai Mutinhiri and Mindset Stylist Tewa Onasanya Deputy President, Lagos Chamber of Commerce and Industry Toki Mabogunje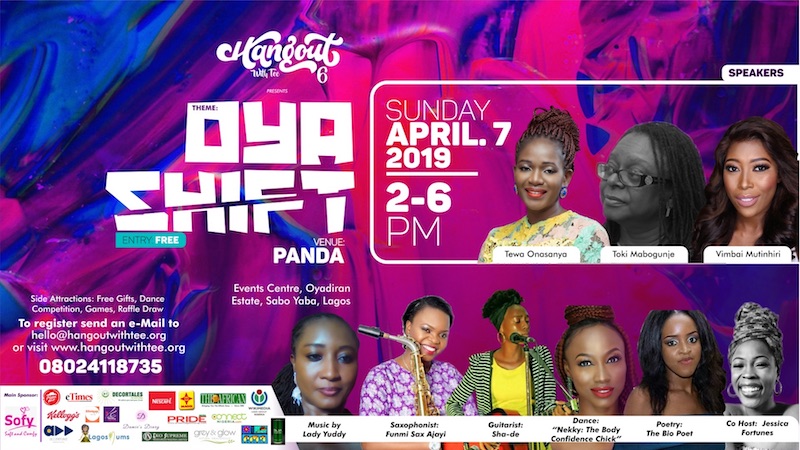 Music: Lady Yudy
Poetry: The BioPoet (Olivia Onyinye Nsofor)
Dance: Nekky: The Body Confidence Chick
Special Appearance: Funmi Sax Ajayi & Sha de
Co Host: Jessica Fortunes
Side Attractions: #FreeGifts #DanceCompetition #Games #RaffleDraw
Arrive early for the free drinks and free gifts at the venue.
To reserve your seat, please send an email to hello@hangoutwithtee.org
Supported by: Sofy Sanitary Pad (Nigeria), Kelloggs Nigeria, PizzaHut Nigeria, 9jaenergy, Indigo Lagos Restaurant & Bar, AccelerateTV, House of Tay Spa, Grey and Glow Spa, The African Magazine, WikiMedia Nigeria, eTimes, Connect Nigeria, Lagos Mums, Pride Magazine Nigeria, The Owambe Queen, Ethniques Blog, Uju Lilian Ikegbune, Decortales Event Village, Scientia Consult, SoKlin Detergent.
Venue: Panda Event Center, Yaba, Lagos
Date: April 7, 2019
Time: 2-6PM
Ticket Price: Free
comments powered by