Every Lagosian their own Lagos story to tell: the good, the bad, the ugly… the funny. Favour Isibor, popularly known as MC Mouth Pizz, is an enterprising young artist whose love for dance, music, acting and comedy gave rise to the establishment of an entertainment troupe called Brave Word Entertainment. The Edo born heart-throb, whose quest for the golden fleece brought him to the shores of Lagos in 2004, has a series of his own funny Lagos stories to tell. My Funny Lagos Story returns for Season 4 this Sunday at Lagos City Mall.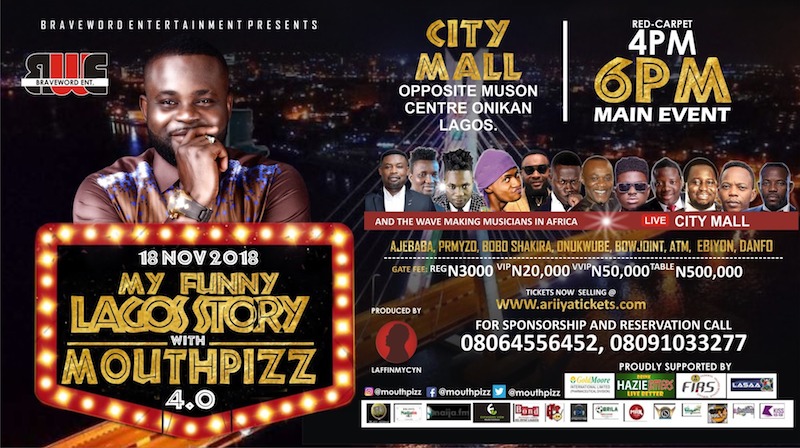 Proceedings will feature other veteran comic acts like Okey Bakassi, Kenny Blaq, Josh2funny, Koffi, Dan D Humorous, Mc Shaggy, Bash, Youngest Landlord and lots more.
Come, laugh into the new week. Remember: the best medicine for stress is laughter. See you there!
Venue: City Mall, Onikan, Lagos
Date: November 18, 2018
Time: 6PM
Ticket Price: ₦3,000 (Regular), ₦20,000 (VIP), ₦50,000 (VVIP), ₦500,000 (Table)
comments powered by