August in #NigerianTheatre is a month on bountiful harvest. It features theatre production royalty as well as up and coming discoveries. From thought-provoking subjects like child-trafficking and the political landscape to a peek into the lives of Africa's most populous city, August's theatrical fare is anything but meagre.
We've selected a few of the August productions that we think you'll enjoy. Here goes: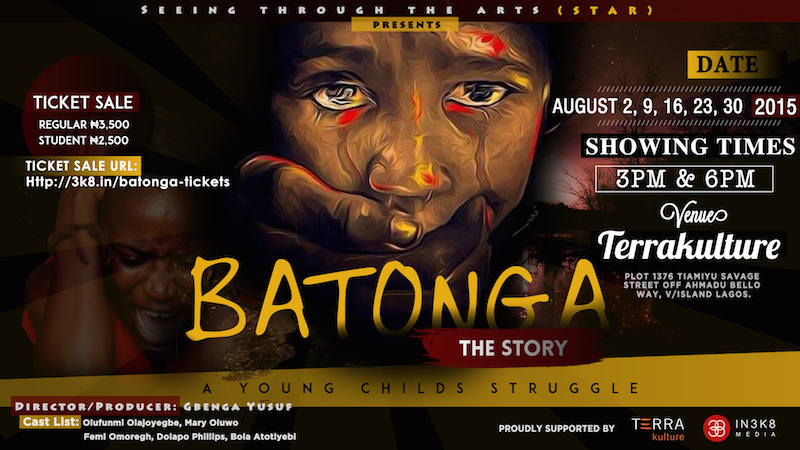 Gbenga Yusuf's drama, dance and musical production which also packs an emotional punch follows Abike a 14 year old girl whose widowed father, Olu is struggling to feed his family of four. Olu succumbs to the wiles of Rachel's an "agent" who promises she'll find Abike a job while ensuring her education and a wage that will alleviate Olu's economic woes. Abike on arrival at her her new job discovers that in addition to the uncharitable hours and sometimes unprovoked beatings there are other dangers she faces. The story follows Abike's ordeal as she makes a run for it.
Dates: 2, 9, 16, 23 & 30 August 2015
Venue: Terra Kulture, Victoria Island, Lagos
Tickets: http://3k8.in/batonga-tickets
Production Company: STAR (Seeing Through the Arts) ARTS Productions
Oh Lagos!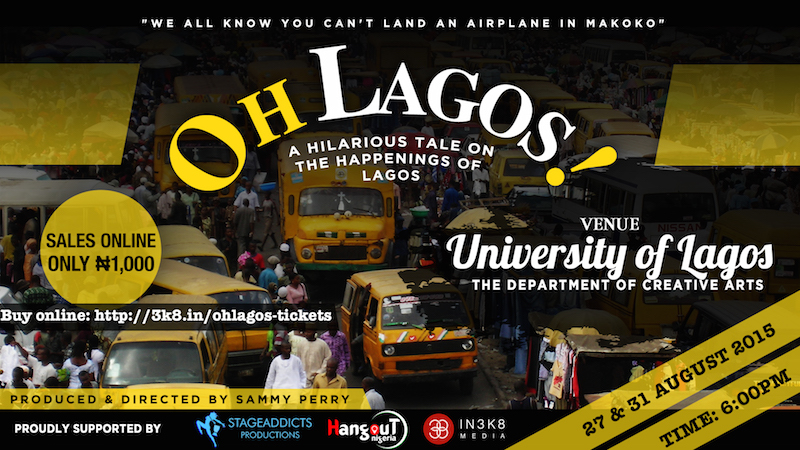 This stage play produced by Stage Addicts and directed by Samy Perry (who we saw in Paws Studios' well regarded Madmen & Specialists in July) is a hilarious tale on the happenings in Lagos, a reflection of the feelings of Lagosians. The play is filled with characters whose daily attempts to appreciate their essence in Lagos help in their struggle for survival in the mega city. This is billed to be a thrilling, entertaining and thought provoking performance by a largely up and coming cast. This production is one of the many from what is shaping up to be a very prolific Creative Arts Department of the University of Lagos.
Dates: 27 & 31 August 2015
Venue: Creative Arts Department, University of Lagos, Akoka, Lagos.
Tickets: http://3k8.in/ohlagos-tickets
Production Company:  Stage Addicts
Wat's dis all about?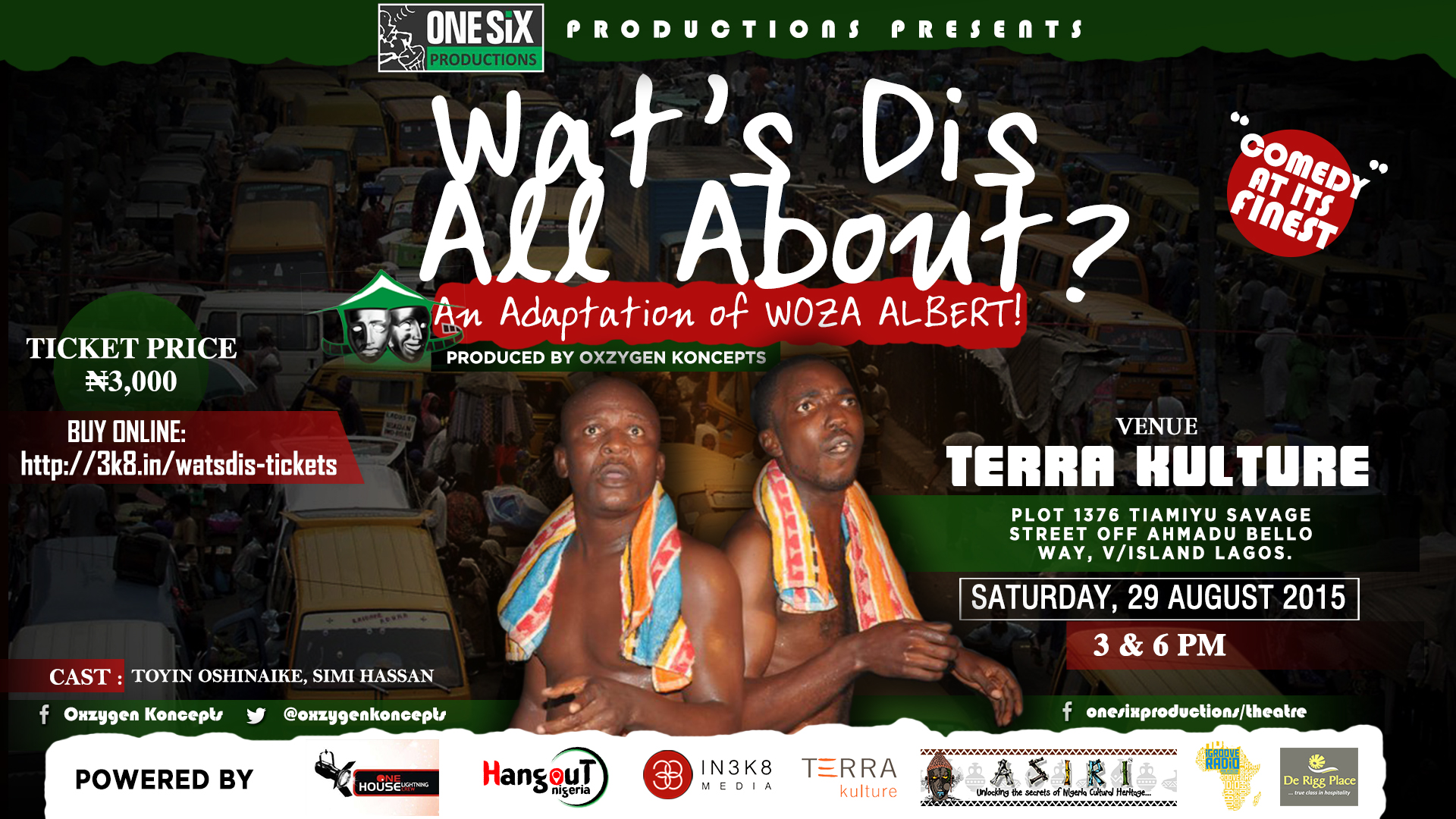 Wat's Dis All About is a Nigerian spin on WOZA ALBERT- an original South African play. Its adaptation to the Nigerian socio political situation is also based on the hilarious and abstract idea of the coming of Jesus to Nigeria. The play which stars Toyin Oshinaike & Simi Hassan presents a caricature of critical issues of individual freedom and morals in a spate of economic and political depression, showcasing a satirical commentary of the Nigerian people and their everyday desires.
Dates: 29 August 2015
Venue: Terra Kulture, Victoria Island, Lagos
Tickets: http://3k8.in/watsdis-tickets
Production Company: Oxzygen Koncepts
comments powered by