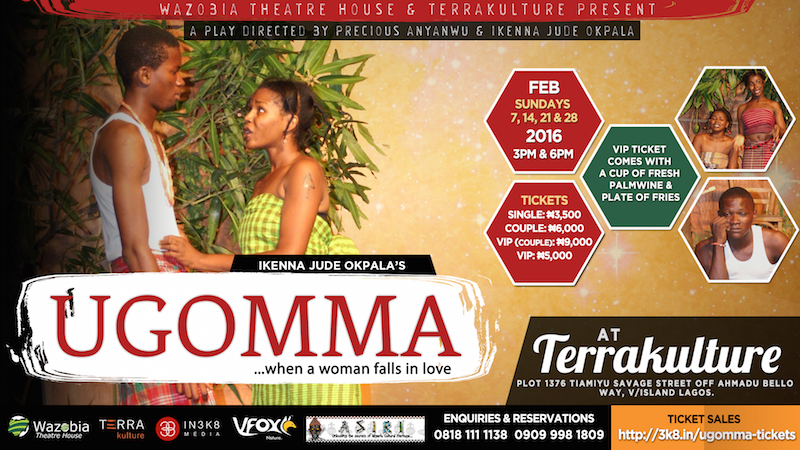 Wazobia Theatre's Ugomma @ TerraKulture
Product Description
Love they say is a game that two can play and both win, but Ugomma is stuck in-between a man whose destiny has been merged with hers from birth, and another whose sonorous voice brings her joy and a sense of being loved; Ugomma is married to Ezeibe, but in love with Ochudo.
Is everything really fair in love and war?
How far will Ugomma go for love?
Another masterpiece from the writer of Alejo and Dear Country…
Written by: Ikenna Jude Okpala
Directed by: Precious Anyanwu & Ikenna Jude Okpala.
Dates: Sundays 7, 14, 21 & 28
Venue: Terra Kulture, Victoria Island.
Time: 3 and 6pm.
Tickets:
Single: ₦3,500
Couple: ₦6,000
VIP: ₦5,000
VIP (Couple): ₦9,000
(Each VIP ticket comes with a cup of fresh palmwine and plate of fries)
Enquiries & Reservations:
0909 998 1809, 0818 111 1138
Powered by
Wazobia Theatre House
Endorsed by
Terra Kulture, Vfox Communications, United Leisure, Asiri Magazine