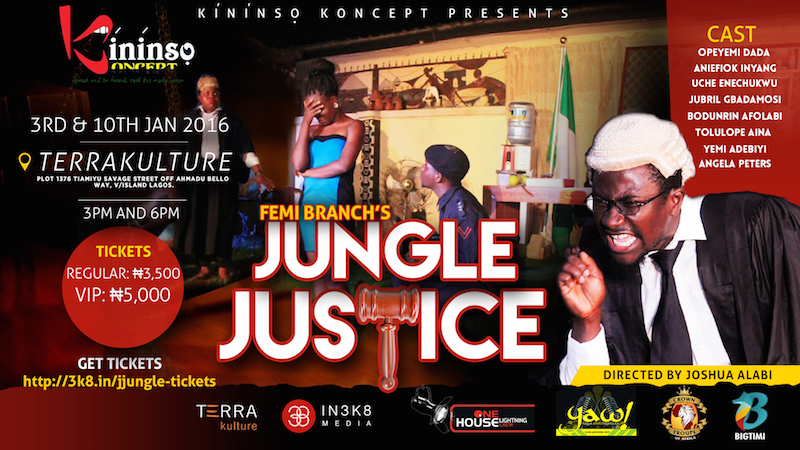 Femi Branch's Jungle Justice at TerraKulture
Product Description
Jungle Justice – Written by Femi Branch & Directed by Joshua Alabi.
Synopsis
A hilarious comedy set in a courtroom. Femi Branch's story centres around Ijimere Ika a notorious 'area boy' who is being arraigned in court for killing his friend. The play depicts a normal Nigerian court with a Judge and Lawyer but with a super-silly Policeman as court clerk, and dramatic innuendos to create humour and life. Not a kings palace! not a village square! Not a Classroom!! This is the only court where the Judge orders his Lawyers to kneel down, raise up your hands and close your eyes'… Crazy right???  The play holds a mirror to Nigerian psyche and our reactions to daily happenings in our country. Jungle Justice promises would leave your tommy aching for the whole day with great characters that have been carefully crafted by Femi Branch and masterfully directed Joshua Alabi in a fantastic ensemble for your entertainment.
Venue: TerraKulture
Dates: 3 & 10 January 2015
Times: 3 & 6PM
Ticket Prices: ₦3,500 & ₦5,000(VIP)
Cast/Crew
Opeyemi Dada – as Chief Judge
Angela Peters – as Defense Counsel
Joshua Alabi – as Prosecuting Counsel
Jubril Gbadamosi – as Policeman
Uche Enechukwu – as Ijimere Ika
Yemi Adebiyi – as Sadiq Danjuma
Tolulope Aina – as Fadeke Ika/Stage Manager
Blessing Ikhatalor- Welfare/Production Manager
Michael Ajimati- Drummer
About The Director/Production Comany
Joshua ALABI- has recently been Shortlisted for a Grant by the British Council as one of the 5 Directors/Producers to present at the Lagos Theatre Festival 2016 as part of the UK-NG Programme. Joshua is a Writer, Actor, Teacher, Choreographer and Consultant and also one of the 9 directors/companies selected to perform at the ISTANBUL KÜLTÜR UNIVERSITY 4th/5th INTERNATIONAL "PROF. CÜNEYT GÖKÇER" THEATRE FESTIVAL in 2013/2014 alongside groups from Georgia, Italy, brazil, Sweden, Egypt, Iran, Greece and Romania.
Joshua is Director and Founder of KiNiNso-koncepts Productions and studied Theatre Arts at the Creative Arts Department at the University of Lagos.
KiNiNso-koncepts Productions is a dance-theatre organisation with a focus on empowering young people through the arts. It's mission is to rejuvenate and harness talents and skills by training and giving artistic talent of every potential the platform to express, exhibit and experiment. Its founders believe in the viability of the arts as a reconstructive tool and employ a blend of dance, drama, poetry, movement and music not only to educate, entertain, and inform but also to Transform and Inspire.