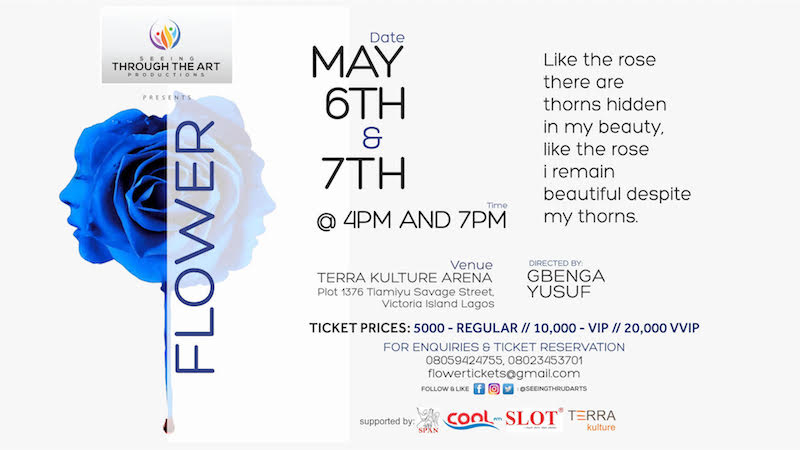 Gbenga Yusuf's Flower: VVIP Tickets
Out of stock
Product Description
From the dance director of Wakaa and Saro the musical comes this beautiful story of love 'Flower' a delicate story intricately interwoven around the lives of 6 characters. Funny, edgy and thought-provoking, it touches on the obvious, the ridiculous and the unspoken pain that lurks in the secret fibres of our society. Stories of self-esteem, heart break, trust and tragic loss are told in ballads, monologues and dance.
Flower is a story that showcases the often overlooked impact past choices have on present decisions and actions, it calls to question the choices we make every day and the influence they have on the future. It celebrates the incredible ability of the human spirit to overcome adversity, to find humour in the mundane, to rise above the dirt… to grow, to bloom, to flourish, to Flower.
Venue: TerraKulture Arena, Victoria Island, Lagos
Dates: 6-7 May, 2017.
Times: 4PM & 7PM
Tickets: ₦5,000 (Regular), ₦10,000 (VIP), ₦20,000 (VVIP).
Tickets can also be acquired at the following Tastee Fried Chicken Restaurants:
Oyin Jolayemi Street, Victoria Island.
Awolowo Road,Ikoyi.
Oando Filling Station, Ikate, Lekki.
Marina.
Opebi Road, Ikeja.
Ogba, Ikeja.
Warehouse Road, Apapa.
22 Road Festac Town.
Cast
Shimar – Queen of the night
Jennifer Omatseye – Boss lady
Dolapo Phillips – Trophy wife
Linda Nwanneka – Woman in prison uniform
Christine Oshunniyi – Woman in chair
Paolo Sisiano
Esther Morakinyo
Nneka Obiorah
Korede Oyerogba
Davina Akpuru
Titilayo Itiku
Danielle Akpuru
Kerry Adekpe
Lilian Yeri
Justin Ezirim
Michael Sunny
Crew
Executive Producer & Director: Gbenga Yusuf
Music Director: Ayo Ajayi
Choreographer: Paolo Sisiano, Justin Ezirim, Lilian Yeri & Gbenga Yusuf
Ass Choreographer: Esther Morakinyo & Kerry Adekpe
Stage manager: Victory Ashien
Ass Stage manager: Bukola & Faith
Props manager: Chibuzor Okafor & Fidol Itsukwi
Stage Hands: Akindele Akinmoladun
Cue Man: Jerry Olugboye
For sponsorship or ticketing enquiries
0810 000 0138
0805 942 4755
0802 345 3701