Friends, October is finally here! We're getting closer to the end of what has been an eventful year thus far. It's not year end..yet, but, it's a good time to be open to review and to take stock. This month's theatre fare features events that are all about encouraging open – if sometimes difficult – debate.
September was not devoid of theatre flutter as it saw the launch of Twilight Theatre at City Mall's Ace Olivia Hall with Ola Rotimi's Man Talk Woman Talk. Apart from the rave reviews, scenes of students from Crescent Schools, VI enjoying some home-made stage entertainment served up by B/Rated Productions alongside their teachers warmed the cockles and has to be applauded and encouraged.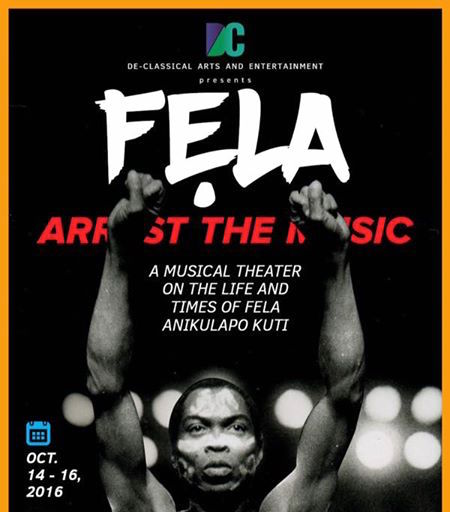 October serves up some thought-provoking theatre and it all kicks off with De-Classical Arts and Entertainment's production of Fela: Arrest the Music. It is a play which follows the turbulent life and times of a Nigerian icon who stood up to and prevailed against an out-of-touch political establishment using his music as a potent weapon. This production, part of the commemorative events MUSON's 20 year anniversary celebrations. It affords the audience a golden opportunity to take stock of the current political landscape in Nigeria. Expect explosive music and spell-binding visuals and dialogue.
Date: 14 – 16 October 2016
Times: 3 & 7PM
Venue: MUSON Centre, 8/9 Marina, Onikan, Lagos
Ticket Prices: ₦5,000, ₦10,000, ₦20,000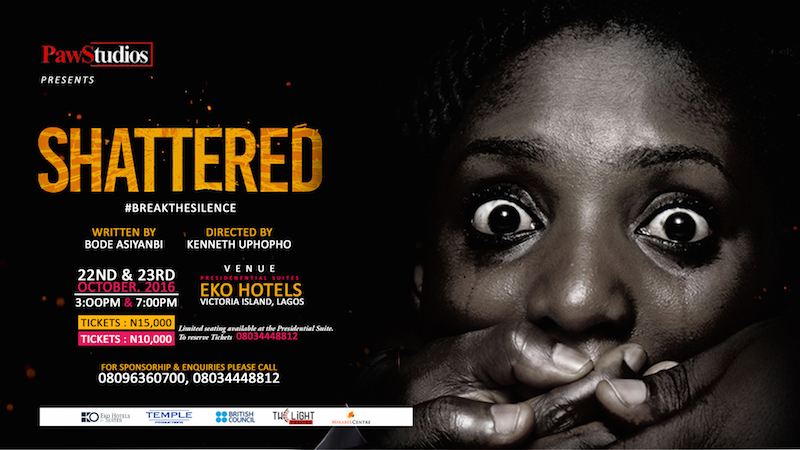 Another remarkable theatre piece to watch out for is PAWStudios production of Bode Asiyanbi's Shattered – which is coming home to Eko Hotel where it was shown for the first time in 2013. Shattered holds up a mirror to society's self-imposed omerta on rape. It is yet another opportunity to reflect on our community's inexplicable bent for mainly ignoring the plight of the violated while simultaneously attempting to protect the perpetrator.
Date: 22nd and 23rd October 2016
Times: 3 & 7PM
Venue: Presidential Suite, Eko Hotel, Victoria Island Lagos
Ticket Prices: ₦10,000, ₦15,000
comments powered by