Jude Idada's Sankara, it is a story about the last 100 hours in the life of the African patriot and revolutionary, Captain Thomas Sankara played by Patrick Diabuah and also featuring Austine Onuoha and KelvinMary Ndukwe among others.
A potpourri of facts and fiction, it is a dramatic re-enactment of the conspiracies, intrigues and events that swirled around the 'African Che Guevara' as he is fondly called as the hours ticked towards his assassination. It is a story of vision, integrity, faith, patriotism, treachery, betrayal and one man's fight to free the black race from oppression and his indefatigable love for his country and continent.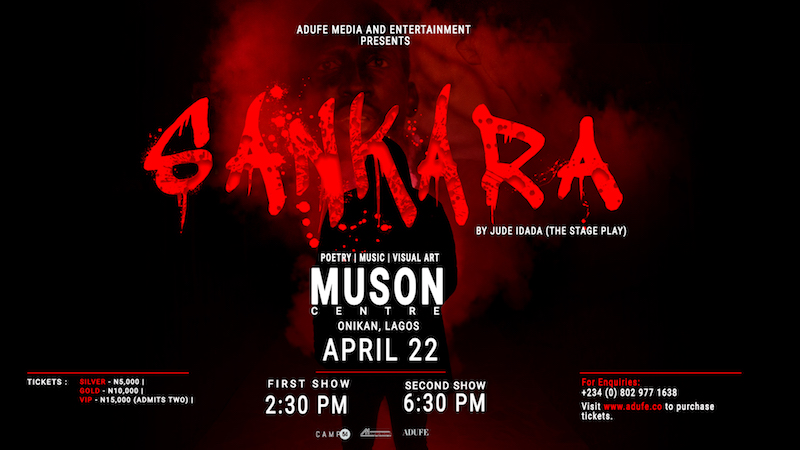 At a time when Nigeria is grappling for true change and preparing to go once again to the polls to chart a way forward from political jaundice and socio-economic decay, this play will show brightly what it means to be a true leader and how a course to a better tomorrow can be charted for Nigeria in particular and the country of Africa in general.
Opening acts prior to the show include poetry, comedy and music, featuring Ric Hassani, Dan The Humorous, Jenim Dibie, Efe Azino, Keke (Project Fame Winner 2016). There will be an art exhibition with works from celebrated and upcoming artists.
See you there!
Venue: MUSON Centre, Onikan
Date: April 22, 2018
Time: 2:30PM & 6:30PM
Ticket Price: ₦5,000 (SILVER), ₦10,000 (GOLD) & ₦15,000 (VIP)
comments powered by