On Friday, 7th of March 2014, at the Freedom Hall TGIF Open Mic Night session at Bogobiri House, I was able to steal Jumoke Alawonde-James – one half of the pair of formidable minds behind Freedom Hall – for a brief chat. Incidentally, it was her birthday too.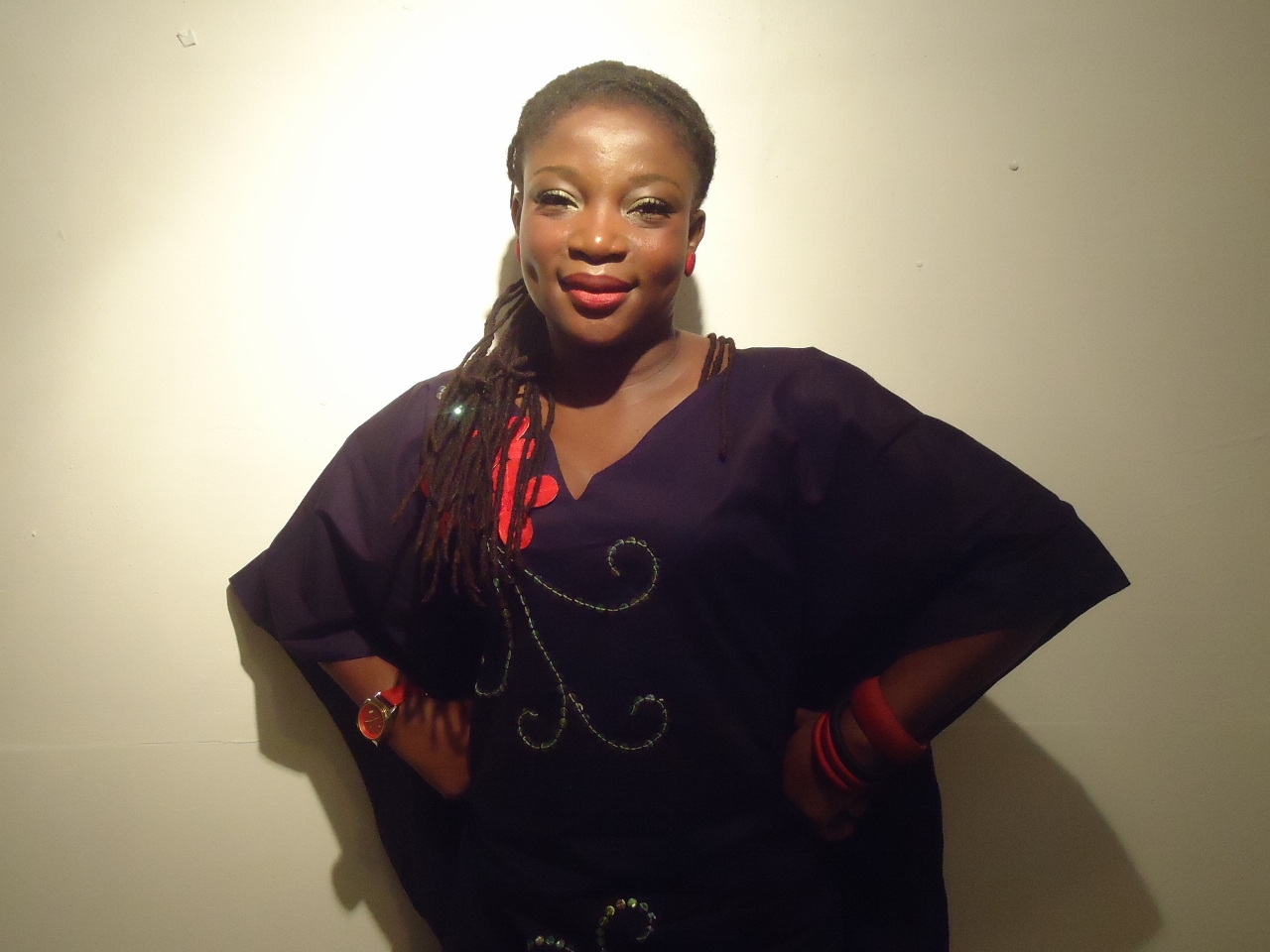 Happy birthday!
Thank you!
When did you start Freedom Hall?
We started Freedom Hall on Thursday August 5th, 2010 so we are going to be 4 years old this year
Congratulations
Thank You
What was the idea behind the decision to start Freedom Hall?
The idea was from Tope (Sadiq) my partner, actually…we used to come to Bogobiri for an open mic night on Thursdays and then they stopped because the cost was expensive and they couldn't afford it. They are working class people who just loved to do it and Tope walked up to one of the guys and said 'I'd like to keep doing this because I enjoy coming' and they got very interested so…we started ours. People always just want to hang out in Ikoyi or VI after work, so it was just a right idea. That's how we started.
 Okay. Can you tell us, in a nutshell, what Freedom Hall is all about?
It's an open mic night, which means that everyone, regardless of what kind of gift you have, can come and just head to the microphone. It's live music, it's poetry, it's spoken word, it's comedy, it's dance, it's drama…whatever gift God has been blessed you with. Right after work, loosen your tie, have a meal, have a drink and just express yourself. That's what Freedom Hall is about.
 For those of us with voices worse than a frog with a cold, can we still step up to the mic?
I sing all the time and they drag the mic from me that 'Oh no! Not Jumoke again!'. The idea is just to have fun and not anything formal, formal like a concert. So regardless of if your only talent is singing in the bathroom, until you come to a place like Freedom Hall and express yourself, you don't know how good or bad you are. So it's okay, come and sing with your croaky voice.
 As of now, is Freedom Hall meeting expectations?
Uhhh…we grew very fast. By 2012, January, we were already moving to a bigger venue which was Terra Kulture because Bogobiri had become too small but the idea of Freedom Hall was like Bogobiri meets Freedom Hall because of the ambience. At Bogobiri, people could come out because it's like a small cocoon of "me and my friends" but at Terra Kulture it seemed like a big stage and you needed to bring big artists to make more people come. We grew fast and then it seemed like we plateaued. By 2012/2013, it wasn't growing anymore so we were not meeting our own expectations. We didn't imagine it at the beginning, but the way we saw it grow, we weren't able to meet up with the initial standard anymore when we started moving from one venue to another. But I think we are meeting people's expectation…people wanting to just express themselves. It's just that, by now, we were thinking that we didn't need to keep on funding it the way we have been funding from the beginning because now, there's no sponsorship.
 Why the name "Freedom Hall"? What is the inspiration behind the appellation?
The idea actually came from church. You know how the different branches of Redeemed Church have different names…there's actually one called Freedom Hall which Tope used to attend. It was pastored by three pastors…Pastor Ituah Ighodalo, Pastor Tony Rapu…and one other person. So that's where the name Freedom Hall came from.
What inspires you to keep going?
The inspiration to keep going is the same inspiration we had when we started…which was just to create a platform where everyone can come and express themselves, and we discover new talents everyday, people who come and are very shy and then they walk up to the microphone and are fantastic! They would never ever have been discovered if there was no platform like Freedom Hall because they are lawyers, they are doctors, where else will they go to perform? You know, so that's the inspiration, to be able to create that platform for everybody without discriminating where you are coming from or who you are.
 When was T.G.I.F born? Has it been part of Freedom Hall from inception?
No. Freedom Hall was usually on Thursday…we started on Thursday so it was every Thursday at Bogobiri. When we started expanding, different venues came up to us and said 'come and do it at my venue' because they see that Freedom Hall is revenue-generating in terms of drinks and food. Thursdays and Saturday were taken, but we had Fridays, okay so we decided to name that one T.G.I.F (laughs). So that's how T.G.I.F came up. We started T.G.I.F last year…2013
 What are the challenges you've faced…or still face?
Sponsorship. Freedom Hall isn't a business yet…it's self sustaining, meaning that we manage not to run into debt every week. Sometime in 2013, we used to find ourselves in debt week after week because there was no venue that had all the logistics we needed, so all the money that you are making…cos we pass a hat for people to contribute, you don't pay to come in…so with all the money you are making, you just find you are paying debts over and over every week. We work – Tope is an IT person, I organise events – you find out the money you are making from work, you are just throwing into Freedom Hall. But now, we have gone back to the original initiative of, 'use the venue that has all you need in terms of logistics or are willing to pay for it so that even if you are not making money from it, at least you are not owing anyone', so venues have to pay for the band, the equipment and everything that we need for Freedom Hall to run
Do have any plans for expansion?
Ah! I think we expanded too fast because we had an event every day of the week! Let me count it: On Monday, we'd do Upper Room: Scripture sharing, now we do that at Bogobiri, but small crowd that we can manage, on Tuesdays…it used to be on Mondays. And on Tuesdays we had Karaoke, on Wednesdays we had 'Just Dance'…people are supposed to learn to pay to dance and we pay the tutors to teach us to dance, then Freedom Hall Open Mic on Thursdays and TGIF on Fridays. We had Freedom Hall on the Mainland on Saturdays…something everyday! Like I said, at a point, these venues were not making money and then it wasn't lucrative anymore to keep on spending all this money that you are spending on logistics without making it back. Right now, we just have 2 venues. Freedom Hall 'Freedom Hall' on Thursdays and then Freedom Hall 'T.G.I.F'.So we decided to go back to our old plan and now, we are curtailing all of that because all of those days demand funding. So until we have sponsorship for all of these ideas and they say, you know, this one bring it back, we'll fund it, that one bring it back. We are trying to curtail all our costs and do the ones we can do within our means.
I was going to ask if you had a day job, but you mentioned that earlier…
Ah yes! My day job is the only reason I'm able to come to Freedom Hall. I organise events, I'm a technical person, stage, lights, sound….that's what I do. And Tope is an IT person so we bring the wealth of knowledge from our day jobs into Freedom Hall.
What can we expect from Jumoke in the future?
The name of my company is Oluwaloninyo Limited. I'm looking forward to that booming, doing more business in the future. I co-host a TV show called Your View, I'm looking to get better too on that one. It's getting more popular day by day…the third thing is…because I have three goals for 2014…can't remember what the third thing…oh yeah!…getting married. I'm still single…so that is my third goal.
 Amen! Thank you so much! It's been wonderful chatting with you
Thank you!
Jumoke was such a delight to chat with and here's wishing her the best in all her endeavours and for the exponential growth of Freedom House!
comments powered by