Footwear has certainly become one of the foremost needs for every human being. Manufacturers and retailers of footwear especially sneakers continue to put their best foot forward in a bid to keep customers satisfied and interested.
It was in this spirit that FlyKicks NG a retailer that began life first as an online purveyor of sneakers and afterwards opened up a store in Lekki's' Dualfol Shopping Mall where they offer trendy sneakers and streetwear. They recently hosted a launch party titled Meet the Steppas for fellow sneakerheads to celebrate the drop of some of the new sneakers from known and loved brands like Nike and New Balance. The two-day sneaker and streetwear fest was hosted alongside Godson – a talented and well-regarded jeweller specialising in diamond-encrusted chains, rings, bags and other accessories. This article is my tell-all on the exclusive but well attended event.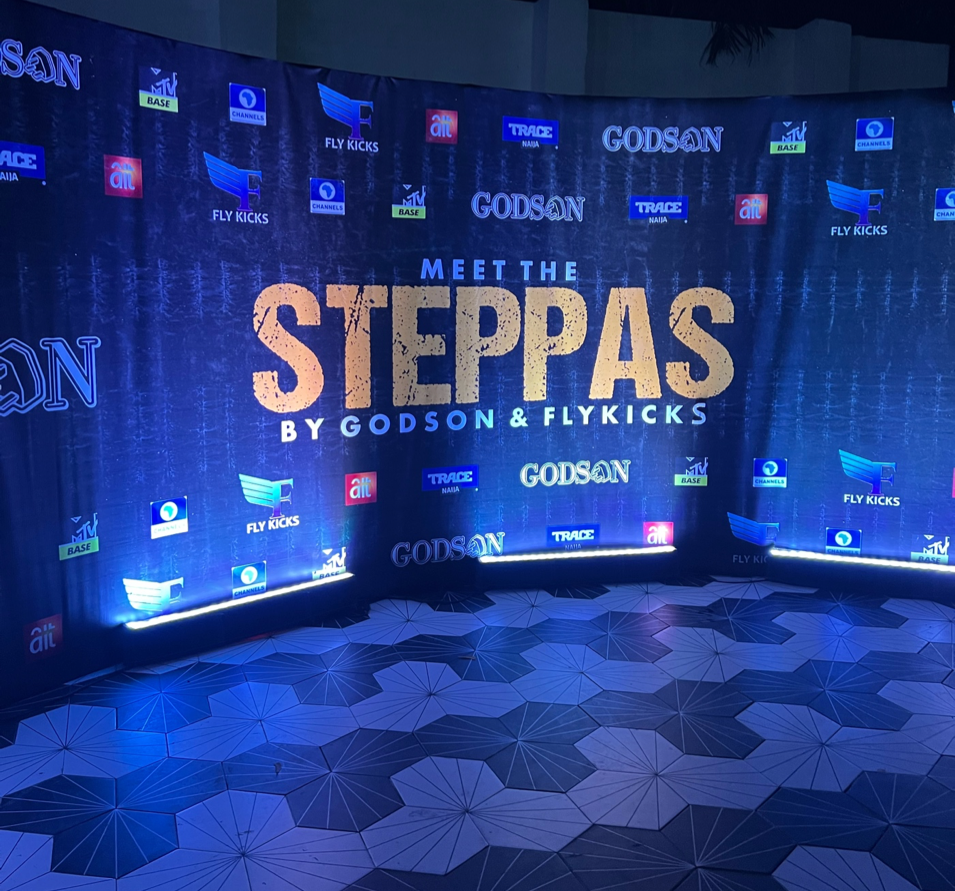 Meet The Steppas was held on June 4-5, 2022 at one of Ikoyi's well-heeled private event venues – 1 Thompson Avenue. On arrival, I couldn't help but notice the stage complete with a hype man to liven up the mood as potential buyers milled round taking in the merchandise on display. An array of different sneakers and streetwear were on display all with the express aim to make sure you look unique yet stylish in a comfortable way. Comfortable in the sense that it can be worn for any occasion, be it casual or corporate. This event was for me a crash course in street culture, particularly the dress code and the edgy fashion sense. It was indeed an eye opener – considering my conventional dress sense – that there are various ways to look good.
I also enjoyed the comfortable set up with seats and chairs where attendees could cool their heels while ogling at shoes. The waiters serving drinks and appetisers were one of my favourite things of this two-day sneaker spectacle.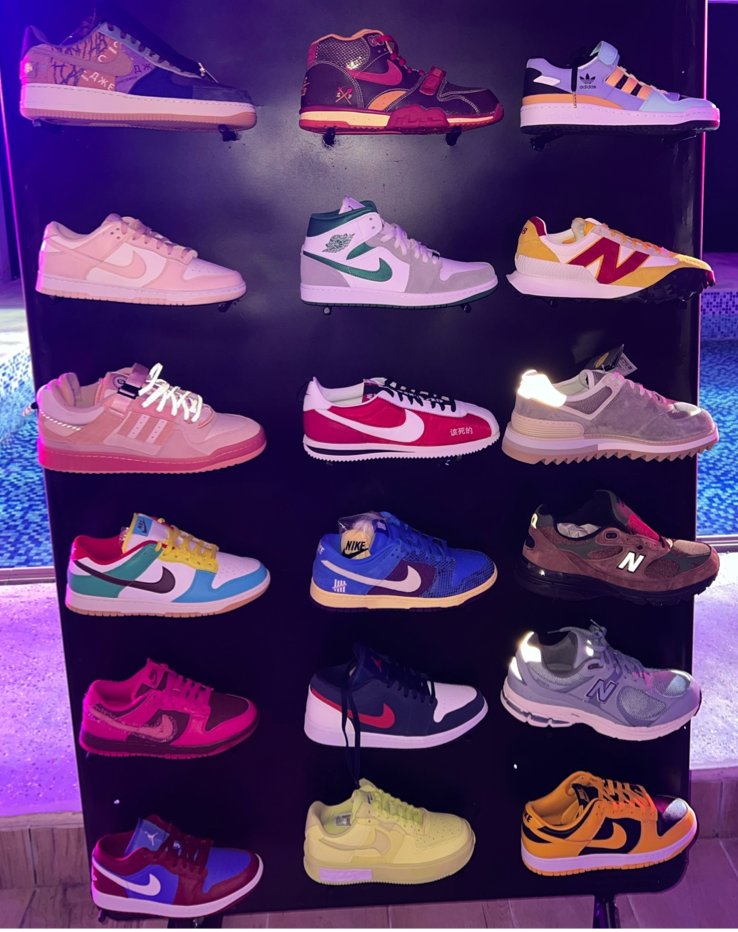 Racking up: Nike, New Balance and Adidas sneakers on display.
The assortment of shoes had amazing designs including the graffiti sneakers which were another first for me.The presence of both sneakers and streetwear at the event provided a fantastic opportunity for potential customers to see firsthand the quality of what the retailer sends out before making a purchase. This gives customers an advantage of confidence when shopping online because they can see the brand's quality in person.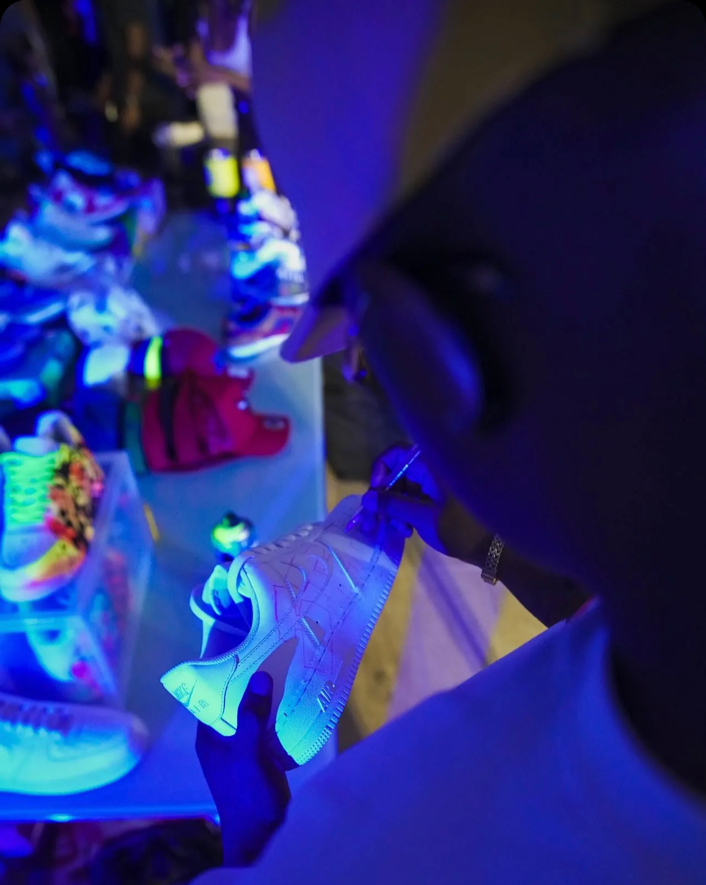 A graffiti artist customising a pair of sneakers
The venue's fancy but aesthetically pleasing blue lighting emphasised the sneakers on display, ensuring they were true stars of the show. Despite the diversity of sneakers, a pair of pink Nike Air Jordans was the most captivating to me.The suede texture had a calming effect to its feel. This event also paved the way for me to ask other attendees their views on sneakers and how they found FlyKicks NG.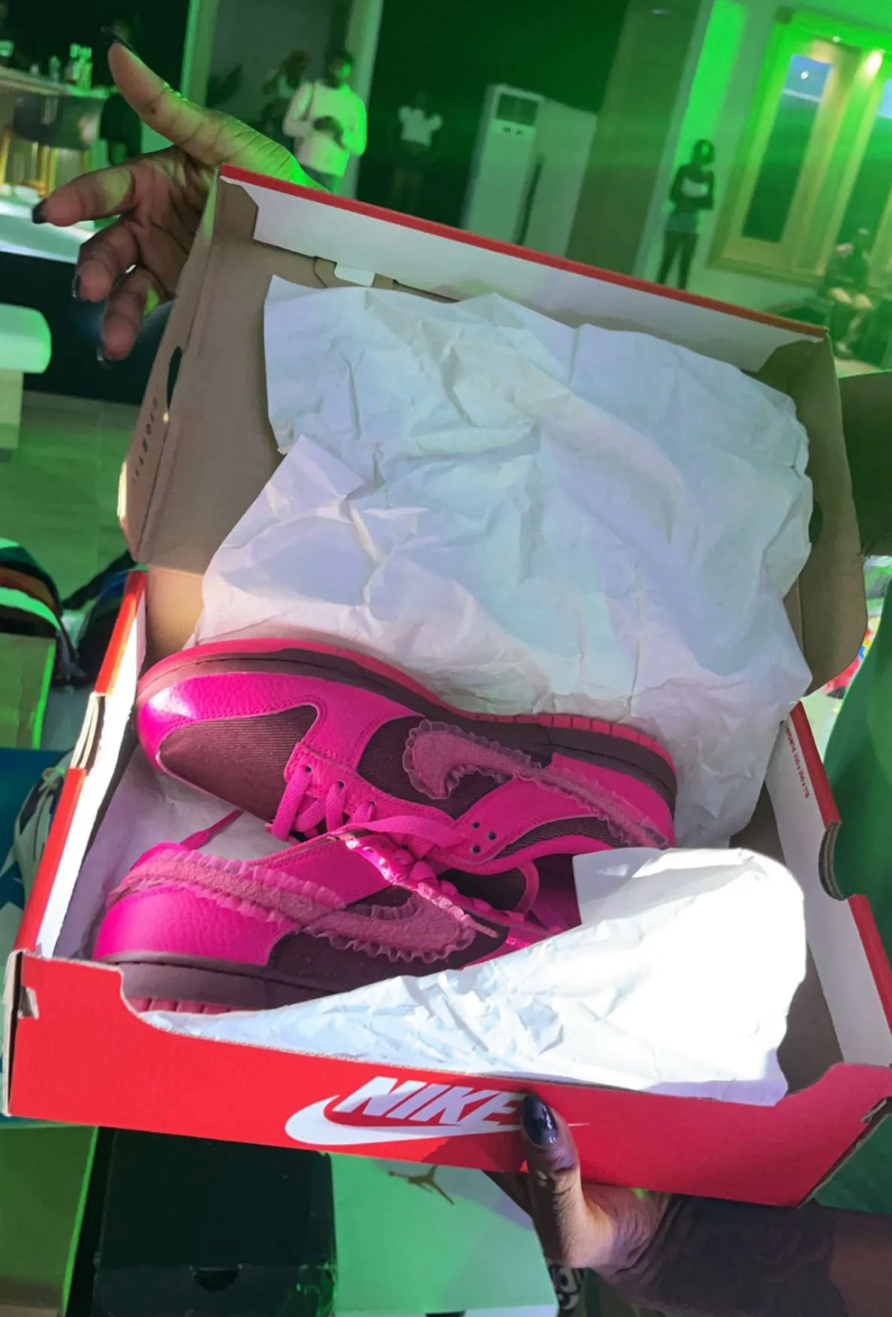 The enchanting Pink Nike Dunk Low sneakers
I had the pleasure of running into the young CEO of FlyKicks NG Osang Usie Otukpa. He mentioned during our brief time together that, while he was growing up, he always had a special love for sneakers and streetwear but found it difficult to get authentic sneakers in Nigeria. The driven 28 year-old entrepreneur had channelled his intense love for sneakers into a business which he was not only celebrating on the night but was already planning to extend to other countries like Ghana. The chief sneakerhead let slip that his favourite shoes were the Nike Air Max Para. He was honest enough to discuss his challenges mainly around sourcing and logistics. Flykicks NG predominantly stock Nike, Adidas, Bathing Apes and New Balance because of the intense customer demands, given their place in pop culture.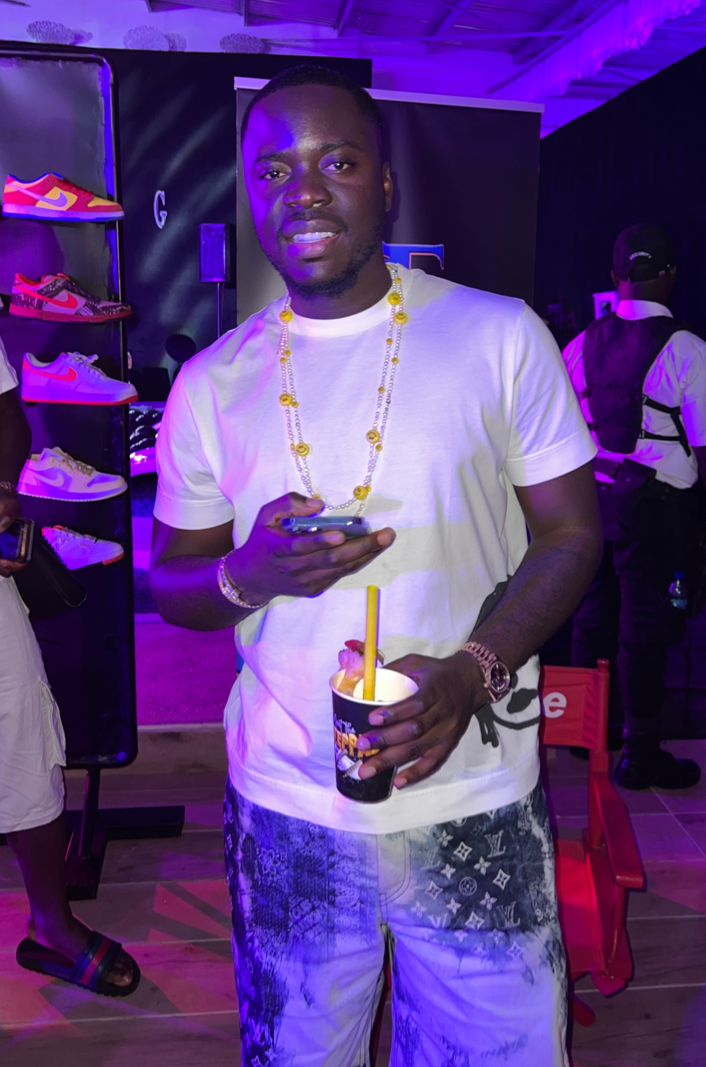 Sneakerhead-in-chief FlyKicks CEO Osang 'Bernard' Usie Otukpa
The second day of the event was similar to the previous one but with a little twist – the fine blue lighting gave way to a green replacement and a catwalk runway show was held.
The fits they showed on the runway were extraordinary and featured pieces from like Supreme, Billionaire Boys Club and Bathing Apes, all styled by Owen Nduka creative director and executive at Flykicks NG.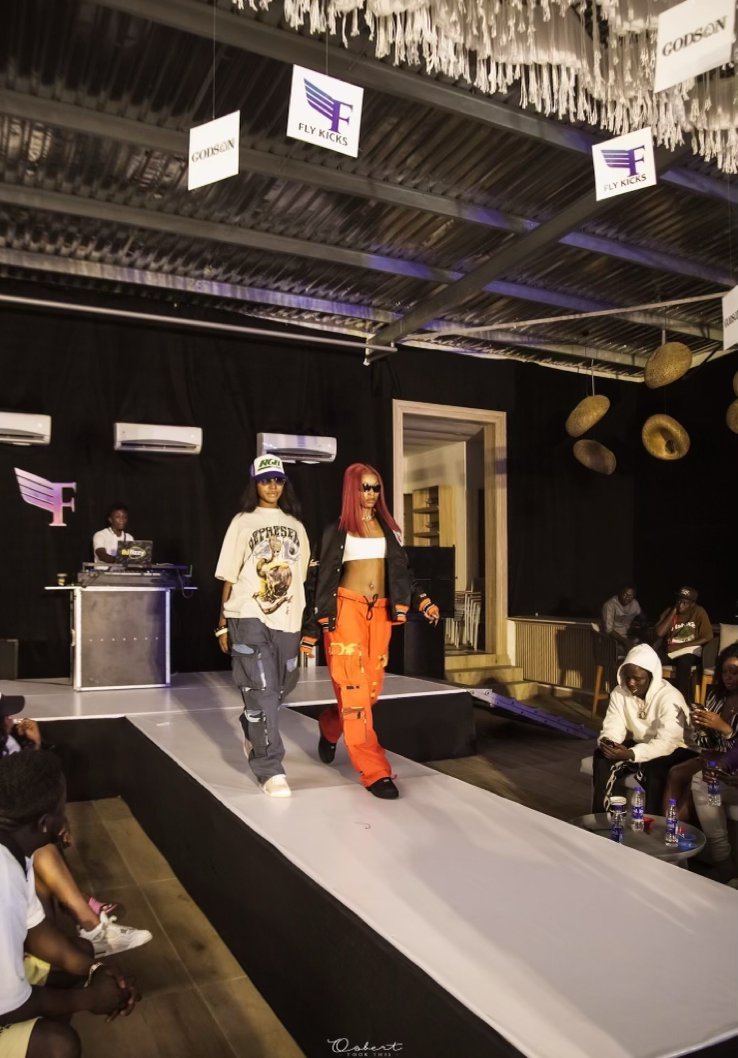 Strutting Sneakers and Streetwear: Models on the Runway.
Different celebrities added to the glitter of the two day fest by making an appearance like Ike Onyema, Timini Egbuson and other famous artists like Big Larry, some of whom flew out from the US to attend the showpiece. Timini even got in on the action by acquiring a pair of Nike Air Jordan shoes for his collection.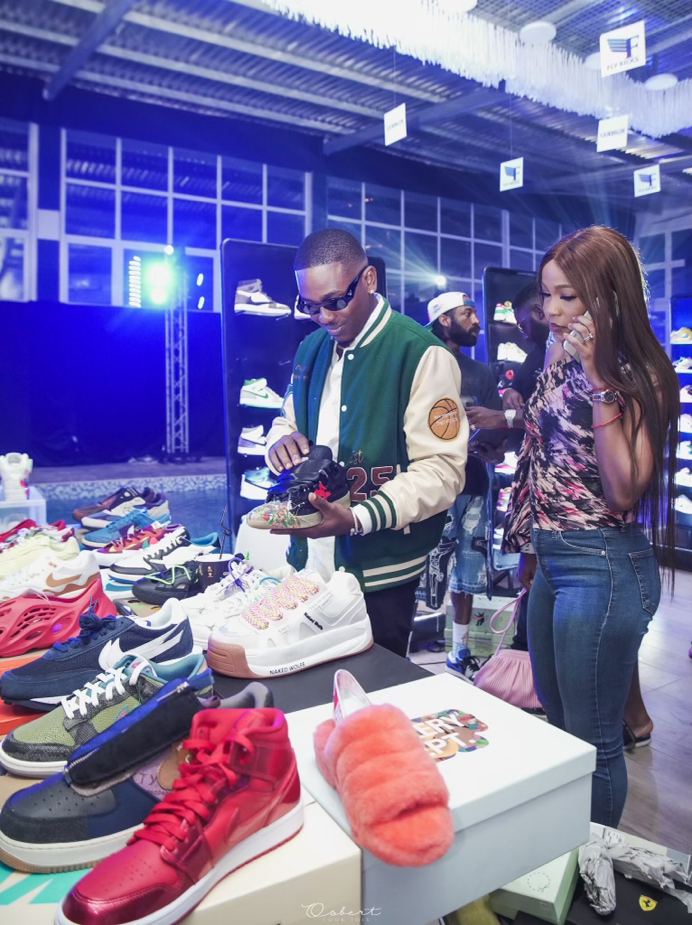 Timini Egbuson catching the sneaker fever too
It would be rude not to mention the other major highlight from the event – Godson the jewellers. Run by the US-based Godson Umeh, they also had a spot at this event where they had diamond-encrusted accessories on display. It was easy to see from their display pieces why the Godson supremo holds the firm belief that no streetwear outfit is ever complete without jewellery like the icing on a cake.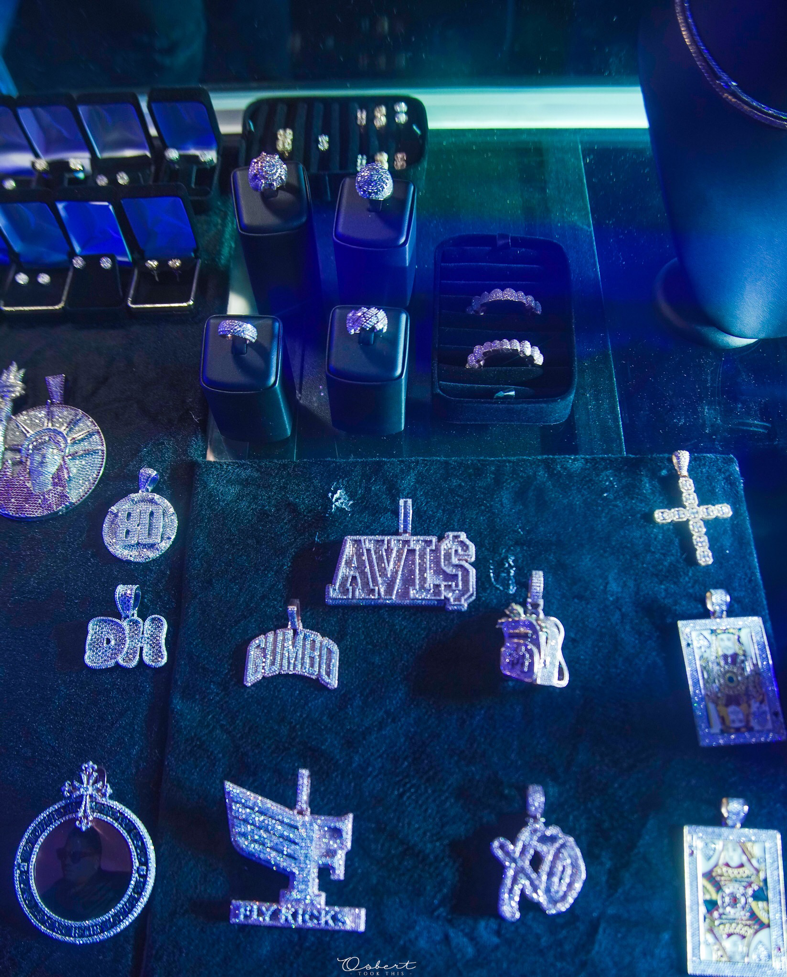 Some of the Godson bling on display at the event
Judging from my two-day experience I can surmise that no expense was spared in planning this launch party. The organisers made a safe and comfortable space for customers and streetwear aficionados to meet and mingle – they left an impression.
Flykicks NG has built an enviable brand image for a pandemic business – they launched in August 2021 – and made way for Nigerian sneaker lovers to be able to shop for the sneakers they love in comfort and convenience. I have really enjoyed attending and writing about the Meet The Steppas showcase event and look forward to experiencing something like it again. Do you have a brand launch or event coming up? If it holds the promise of fun I would love to come by, cover it and write about it so everybody else can see and enjoy what you have to offer.
comments powered by