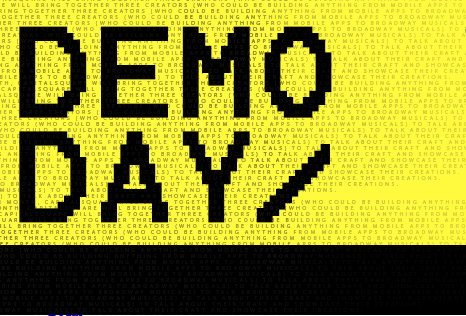 The very first edition of Capital Square's Demo Day held on Tuesday, 4th of March 2014 at Capital Square located at The Garnet, Lekki. Capital Square is an affordable membership-based co-working space for independent professionals and the according to them will hold every other month. Demo Day has been created as a platform for makers (entrepreneurs, innovators, inventors, etc) to demonstrate their creations before an audience. They have the opportunity of getting feedback so they can fill up any loopholes in their creations and they also get to meet potential investors and customers.
Although the event was scheduled for 5pm, it eventually kicked off at 6pm due to some "technical difficulties". Modupe Macaulay, the CEO of Capital Square thanked everyone for coming, she thanked the crew members and event partners: Lighthouse media, Tech Cabal and your one-stop shop DOOH service provider, IN3K8 Media. The speakers were allotted 10 minutes speaking time for each presentation and 10-15 minutes for a Q&A session.
The first demo presentation was by GigaLayer, a start-up company specializing in domain names sales and web hosting. The demo was presented by Ahmad Mukoshy, one of the founders.  In his own words, "Giga Layer is here to break the face of web hosting in Africa" and the way they plan to do that is through customer support. They take your website online in 15 minutes or less. GigaLayer claims to have over 500 customers and counting and want to make it easier for people to go online. Their target market includes tech startups, first-timers and companies. His presentation was engaging and brief and he took questions from the audience.
Push&Start was the second demo of the day and it was presented by the founder, Nwachukwu Onyeaso. It is a crowd-funding platform that provides support for start-up businesses and what makes it different from other crowd-funding platforms is it's mentors and investors feature. Start-ups registered with Push&Start have the opportunity to find mentors and investors on it's platform and provides a huge crowd to draw investments and knowledge from.  Mr. Nwachukwu was really passionate about his innovation and spent quite a while taking us through it's features, he held the audience's rapt attention with his engaging and jocular manner so that we forgot to fuss about the time consumed (also, his really cool slides had witty content and was easy on the eye). He demonstrated how push and start works, taking us through many details and laid claim to having management teams geared to mentor the start-ups, guide them through the process and monitor them on behalf of the investors. There were some people in the audience that thought his idea for Push&Start was not lean enough. In other words, too broad and had too many elements (investors, mentors, forums, etc) but Nwachukwu said the elements were necessary, not mandatory. Push&Start opens its doors for business in April, 2014.
The last, but in no way the least (cliché, I know), presentation was by Oveem, Nigeria's first online store for fresh fruits and veggies. The presentation was anchored by one of it's co-founders, Josiah Uma and was short, interesting and…fresh (see what we did there? See??).
He started out with a slide that announced, "YOLO…don't waste your life in traffic" and said YOLO (You Only Live Once) wasn't a meme he used at all, but for the purpose of the presentation, it was apt. Oveem was set up so people don't have to waste their time and burn fuel in traffic (we know how mad and frustrating traffic in Lagos can be) just to buy fruits and veggies in the market and can experience comfort while shopping. He took us through the process of ordering fruits on the website. The website is simple, straightforward and user-friendly and includes a "ship to a different address" feature where a customer can buy fruits and veggies and have it delivered to someone else. Oveem launched on 14 February, 2014 and since then (to the date of the Demo Day event) had sold over 154 units of fruits and veggies and making an average of one sale every 3 hours. Their plans include an increase in sales and client base, partnerships with nutritional and dietary bodies, hospitals and schools, renting a packaging and processing site and hiring more staff. However, their challenge is funding therefore, supply is at small-scale for now. They plan to expand their services beyond Lagos (and eventually, Nigeria)
The event came to an end on a giddy note for all who attended. The audience was supportive, attentive and engaged, giving constructive criticism and feedback to the creators. There were even a few investors – and a lots of potential customers – in the mix so I can safely say that the creators, and all in attendance, benefited a lot from Demo Day.
Follow us on Twitter: @IN3k8 Media  Like us on Facebook: IN3k8 Media
comments powered by