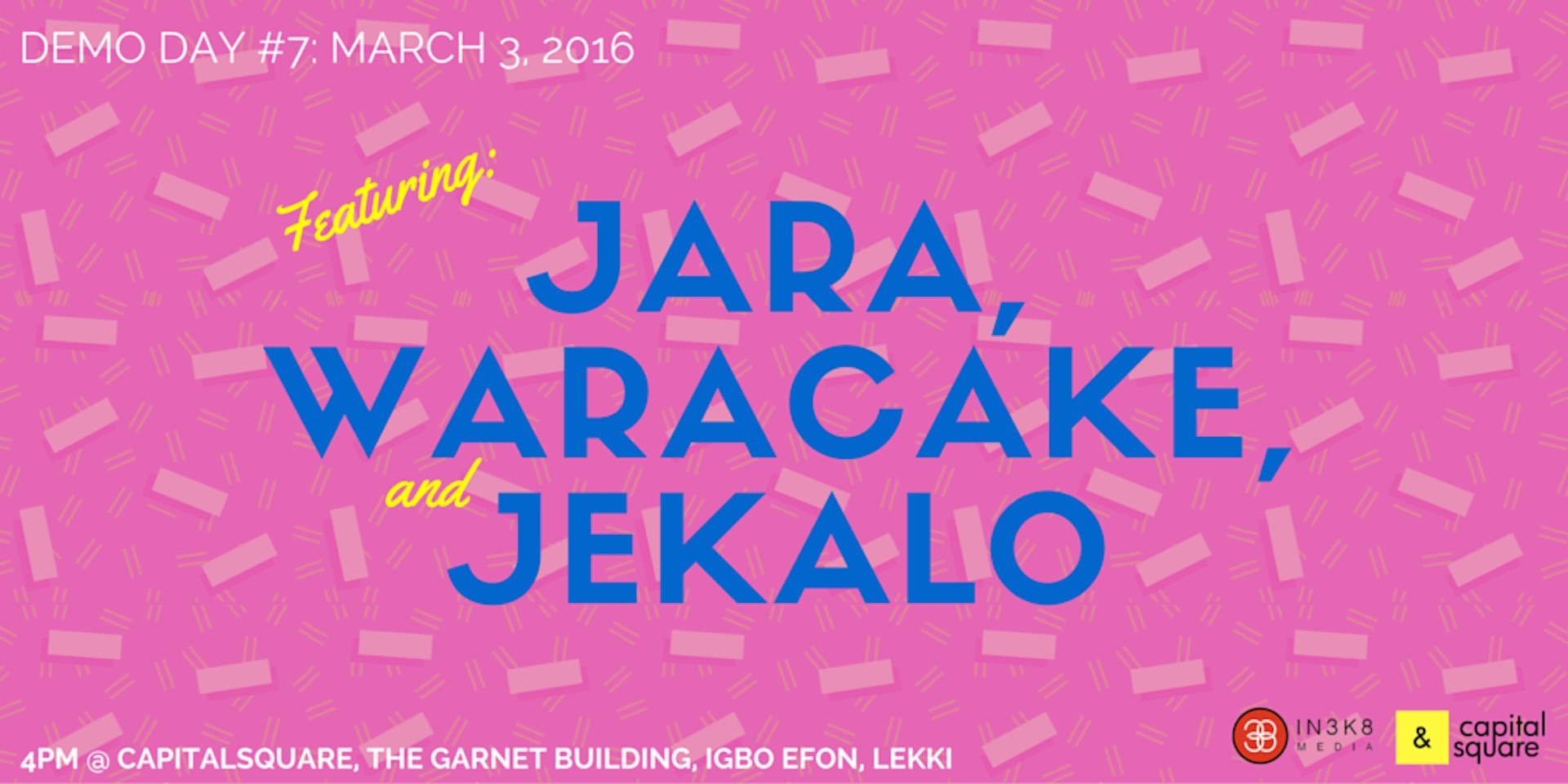 CapitalSquare's Demo Day event series is back for the first time in 2016 with Demo Day #7 on the 3rd March 2016. As usual it promises to be an exciting affair with another strong line-up of exhibitors.
Jara: Is one of the growing list of rewards schemes, which aims to be Nigeria's answer to the UK's Quidco. With the mantra "rewarding your routine",  Jara's big idea is to get you make routine purchases line airtime and data recharges via their mobile application. Their value proposition? Freebies and discount vouchers from brands that you'll love that will reward you for your worries.
Jekalo: They're a ride sharing (car pooling)  platform  who are attempting to take on taxi hailing platforms, the manic Lagos traffic all via a social solution which is to transportation what AirBnB is to accommodation. Their selling point is that your shared ride will be cheaper than a regular taxi and more comfortable than a bus ride. Watch out Uber!
WaraCake: In the wild wild west that is the confectionary business, these guys are attempting to restore order and your peace of mind while bringing in the dough for bakers. Their solution is to provide a cake portal to rule the roost and make your celebrations nothing short of joyful. With the ability to give feedback on your delivery to Lagos, Abuja and other cities, their plan is to ensure you can sift through the chaff with only master bakers rising to the top!
Demo Day holds at CapitalSquare Lagos, 2nd Floor, The Garnet, Lekki-Epe Expressway, Igbo Efon, Lekki, Lagos, from 4pm.
Other reasons you should make plans to attend? Well there's top notch refreshments from DonutsByIwa among others,  as well as networking opportunities. You might even be able to hire your next teammate or co-founder at this event.
For all the pictures from previous Demo days see below:
comments powered by