The beautiful Sketch Restaurant Lagos situated on the busy Adeola Hopewell Street in Victoria Island is a slice of creativity I recently uncovered on Instagram. Here I write about my first experience at this restaurant. I felt it would be rude not to pay a visit, given its striking decor.
It was easy to locate, as there was an obvious indication of the restaurant because of the large sculptures of deities on the outside of the building. Unfortunately, I had a little challenge on arrival because I was unaware that tables are obtained by reservations only. In other words, you need to call in advance to book a table for your desired date. I'm writing this review to save others from some embarrassment, as I was lucky to be allowed to phone in an on-the-spot reservation at the entrance.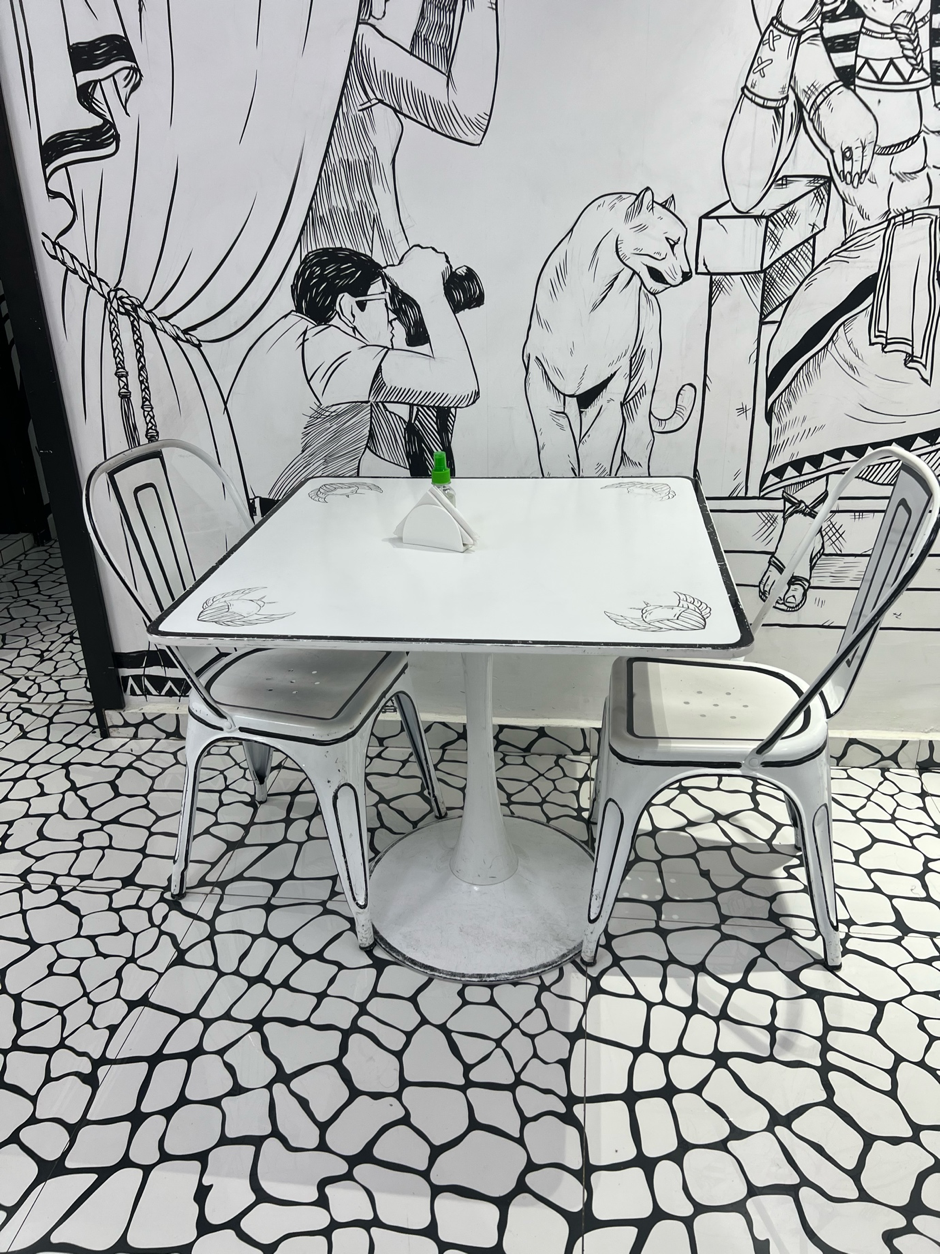 A table for two at Sketch Restaurant Lagos
The ambiance of the restaurant was really cold, I could barely sit in one place without any shivers. The monochromatic furniture was lit up by the delectable food presentation. The bar added a smooth touch to the restaurant by giving it a relaxing atmosphere.
The walls outside had historic Egyptian symbols carved into them along with sculptures re-enacting the Abu Simbel Temple. Abu Simbel is an ancient temple complex dedicated to the gods, Amun, Ra-Horakhty, Ptah and Ramesses. It was built over a period of 20 years, during the 19th dynasty and the reign of Pharaoh Ramesses II because they serve as a lasting monument to Egypt's Ramesses II.
The sculptures and symbols are an insight of ancient architecture and culture in Egypt. It is admirable to see a Lagos restaurant encouraging such cultural integration, by giving its customers a glimpse of 3000 BC in Egypt.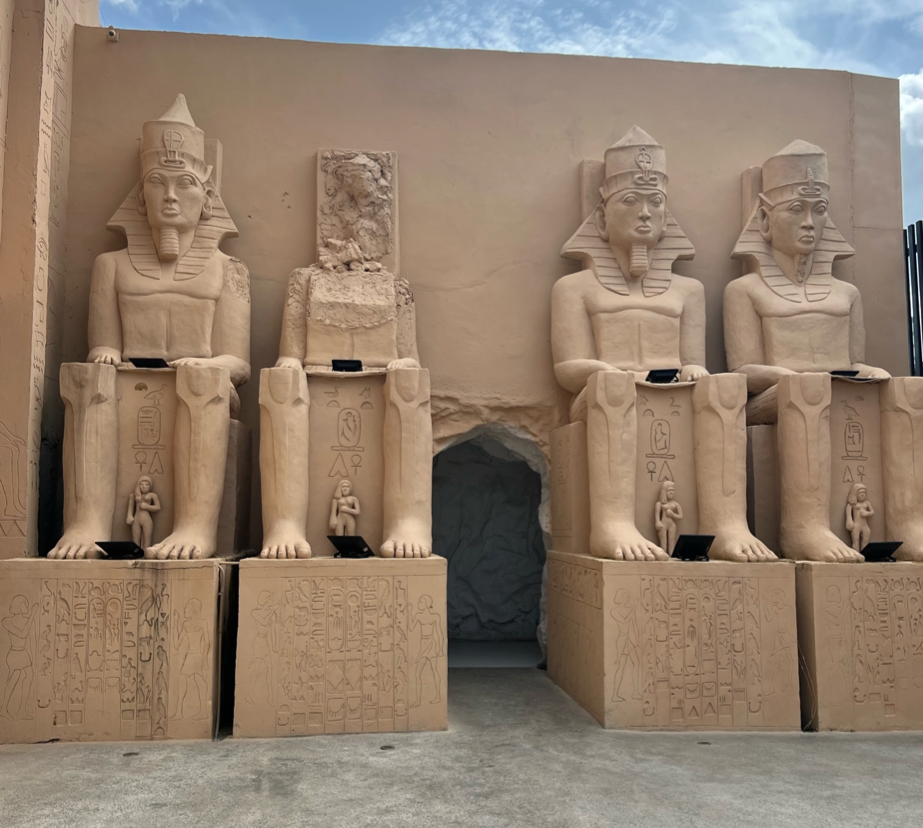 Sculptures of Egyptian Deities and a King: Amun, Ra-Horakhty, Ptah and Ramesses at Sketch Lagos
While it's clear that each deity had their own supernatural powers,the god Ptah was able to combine the Ankh (an ancient hieroglyphic symbol that represents life) and the Djed (representing stability) into his sceptre. The sceptre is an ancient symbol of power, authority and wealth which Ptah symbolised. Amun symbolises fertility in his role as Amun-Min, his name means "the hidden one", "invisible", "mysterious of form" and unlike most other Egyptian gods, he was considered Lord of All who encompassed every aspect of creation while Ra-horakhty symbolised the Eye of Ra – the most famous ancient Egyptian symbol. It was used as an amulet to protect from evil spirits, disease, harmful animals, and envy. The Eye includes gold which also possesses sacrificial qualities because people would offer sacrifices to the gods to grant their wishes. They were very strong gods and goddesses then. I got a little help with my Egyptology from one of the very knowledgeable hospitality staff Nosike Kelechi Casey.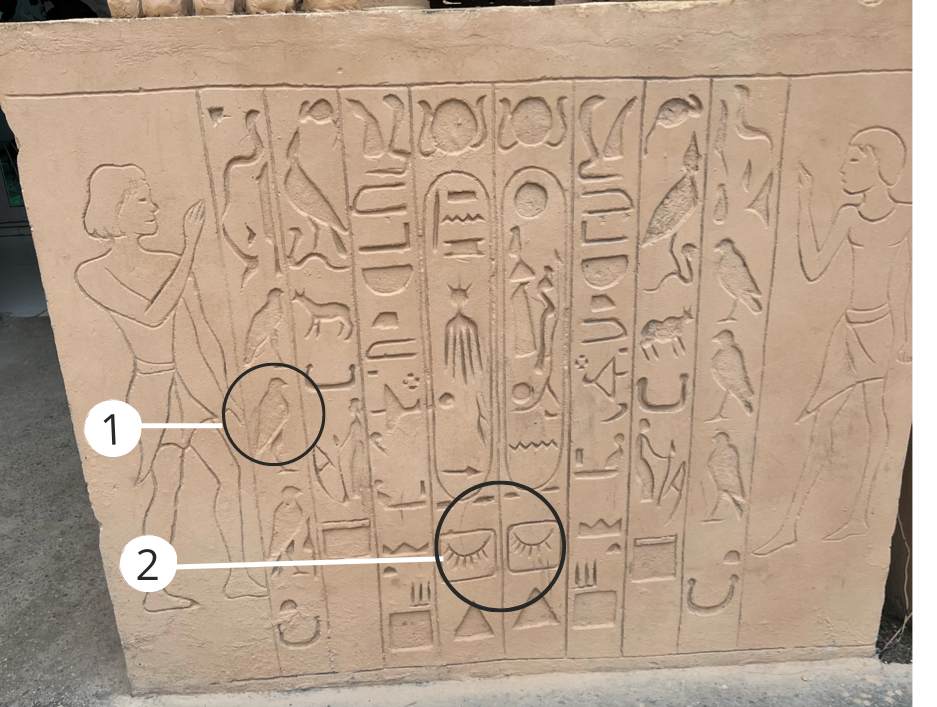 Egyptian Symbology at Sketch Lagos: The Egyptian symbols in the form of hieroglyphs documented important events in ancient Egypt. 1. The Benny bird is the symbol of Regeneration. 2. The Udjat eye is the symbol of power
The table set-up is suitable to accommodate parties of up to eight people, making it a great place to host a large number of people or even for a quiet date night. The waiters were very patient and friendly. The strict reservation policy reduces the probability of overcrowding, adding a touch of exclusivity and making it more comfortable to make videos and pictures without too many prying eyes.
It is a virtual menu, so you scan a barcode to access it. The menu has 4 sections: The breakfast menu, main -course menu, dessert menu and drink menu to go along with your meal.The varieties of drinks got me fascinated – there seemed to be a drink for any mood. The attentive customer service was one of my favourite things about my entire time. After a long scan through the menu I settled on the Chicken Lollipop and a strawberry daiquiri off the menu – the drinks on the menu weren't eye-catching nor were they considerate of my student budget.
Honestly, the food could also have been better. The taste of the spicy cream cheese threw me off and the french fries were barely salted! If not for the daiquiri I might have lost my appetite.Daiquiris I've had in the past taste like watered-down rum but mine when it arrived tasted like a chilled fruit drink.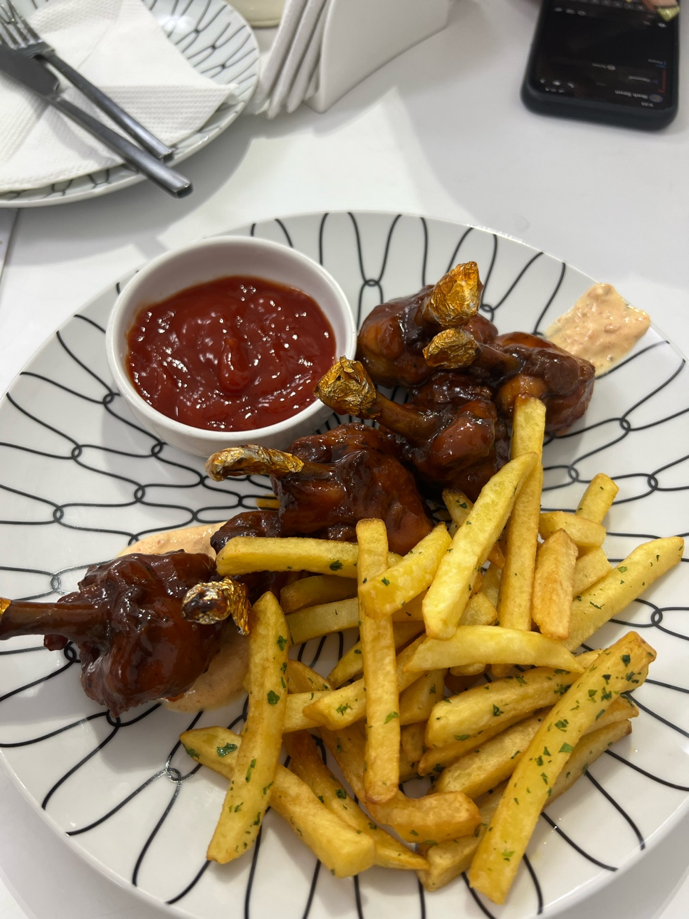 Chicken lollipops served with a side of fries
My intuition was a key motivator behind my decision to explore this Egyptian-themed restaurant and I am glad to have learnt here a valuable lesson about books and their covers. The meals were quite pricey, and not just because I'm a student. Anyone earning at minimum wage levels can safely forget about ordering a three course meal here. ₦14,000 got me a kiddy size meal and a Strawberry Daiquiri sans strawberries!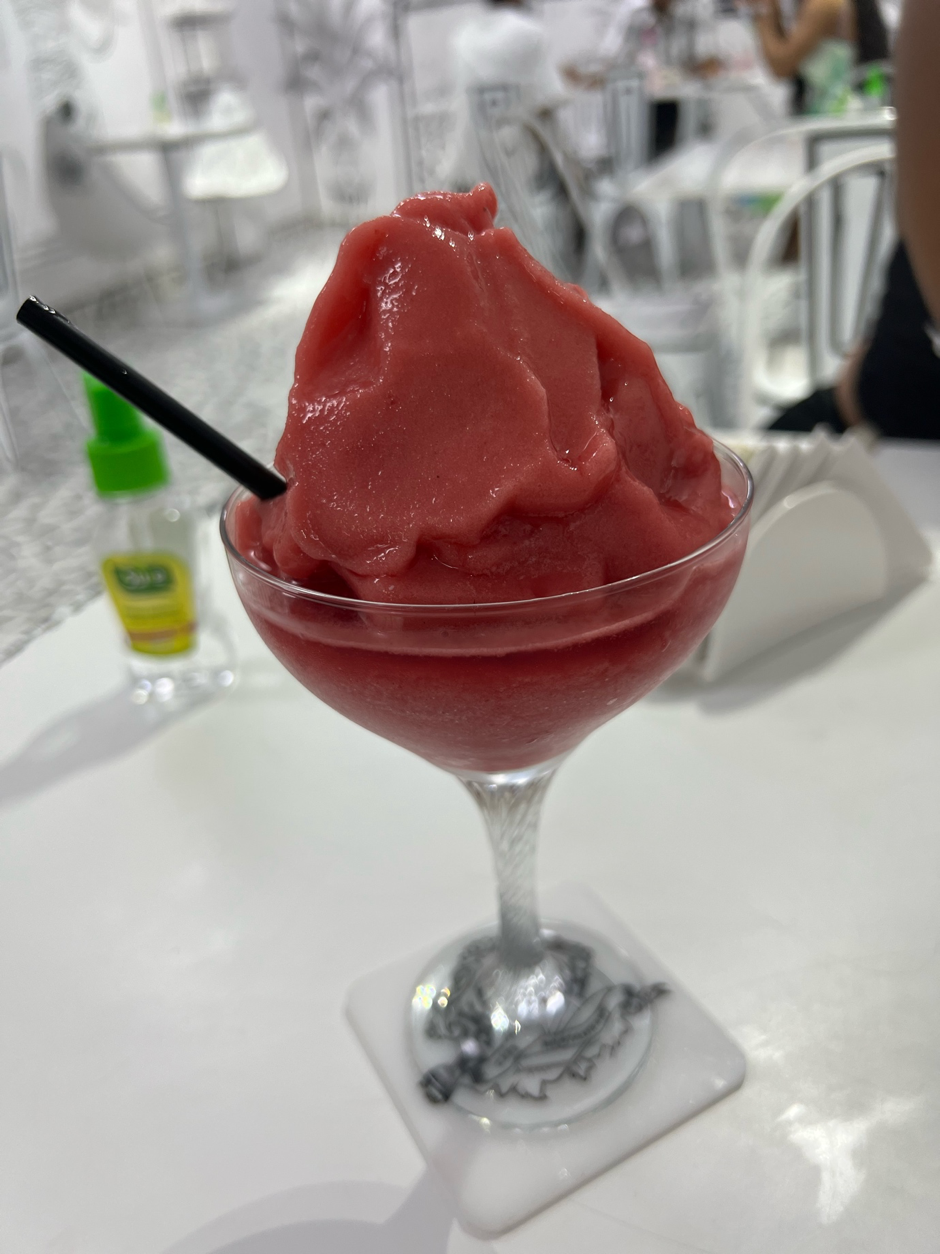 Off menu Strawberry Daiquiri Mock-tail
This beautifully monochromatic restaurant is the perfect location for taking instagrammable shots while spending a little lazy breakfast time with family and friends. The breakfast menu has friendlier prices so I would advise taking a closer look. Regardless of my earlier statement, however, it is doubtful that I'll be returning to the restaurant based on my own experience which was unsatisfactory and uncomfortable. The customer service was lovely but hospitality isn't on the menu, the murals in restaurants are on par with the food in museums. I would not recommend this restaurant but if you are interested in eating in a different environment other than your average restaurant setting then this place might just be for you. If you find time or the motivation to visit let me know if you had a different  experience perspective from mine.
comments powered by