We are nothing but grateful for what has in essence been a good year. By our reckoning it has been a fantastic 12 months for Lagos Ltd, as in spite of the challenging
business climate, Lagos (our existing customers and new ones) has given our confidence a turbo boost by the way in which it has swaggered through 2018.
Our first indication that the Spirit of Lagos remained proud and upbeat was the official launch of Roots Bar & Restaurant, Ikoyi at the tail end of January. This was followed swiftly in February by Chef Dish Food Festival an event which has now become a staple of the Lagos foodie scene. March was a dance fitness power strut at Eko Atlantic with a coming together of Los Angeles and Lagos' finest in the BOKWA Beats event among other scintillating event showcases.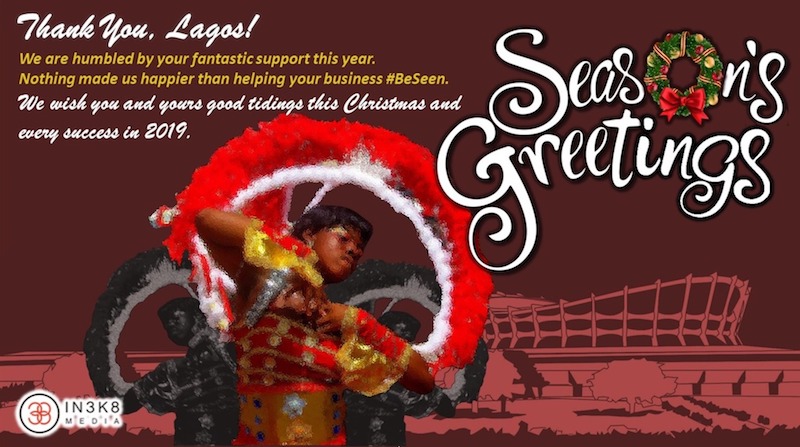 April saw homage paid to one of African renaissance's unsung heros in the form of the Sankara stage play written and directed by Jude Idada. In May fashionistas converged on Lagos for to discuss the business of fashion at Fashion Finest Africa while young Lagosians brought home the crypto buzz with the Blockchain & CryptoCurrency Conference.
In June Lagos feted good music with its celebration of World Music Day at the Make Music Lagos event.
July saw the return of an annual comedy franchise in the well received The Oxymoron of Kenny Blaq. In August music again took center stage in the form of Olujazz album launch and comedy king MOG Akpors put his best foot forward at his Expensive Laffta showpiece. September saw a women empowerment gathering return with Titi Oyemade's Hangout with Tee.
October celebrated made in Nigeria goods with Min Event's OctoberFest and Lola Shoneyin's well-travelled The Secret Lives of Baba Segi's Wives stage play. November saw a return to women-centric developement with Thrive Women Conference and another fashion fiesta – The Lagos Fashion Souk. December is ending on all sorts of highs with Joseph Edgar's wonderful pan-Lagosian stage play of Oba Esugbayi – a Lagos mover and shaker from the history books.
We have nothing but thanks to all the businesses who have helped us keep our promise by bringing us along for the ride. We wish you a very Merry Christmas in advance and look forward to the privilege of working even harder for you in 2019!
comments powered by