Hiring: Ad Network Operations ExecutiveBy Admin on August 7, 2017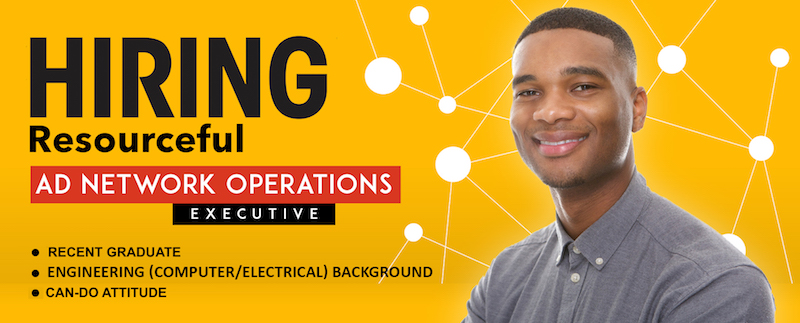 Hiring: Ad Network Operations Executive
We are seeking young, driven and resourceful individuals from a Computer Science or Electrical/Electronic Engineering background to join our Ad Network Operations team.  The right candidate will possess attention to detail and good time management and prioritisation skills. We are actively seeking people who share our enthusiasm for impeccable customer experience and a strong work ethic.
The right candidate will perform the essential function of ensuring uptime for our customers' advertising campaigns a core business function.
Other duties will include:
Responsible for the day-to-day monitoring and performance of the customers' campaigns.

Reporting and proactive troubleshooting.

Ensure delivery of campaigns to contractual terms.

Maintain excellent working relationships with internal and external contacts, suppliers and stakeholders at all levels.
Requisite Skills:
At home with the Windows Operating System from a system administration perspective and will ideally be comfortable around electronics.

Possess good communication and interpersonal skills.

Actively use email and other personal communication tools like WhatsApp/Hangouts.

Happy to discuss trunking and cable management with electricians but also at ease with networking and calculating UPS requirements for an installation.

A demonstrable interest in digital advertising operations.

Team player with capacity to work with little or no supervision

An appreciation of customer experience.
If we've just described you above then reach out to us at workinoperations@in3k8.com with your resumé  and we will be in touch.
comments powered by
IN3K8 Media on YouTube:
More From Us: