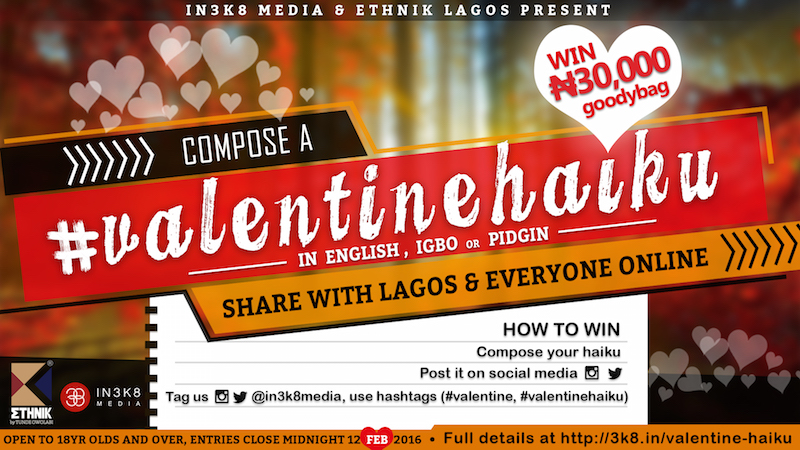 Hello Lagos!
So it's valentine's again and we know some of you intend to wax lyrical. After thoroughly enjoying #valentinevote last year we thought, why not? We want to make things even more interesting and worth your while this valentine's.
We've combined one of the coolest Made in Nigeria® lifestyle brands Ethnik Lagos to bring you a #valentinehaiku competition that could see you wining a ₦30,000 goody bag for you and yours this valentine day.
How to win
To enter the #valentinehaiku challenge, follow these 3 easy steps:
Compose a haiku for your loved one or crush in one of three languages: English, Igbo or Pidgin.
Share on Twitter/Instagram using #valentinehaiku #valentine hashtags
Tag @in3k8media and as many of your friends as possible.
Whats in the goodybag?
- 2 VIP tickets to see Wazobia Theatre House' production of Ugomma at TerraKulture on 14 February (normally worth ₦10,000)
- A his & hers package from Ethnik Lagos
- A ₦10,000 voucher for you and yours to buy whatever you want at Ajali Lekki.
The rules of the game
1 entry per participant
Competition is open to 18 year olds and above.
Entries must be received by midnight 12 Feb 2016
By entering the competition you agree the decision by IN3K8 Media & Ethnik is final.
comments powered by