This month's partner spotlight is on Modupe Macaulay, the Founder/CEO of CapitalSquare, a membership-based, co-working space for entrepreneurs and start-ups in the vibrant city of Lagos. The sky-rocketing cost of rent in Lagos throws a wrench in the wheel of start-up businesses. Working from home is an option, but not a healthy one. Entrepreneurs want to make profit and to do that, one must be productive. So how can one rent a space without fraying the ends of one's pocket? How about a co-working space? That way, you can rent office space at an extremely friendly price. Great idea, yeah?
In this exclusive interview with IN3K8 Media, Modupe talks a bit about the vision behind CapitalSquare, the challenges owning her business came with and her future plans for her company. It was also great to hear that we are helping to ease the company's advertising and promotional burden, now more than ever as the two companies recently entered into a relationship with the aim to be just what the doctor ordered for start-ups and SMEs.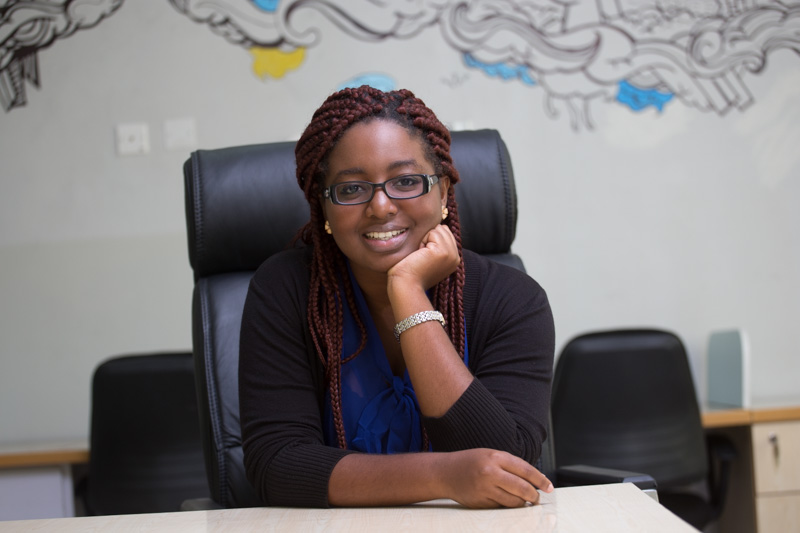 Can you tell us a bit about the great mind that is Modupe Macaulay?
Great mind, that's interesting. I wouldn't call myself that. I'm just a regular girl/woman from Lagos. I thought something seemed interesting and decided to try my hand at it. Grew up here in Lagos, studied computer science for my bachelors degree and management for my masters. I like to read, I like music, I like to write (sometimes). I'd like to do something useful with my life (I think I might be on that track already, thank God).
What was the vision behind CapitalSquare? When did you decide you wanted to set up a business of this nature?
The idea for CapitalSquare came sometime in 2012, when I just discovered co-working spaces and it seemed like a cool thing to do. It appealed to me because of the community aspect, and the chance to learn just by being in the same workspace as other interesting and creative people.
Where would you say CapitalSquare's strength lies?
Our drive for excellence. We're constantly trying to improve what we offer.
Why do you think an entrepreneur would choose working at CapitalSquare's workspace over her competition's?
The community, the atmosphere. Apart from the general cost-saving advantages of working in a shared space , the vibe at CapitalSquare is friendly and laid back, so you can work without feeling like you're working. And when you need a break, there's a space to chat with other members, or you could grab a book or magazine from our library. We also have meeting rooms that our members (or even non-members) can use for their more formal meetings.
Biggest obstacles? Challenges?
Setting up the space was a huge challenge – finding skilled workmen to build and renovate. Now that we're up, we're trying to get the word out. Not the easiest thing on a low budget, but we're getting there. We're mostly using social media to promote, and finding IN3K8 Media really helped.
Would you say Capital Square has exceeded your expectations at this point?
Yes and no. I thought we'd have more members by now. But then, I'm really surprised by how many people are taking notice of what we're doing. That's a good thing. I think we're making a lot of impact.
 Where do you see CapitalSquare in 5 years?
Self-sustaining, making more impact, the best place to start out in business.
What keeps you motivated and who is your biggest inspiration?
Failure. Failure motivates me. Or maybe it's the fear of failure, and the fear of disappointing the people who are counting on me – my family, my investors, my employees, our members, the general start-up community. I've started doing something good, and I want to keep doing that and making it better for the people who benefit from it.
What projects are you currently working on?
We're trying to get more events going on at CapitalSquare – our demo days, Start-up workshops, networking events. We've created the workspace, and we want to start working on capacity building activities.
What do you like most about being an entrepreneur?
Having control of my time.
 What advice do you have for prospective entrepreneurs?
Try. Take risks, but don't be stupid.
What principle do you live by?
Integrity. I try to be straightforward in everything I do.
Tell us one thing a lot of people don't know about you.
I love Cheerios. I could live on nothing but Cheerios.
comments powered by