It's that time of the year when we celebrate the girl child: her travails, her contributions, her ascendency. In commemoration of this year's event ActionAid UK has organised an exhibition in London's gallery@oxo titled WomenByWomen – a coming together of women photographers and interesting female subjects. From the hills of Afganistan to the the mining communities of South Africa, women behind the camera have been commissioned to tell the compelling stories of driven and enterprising women.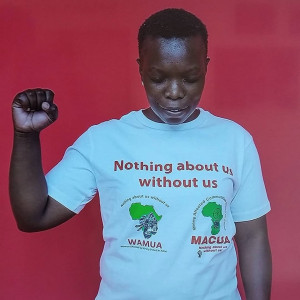 Nomakhosazana Nomnqa by Miora Rajaonary for ActionAid UK
This powerful shot of WAMUA | MACUA champion Nomakhosazana Nomnqa is delicately captured by the talented Miora Rajaonary for ActionAid UK's #WomenByWomen exhibition for #iwd2020. This year's theme 'An equal world is an enabled world' resonates with Khosi's work where as a volunteer she speaks up for the interest of communities affected by mining. We are inspired by her and salute her fierce courage.
The exhibition concludes March 8, 2020 at 6pm. Make time to see it if you can!
comments powered by