King Of The Ring is brought to you by Monarch Events & Promotions at the well-heeled Landmark Centre and will entertain you with a WBU world title fight. This event features talented boxers from all over the world including: Mark De Moris (Australia), Tasif Khan (UK), Bukom Banku (Ghana), King Davidson (Australia), Ali Baloyev (USA), Sule Olagbade (Nigeria), Muhammed Ali Bayat (Iran), Cheyenne Hanson (Germany), Tope Musa (Nigeria) and other elite boxers.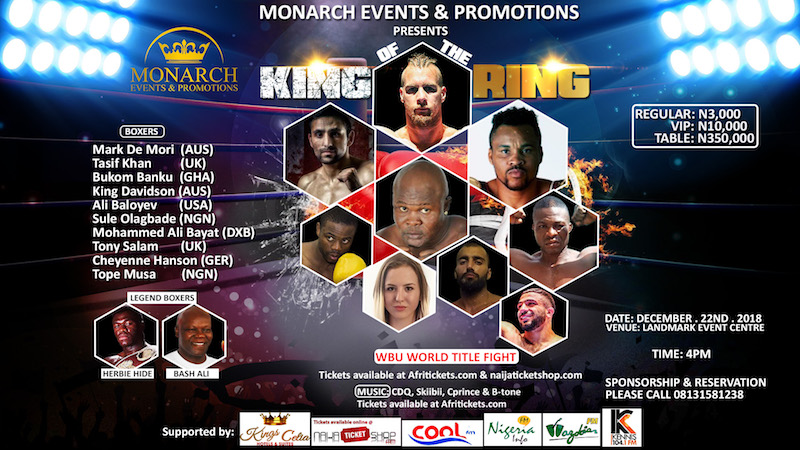 The atmosphere which promises to be electric will include entertainment and performances by the following artists: CDQ, Skiibii, B-tone, Cprince.
Also gracing the occasion are boxing greats, Herbie Hide (UK), Bash Ali (Nigeria) and Ghanian duo Joshua Clottey and Azumah Nelson. It will be one of the great boxing nights Lagos has seen in recent times. We wouldn't want you to miss out.
See you there!
Venue: Landmark Centre, Victoria Island, Lagos
Date: December 22, 2018
Time: 4PM
Ticket Price: ₦3,000 (Regular), ₦10,000 (VIP), ₦350,000 (Table) Get Tickets on Afritickets.com!
comments powered by