Oba Esugbayi is a theatre piece that celebrates the collective will of the people towards making Lagos a better place for all in the 19th century. A will, interspersed with love, and collaborative effort in a vision to bring about our independence as a people governed by our cultural ethos.
Oba Esugbayi Eleko's refusal to accept the imposition of a water tax and his role in the masterful manoeuvre by Herbert Macaulay which culminated in a legal loss in London by the Lagos colonial government and his subsequent dethronement sets the stage for this eclectic musical drama. Joseph Edgar's story celebrates a collective resolve to fight for what is rightfully ours through songs that plot our musical and cultural timelines.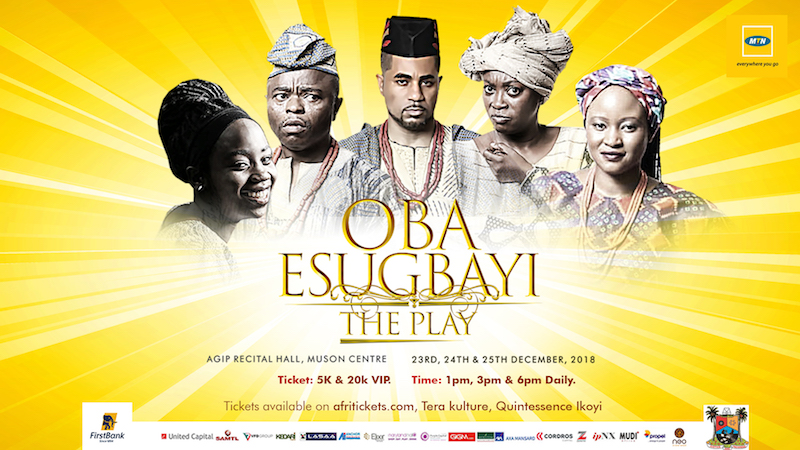 Featuring an all-star cast that includes Yemi Shodimu, Anthony Offiong, Yinka Davies, Chico Aligekwe and Chantal Edgar, this play also attempts to deal with the rights of the girl child, women and of the family through the eyes and persona of Margaret Ekpo and Olufunmilayo Ransom Kuti. It takes on the issue of rape, the strength of women and their resolve to make a change on how they are seen and treated. Most of all this is a love story centred on what makes us a beautiful and culturally diverse people.
If you end up seeing just one play this holiday season, see this politically and historically charged one!
Venue: Agip Recital Hall, MUSON Centre, Lagos
Date: December 23-25, 2018
Time: 1PM, 3PM & 6PM
Ticket Price: ₦5,000 (Regular), ₦20,000 (VIP)
comments powered by