Yewande Zaccheaus and the rest of the Eventful Nigeria posse return this weekend (after a fantastic Fashion Souk) with a Fiesta of Flavours in a Food Souk. It is an exciting food and drink fair to enjoy with your friends and family this December but also to help you stock your home for the holiday festivities.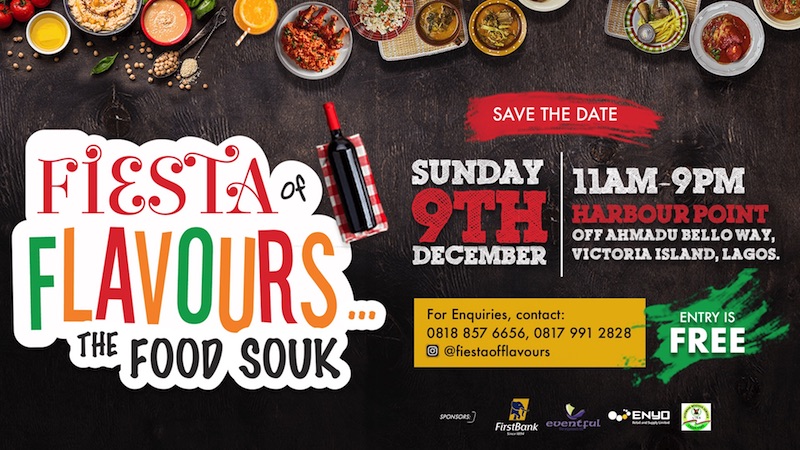 An exciting and fun-filled experience beckons as the best chefs and food vendors in the industry converge at Harbour Point in a bid to help you see ways in which your Christmas lunch and holiday menu could indeed be different this year.
There will be a litany of tasty finger food, delicious desserts, children and adult cooking classes, an African chefs corner, healthy food options, refreshing drinks, food tasting, great music and lots more!
Of course with all great experiences it is not to be enjoyed alone so synch up the calendars and prepare to spend quality time with friends and family in a joyful and soothing setting.
Confirmed Vendors include:
- Rum&Passion (desserts & cocktails),
- Shawarma Xpress(best shawarma in Victoria Island)
- Royal Pops Nigeria(Gourmet Popsicles)
- BonGou Nigeria(Ribs, Grills & Mini Burgers)
- Pink velvet(Cakes, Pastries & tutorials)
- Benjy(Smoothies)
- Hans & Rene(Restaurant)
- Chop Now Now (Original Nigerian Cuisine)
- Holo Crunch(Food Service Distributor)
….many more
Venue: Harbour Point, Victoria Island, Lagos
Date: December 9, 2018
Time: 11AM-9PM
Ticket Price: Free
comments powered by