Towbia Productions and Check Up On Him are proud to present a stage drama titled Deadi Bodi showing at the Agip Recital Hall of MUSON Centre. A dynamic and yet thought-provoking stage drama crafted in an epic setting the production is designed to hold its audience spellbound.
The performance sheds some light on the debilitating effects of the abuse of power and authority. This work also seeks to highlight how individual possess the power to uphold the unity of our nation and also look out for our compatriots.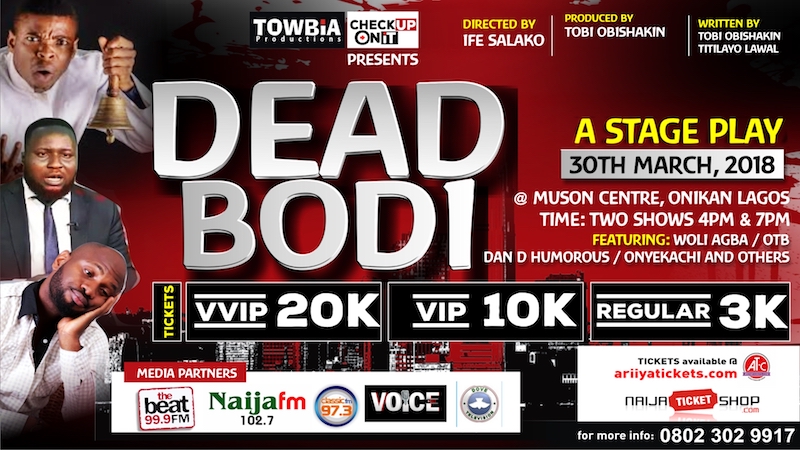 Deadi Bodi a comedy and love story follows the antics of two desperate police officers played by Woli Agbaayo Ajewole (aka Woli Agba) and Onoge Tega Ben (aka OTB), Dan D Humorous who extort the public while projecting the image of religious piety.
Venue: AGIP Recital Hall, MUSON Centre, Onikan
Date: 30th March, 2018
Time: 4 & 7PM
Ticket Price: ₦3,000 (Regular), ₦10,000 (VIP) & ₦20,000 (VVIP)
UPDATE: For all the pictures from this event. See below.
comments powered by