Here's some welcome news for mums looking to wean their babies or for post-pregnancy weight loss hacks and proven methods. Could be for you too if you're pregnant or planning your pregnancy.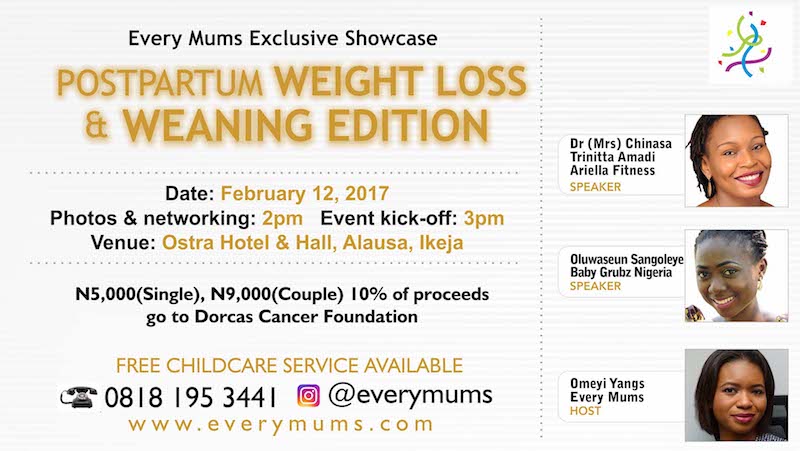 Meet and mingle with loads of other parents, share experiences and hacks with others who know exactly what you're going through. More importantly hear from the experts about what works and what doesn't.
Speakers will include Ariella Fitness' Dr. Chinasa Trinitta Amadi, Oluwaseun Sangoleye of Baby Grubz, Nigeria and you'll be hosted by the amiable Every Mums Maternity Apparel's Omeyi Yangs.
There will be on-site childcare to ensure you're relaxed and can get the best out of this event.
Book your place at this event now.
Venue: Ostra Hotel & Hall, Alausa, Ikeja.
Dates: 12 February, 2017.
Dates: Red carpet and networking – 2PM, kick off – 3PM
Ticket Prices: ₦5,000 (Single), ₦9,000 (Couples).
Notes: 10% of all proceeds go to Dorcas Cancer Foundation.
comments powered by