Hallo folks, its the amazing month of December and we're dubbing this one the #DecadentDecember on the Lagos stage circuit. Why? Well there's more than a few interesting productions and what seems to be a budding appetite for Nigerian theatre. So, why not?
Stage fun this month kicks off on the 4 & 5 December at Terra Kulture with a GbagyiChild production of the contemporary work titled Single In Gidi. If you haven't heard about it well it is a stage play adapted from the stories on similarly titled blog. Single In Gidi chronicles the life and times of a female singleton ( though we have it on good authority that she's now well and truly hitched) in our amazing city of Las giddi (thats Lagos for the uninitiated). There is no shortage of captivating drama and beautiful people with an amazing cast that features Austine Onuoha, Timi Charles-Fadipe and Omoye Uzamere, and if the first run was anything to go by there'll be compelling set design and lines. You can bank on an altogether wholesome experience because it is also directed by Nigerian theatre's 'King Midas' himself Kenneth Uphopho.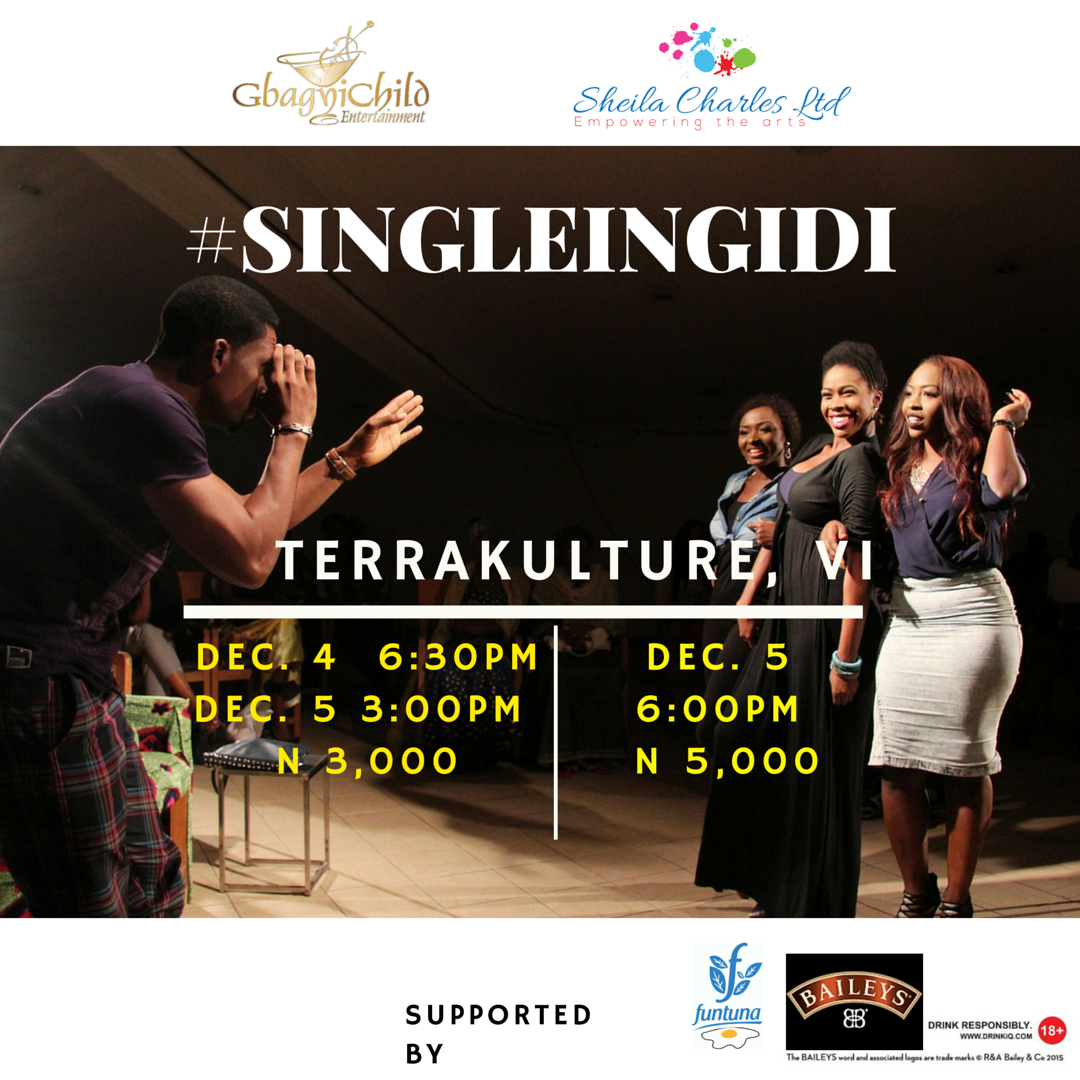 December's theatre fest carries on with Man Talk Woman Talk a story written by one of Nigeria's literary greats Ola Rotimi and following the battle of the sexes but in a mock courtroom setting. Who will make a better case or is the end game going to be an acknowledgment of each gender's strengths and weaknesses? You can untangle this conundrum by turning up to see Bimbo Olorunmola's interpretation of this exciting body of work produced by B/Rated Productions  at the Ethnic Heritage Centre on 12, 19 & 26.
20 & 27 December brings to you the most talked about production at #EkoAkete2015 – Aléjó written and directed by theatrepreneur and rising Nigerian theatre star Ikenna Jude Okpala. This stage play follows the story of a young lady who is inadvertently infected with a serious but manageable ailment, her struggle to come to terms with it and a chance encounter with love along the way. It promises to evoke a potpourri of feelings as well as questions. It features a relatively young but very promising cast including the likes of Stanley Okeke, Justina Afor, Silvia Oko-Oboh and a very talented Ihuoma Daniel as lead actress.  Masterfully told in music, dance and drama, this play is one to catch at 3 & 6PM on both days at Terra Kulture.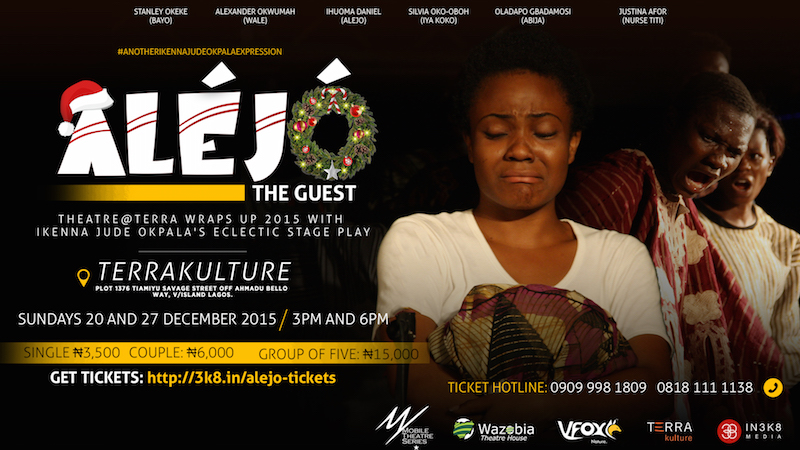 These 3 productions mentioned above are by no means the only productions in a #DecadentDecember. We encourage you to seek out and feast your eyes, ears and hearts on what the various Lagos theatre venues have got to offer all through this month. May your love affair with Nigerian theatre never end.
Here's wishing you a Merry Christmas, Happy Hanukkah and a delightful and prosperous New year in 2016!
comments powered by