IN3K8 Media is hiring Sales Executives!!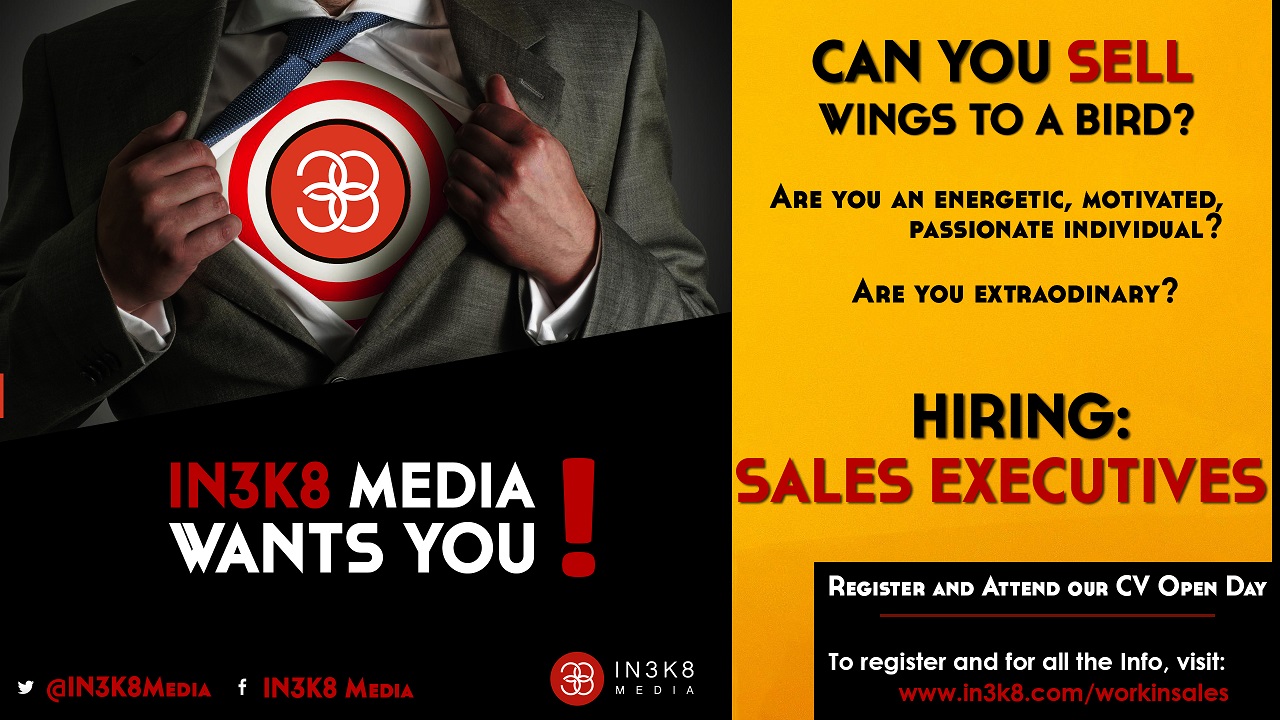 We want self-starters who are ready and hungry for success. The ideal candidate will be keen to try new technology with a mindset that sees "no" as the start of a conversation.
The desired candidate will have the drive and enough street smarts to be an IN3K8 Media sales gladiator; will be able to work without direct supervision, exude confidence and have an aptitude for written and verbal communication. They will be able to clearly present information of the company's services to prospective clients. Relationship-building skills are a key requirement.
Are you the one we are looking for?
Can you sell wings to a bird?
Are you passionate, driven, ready?
Then IN3K8 Media wants you.
As a Sales Executive, your core duties are:
Other job duties will include:
Establish, develop and maintain business relationships with current customers and prospective customers to generate new business for IN3K8 Media's services.

Make telephone calls, in-person visits and presentations to existing and prospective customers.

Contact new and existing customers to discuss their needs, and to explain how these needs could be met by specific services.

Develop and update knowledge of IN3K8 Media services

Research sources for developing prospective customers and for information to determine their potential.

Develop clear and effective written proposals/quotations for current and prospective customers.

Expedite the resolution of customer problems and complaints.

Plan, organize and prioritize personal sales strategy.

Supply management with oral and written reports on customer needs, problems, interests, competitive activities, and potential for new products and services.

Participate in trade shows and conventions

Plan and work towards meeting sales targets and budgets.

Update customer databases and record orders and customer contact.
Skills:
Proven aptitude for sales and customer service

In-depth knowledge of sales territory

Good written and verbal communication skills

Proven ability to meet sales goals.

Being professional and knowledgeable of the services offered

Ability to network and negotiate

Client oriented – polite, responsive and persistent.

Self-motivated and organised.
Attend our CV Open Day on July 14, 2014 at CapitalSquare Meeting Room, The Garnet, Igbo-Efon, KM 14 Lekki-Epe Expressway, Lekki, Lagos.
You MUST be registered to attend this event. Go here to register.
*Registration closes: 5:30 pm on 10 July
Share the following via Google docs with us on workinsales@in3k8.com:
3 Copies of your CV
Current identity documents
Certificates
comments powered by